It's a tough gig being an editor. It's not enough to just keep a steady drumbeat of content — you also need to mix it up a bit. That's one reason every article at Black Gate is tagged with at least one category…. makes it easier to tell at a glance when we're over-saturated on New Releases, Magazines, and Reviews, and it's time to commission a News piece, or something on Comics, maybe. Or Music, or RPGs.
Of course, some categories get less attention than others. Fashion, for example, is probably the most neglected category we have. Patty Templeton asked me to add it five years ago so she could do a brief feature on Crisiswear, and we've had maybe half a dozen reasons to use it since. Let's just say that fashion is not my beat.
So I'm very pleased that, after producing some 4,000 blog posts here at Black Gate, today I'm writing my first fashion article. It's because of a gift I ordered for my son's 20th birthday: a Spider-Man Homecoming Red Hoodie from USAJacket, which Drew is so kindly modeling for us above. Once it arrived and I saw how it looked on him, I knew other members of the Black Gate community would be interested.
[Click the images for bigger versions.]
The red hoodie is part of USAJacket's Spider-Man Homecoming Collection, inspired by the Columbia Pictures-Marvel Studios co-production, released in the US on June 28, 2017 and still in theaters.

USAJacket has a huge catalog of film and pop-culture inspired fashion items, everything from a Harley Quinn Suicide Squad jacket to a Blade Runner 2049 coat and a Wonder Woman corset.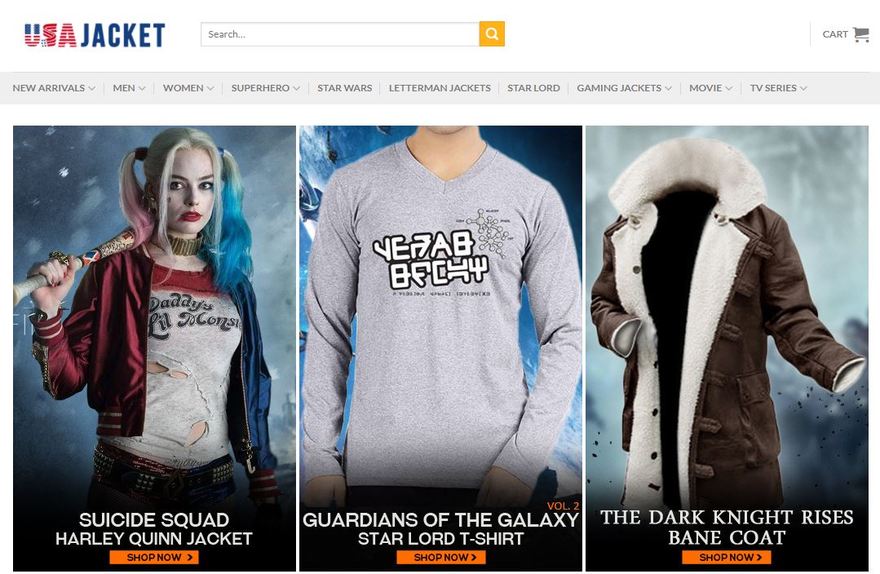 Based on what I've seen of the Spider-Man hoodie, their merchandise is well made and built to last.
Since I forgot to ask Drew to turn around so I could photograph the back of the hoodie, here's a look at the shots from the catalog.
And here's a few other choice items currently on sale, including a Star Lord Guardians Of The Galaxy jacket ($129), a Star Wars Poe Dameron jacket ($159), and a Ryan Reynolds Deadpool leather jacket ($109).
The Spider-Man Homecoming Red Hoodie is a wool blend with two waist-level pockets and detachable sleeves. It retails for $99, and is currently on sale for $69. Get more details here.
USAJacket offers free shipping to the US. Their website is here.
See all of our Fashion articles here.