The Public Life of Sherlock Holmes: Cthulhu Casebooks & Nightmares
The Public Life of Sherlock Holmes: Cthulhu Casebooks & Nightmares
In the early 1900's, Maurice Leblanc had his French detective, Arsene Lupin, face off with Herlock Sholmes. I think you know who he's battling – spelling disregarded. 1965's A Study in Terror sent Holmes after Jack the Ripper on movie screens and in 1988, and Sax Rohmer biographer Clay Van Ash brought Holmes and Fu Manchu together in Ten Years Beyond Baker Street. Crossovers have become more and more popular over the years. James Lovegrove currently has Holmes interacting with the Cthulhu mythos.
I don't do a lot of book reviews here at The Public Life of Sherlock Holmes because I generally don't like to reveal spoilers. And it can be tough to talk about the strong points of a book without giving away key elements. But sometimes, especially with older books, that's part of the price of the post. So, I'll try to limit revelations in this one, but be warned: There be spoilers here!
Lovegrove, who has written several non-Holmes books, is part of Titan's stable of new Holmes authors. Sherlock Holmes and the Shadwell Shadows is the first of a trilogy, with Sherlock Holmes & The Miskatonic Monstrosities due out in Fall of 2017 and Sherlock Holmes and the Sussex Sea Devils to wrap things up in November of 2018.
The basic premise of the book (yea, the trilogy) is that Watson made up the sixty stories in the Canon. He did so to cover up the real truth behind Holmes' work. And that's because the truth is too horrible to reveal. In a nutshell, Watson has written three journals, each covering events fifteen years apart, to try and get some of the darkness out of his soul.
Good old Stamford is in the middle of Holmes meeting Watson, but most definitely not in the manner we learned from A Study in Scarlet. We have already discovered that something extremely unpleasant happened to Watson in a subterranean city in Afghanistan – giving him a wound that had nothing to do with a Jezail bullet.
Holmes and Watson take lodgings together at 221B Baker Street and immediately set off on a case. In a nutshell (somebody needs to clean the floor of all these nutshells here at the Black Gate offices!), Holmes is going to do battle with beings from the Cthulhu tales. The first part of the book has almost a Fu Manchu type of feel to it, but then it shifts into straight Lovecraft horror.
Lovegrove clearly knows the Canon and deftly parallels events from Doyle throughout the book. It's not 'in your face,' but I think it adds depth to the novel. And I would say this book is more in the Cthulhu style than Holmes, and the author is pretty good at Cthulhu.
Something I very much liked about this book is that Lovegrove presents an unpolished Holmes. He is at the beginning of his career, but he is full of the same brash confidence and arrogance that is the hallmark of his professional demeanor. Later, we would see some of the rough edges knocked off a bit. They are glaringly obvious here and his rather self-centric actions bring repercussions for others.
Most 'early Holmes' adventures (including my own "The Case of the Ruby Necklace" give us a 'finished' Holmes. It's the successful, professional Holmes we all know – just at an earlier stage of his career. Lovegrove gives us an undeveloped Holmes. This is an approach more writers need emulate.
Regarding further adventures, Watson writes in the epilogue, "This self-exorcism is far from over. The events of 1895 which began at the Bethlem Royal Hospital at Southwark, the Bedlam of renown and notoriety – will form the next volume of this memoir. Then in the third and final volume I must address the matter of the sea-spawned abominations which blighted the south coast of England some fifteen years further on."
If you like your Holmes with some horror: or if you like Cthulhu tales, I think you are going to like this book. And I'm looking forward to the next one.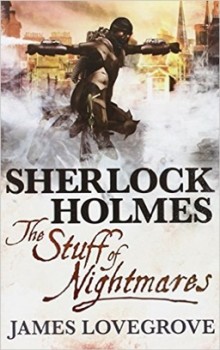 The Stuff of Nightmares is another Holmes adventure from Lovegrove. This one is part of the Titan line from authors such as Lovegrove, George Mann and Guy Adams. They venture into the supernatural, horror and steampunk areas, as opposed to the more traditional Holmes stories that are part of The Further Adventures of Sherlock Holmes imprint.
I have been known to, on very rare occasions, tread into the realm of sarcasm. The following is not in any way sarcastic. I think it's entirely possible that Lovegrove one day thought, "What if I wrote a Holmes book with a Victorian Iron Man, the Bat Cave, some Jules Verne and a Transformer?" Really. And you know what? He then proceeded to write a pretty good Holmes pastiche.
The cover blurb led me to believe the book was basically about Holmes chasing some type of steampunk Spring Heeled Jack vigilante. I was less than enthused, which is why it had been out three years without my giving it a try. But it wasn't – it was much better than that. Unlike The Shadwell Shadows, this one, while involving some rather fantastic elements, was a more traditional Holmes story.
It opens with a bombing at Waterloo station and Lovegrove does a very nice job of writing Dr. Watson, who has just arrived via train when the explosion occurs.
"I had just stepped off the 3:47 from Ramsgate when all hell broke loose… One moment I was presenting my ticket for inspection and preparing to stop onto the concourse at Waterloo Station. The next, there was an almighty detonation that reminded me of nothing so much as a salvo of artillery fire, a great percussive roar that seemed to tear the very fabric of the air asunder."
Lovegrove is very good at descriptive writing. The two books I reviewed for this post were the first of his which I have read and I think he's a very good Holmes author. Shadwell Shadows took place in 1880 and this one is set a decade later. We are dealing with a relatively young Holmes. Lovegrove's two other Holmes books are set in 1895 and 1913. I'm curious to see how he presents a more experienced, older Holmes.
The mechanical vigilante angle is a neat one and I think that alone is enough appeal for a lot of Holmes fans. But there's more to this book, including the mystery of who is behind the bombing campaign. I quite enjoyed The Stuff of Nightmares and I'm going to be reading The Will of the Dead and Gods of War from the author.
I'm going to look into Guy Adams next year, as well as some of the other Titan books. And I'll add that Titan is the distributor for Hard Case Crime, which I wrote about here and here. So, I'm a fan.
Back in September, Black Gate boss John O'Neill wrote about Lovegrove's Pantheon series as well as his  Dev Hamer Mission series.
---
You can read Bob Byrne's 'The Public Life of Sherlock Holmes' column here at Black Gate every Monday morning.
He founded www.SolarPons.com, the only website dedicated to the 'Sherlock Holmes of Praed Street' and blogs about Holmes and other mystery matters at Almost Holmes.
He has contributed stories to The MX Book of New Sherlock Holmes Stories – Parts III, IV and V.