The Public Life of Sherlock Holmes: George Mann's Holmes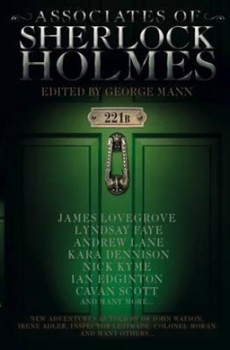 Last week I wrote about two Titan Books novels from James Lovegrove. I mentioned that there are two distinct lines of Holmes pastiches from Titan (actually, there are other books that don't fall in either category, such as Kareem Abdul Jabaar's Mycroft Holmes novel). The Further Adventures of Sherlock Holmes started as reprints and added new books into the mix and are generally more traditional stories.
The other features more elements of horror, steampunk and/or the supernatural and George Mann's two novels are part of this line. He has also edited three anthologies for Titan, including a neat little book called The Associates of Sherlock Holmes.
Associates includes thirteen stories; all focusing on a character found in one of Doyle's sixty original Holmes tales. It's a neat idea and there are some interesting and creative stories in the mix. The aforementioned Lovegrove's "Pure Swank" tells us the real story about Barker, Holmes' 'hated rival upon the Surrey shore,' going back to when he was an Irregular.
Hugo Award winner Tim Pratt's "Heavy Game of the Pacific Northwest" takes Colonel Sebastian Moran to the state of Washington in 1892 to hunt what seems to be Big Foot. It's a good hunting story that paints quite a portrait of the amoral Moran.
Ian Edington's "The Case of the Previous Tenant" brings the best of the official force, Surry's Inspector Baynes, to London. A Viking sword and some borrowing from "The Devil's Foot" make for a fun read.