Supernatural Spotlight – Episode 7.2 "Hello Cruel World"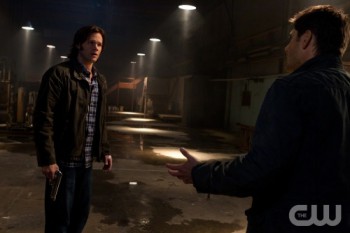 Following the season 7 premiere, Castiel is taken over by the leviathans that he sucked out of Purgatory. This episode begins with a weakened Castiel-turned-leviathan leaving Dean and Bobby with a promise to deal with them later. He heads out into a lake and dissolves into black cloud of water that erupts out flowing in all directions … right into the local water supply, which allows the leviathans to begin taking over unsuspecting residents.
The vessel of Castiel appears to have not made it through the process, leading me to believe that Misha Collins (the actor who played Castiel) is gone from the show, at least for the foreseeable future. Dean certainly laments him, as he finds his trademark trenchcoat floating in the lake.
Sam is having some problems of his own, of course, as he's having visions of Lucifer, who's telling him that he never actually escaped from the cage where he trapped Lucifer and Michael (back at the end of season 5). Instead, Lucifer claims to have been inspiring this delusional post-apocalyptic "escape" as a way of torturing Sam. Dean claims that Lucifer isn't real, but then that's also what Lucifer says about Dean, so it's hardly a compelling argument.