Gods, Monsters and Mayhem: The Pantheon Novels of James Lovegrove
Gods, Monsters and Mayhem: The Pantheon Novels of James Lovegrove
One of my all-time favorite fantasy novels is Roger Zelazny's Hugo-winning Lord of Light, a richly original science fantasy of one man's attempt to stop an elitist cabal from setting themselves up as gods on a newly colonized world, using the gods of the Hindu pantheon as a template. James Lovegrove's 8-volume Pantheon series is, if anything, even more ambitious than that groundbreaking work, as each volume uses a different pantheon of gods to spin a standalone tale of mythological mayhem.
The series began with The Age of Ra in 2009, and continued in six additional novels and one collection, Godpunk. The most recent, Age of Shiva, which borrows from god of the Hindu Pantheon, arrived in 2014, and the next volume, Age of Heroes, which features the Gods of Greece, arrives in paperback next week.
For anyone looking for their next big SF adventure series, the Pantheon novels make a fine candidate. Here's the complete list of titles.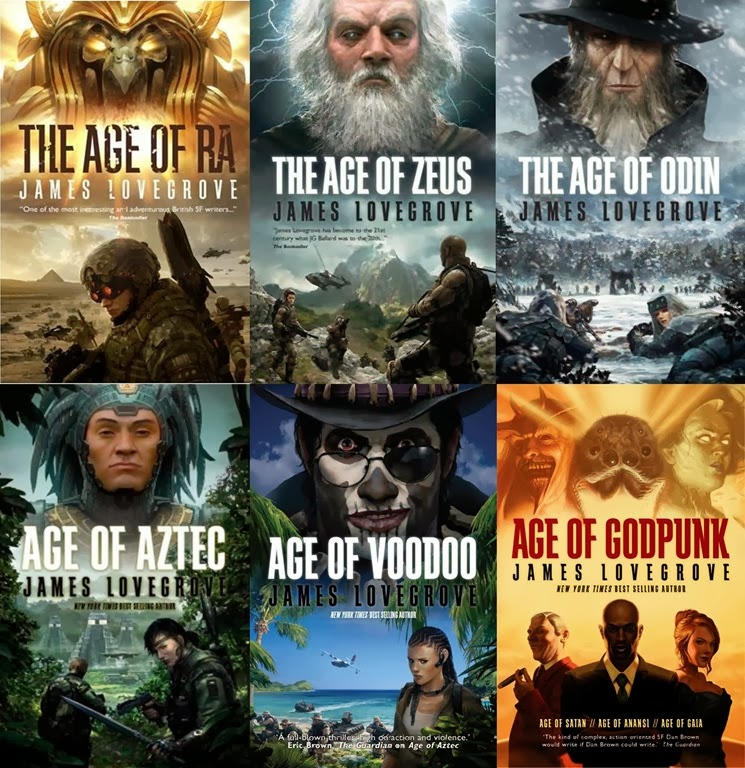 The Age of Ra (2009)
The Age of Zeus (2010)
The Age of Odin (2010)
Age of Aztec (2012)
Age of Voodoo (2013)
Age of Godpunk (2013, collection)
Age of Shiva (2014)
Age of Heroes (2016)
And here's the description for the newest volume, Age of Heroes:
The demigods of Ancient Greek myth are alive and well and ready for war.

Except the demigods of Ancient Greek myth are alive and, well… dying.

Heracles, Perseus, Theseus, Orpheus, Achilles, Hippolyta, Aeneas, King Minos, Helen of Troy – for centuries they have survived on Earth, doing their best to fit in among ordinary humans. The offspring of liaisons between god and mortal, they are blessed, or perhaps cursed, with eternal life. They cannot be killed.

But someone has figured out how to do just that. One by one, the demigods are meeting gory, violent ends.

Now it's up to Theseus, comfortably ensconced in New York and making his living as a crime fiction writer, to investigate the deaths. His search for the culprit draws him back into the lives of his extended family of cousins and half-siblings, and into a world of tragedy and long-held grudges that he thought, and hoped, he'd put behind him.
Age of Heroes will be published by Solaris on September 13, 2016. It is 384 pages, priced at $9.99 in paperback and $6.99 for the digital edition. The fabulous cover is by Naj Osmani.
See all our recent coverage of the best upcoming Series fantasy here.