Art of the Genre: The Art of Steampunk Couture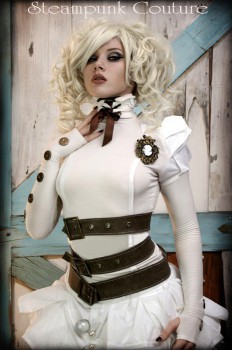 I'm not truly sure when I first heard the word 'Steampunk.' I suppose it happened recently, because I believe the word is more modern than most realize. Before the 2000s I'd say the genre in question had a different title, although I'm not sure what it was.
I mean, we'd certainly seen it, in movies like 20,000 Leagues Under the Sea or even the Wild Wild West. In gaming, I'd even played it with Frank Chadwick's Space: 1889, but it somehow was just 'Victorian Era' or 'Old West with a Twist.' I suppose it could have been called 'Vernian' after Jules Verne, although it's certainly not as catchy as Steampunk.
My thought, as it strikes me in this very moment, is that Cyberpunk, the catalyst of William Gibson, came first and that the 'punk' tag got attached to the 'steam' aspect of the time period in which the genre takes place. This, however, has begun to get overplayed, and just last week I swore off the word 'punk' entirely when I read a quote for a book that labeled the fiction 'Godpunk'… seriously?! Godpunk?
Ah well, whatever the case, Steampunk is here and it seems here to stay. In my own experience, I've had the pleasure of not only gaming in a Steampunk setting, but also writing a novel in the genre with The Gun Kingdoms. That book, inspired by Space: 1889's lead concept artist, David Deitrick, was a pleasure to create and it certainly gave me a fantastic reason to research the culture of the growing genre.