Art of the Genre: The Art of Steampunk Couture
Art of the Genre: The Art of Steampunk Couture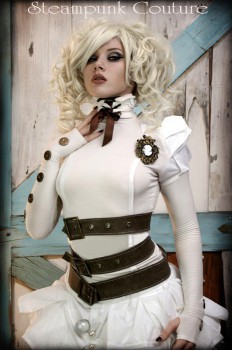 I'm not truly sure when I first heard the word 'Steampunk.' I suppose it happened recently, because I believe the word is more modern than most realize. Before the 2000s I'd say the genre in question had a different title, although I'm not sure what it was.
I mean, we'd certainly seen it, in movies like 20,000 Leagues Under the Sea or even the Wild Wild West. In gaming, I'd even played it with Frank Chadwick's Space: 1889, but it somehow was just 'Victorian Era' or 'Old West with a Twist.' I suppose it could have been called 'Vernian' after Jules Verne, although it's certainly not as catchy as Steampunk.
My thought, as it strikes me in this very moment, is that Cyberpunk, the catalyst of William Gibson, came first and that the 'punk' tag got attached to the 'steam' aspect of the time period in which the genre takes place. This, however, has begun to get overplayed, and just last week I swore off the word 'punk' entirely when I read a quote for a book that labeled the fiction 'Godpunk'… seriously?! Godpunk?
Ah well, whatever the case, Steampunk is here and it seems here to stay. In my own experience, I've had the pleasure of not only gaming in a Steampunk setting, but also writing a novel in the genre with The Gun Kingdoms. That book, inspired by Space: 1889's lead concept artist, David Deitrick, was a pleasure to create and it certainly gave me a fantastic reason to research the culture of the growing genre.

I remember when I was at GenCon in 2010 and Jeff Laubenstein was walking the convention floor with his camera, taking pictures of all the Steampunk-inspired cosplayers. We had a great time collecting images, and I even bought a 'paperboy' hat from a Steampunk-inspired hat stall that you may have seen me wear in one of my many notorious Kickstarter videos.
That first divergence into the fashion of Steampunk led me down the path to an impressive clothing design genesis of the Steampunk clothing industry. Truly, it's an incredible and vast universe that one can quickly lose oneself in.
For me, searching sites for boots, hats, and clothing, I was taken by the unreal talent of the artists/designers who were making a living on Steampunk lines even as early as 2005. It was crazy and exciting to find these talents, but it wasn't until I discovered the muse of all Steampunk muses, in the form of Kato, that I knew my dream of writing Steampunk had to be realized.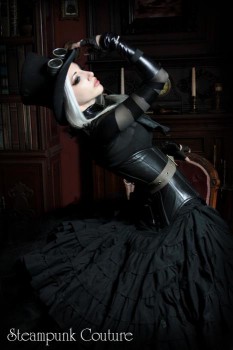 Kato, a diminutive Welsh diva, had taken her needles and thread across the Atlantic to the U.S. and the uncharted frontier of Los Angeles after the dawn of the new millennia. Here she began her expanded brand, Steampunk Couture, as she attended conventions like San Diego Comic Con and launched sites to sell her goods.
She is a tireless promoter and entrepreneur that has a talent as vast as her hair is white. To see the sex appeal and devotion to detail she produces on a quarterly basis for her clothing lines is an inspiration to all artists out there looking to enter design.
There is little doubt that she proves just how incredible niche markets can be for your career, and that her vision of a 'past that never was' is even brighter than any future I could imagine. She is a visionary, a mistress of the ether, and patron saint of ladies with attitude.
For any of you who love costumes, the past, and that ability to drive men mad with Victorian desire, then take a look at Kato's pages on Facebook, her shop on Etsy, or her Steampunk Couture website. I promise you'll not be disappointed.