Enjoying Vintage Comics with The Toon Treasury of Classic Children's Comics
Enjoying Vintage Comics with The Toon Treasury of Classic Children's Comics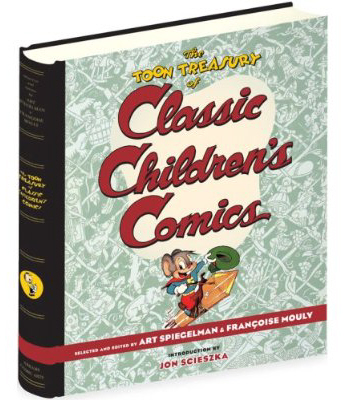 One of the great things about the 21st Century? Cheap comic reprints (I know, that's top of your list too, right?)
Seriously. When I was growing up, if you wanted to know what happened in Amazing Spider-Man #65, you had to find someone five years older than you and pester the hell outta them until they told you. As comic archival systems went, it was crude and had little to recommend it.
Not today. Now you have an embarrassment of choices. Want the color reprints of Amazing Spider-Man? The cheap black-and-white? Hardcover or paperback? Digital or paper? Paper or plastic? Bah. All these choices make me grumpy. I miss nagging all the teenagers in my neighborhood. Yelling at them to get off my lawn isn't the same.
And here's the other thing. If you want to read premium reprints of superhero, sci-fi, or horror comics from the 50s through the 90s, life is grand. Just browse the graphic novel section at Barnes & Noble or Amazon and you'll see what I mean — the choices are staggering. Marvel, DC, Gold Key, Charlton, EC… they're all there, and in quantity.
But if you're interested in children's comics from the same era? Good luck.
There are a few intrepid publishers bucking the trend. Fantagraphics has one of the most ambitious publishing ventures in the history of comics with The Complete Peanuts, collecting all 17,897 daily and Sunday strips by Charles M. Schulz (18 hardcover volumes, so far). And let's not forget Pogo: The Complete Daily & Sunday Comic Strips by Walt Kelly, or the extensive Disney comics of Carl Barks — especially his Donald Duck and Uncle Scrooge — published by Gladstone and Boom! Studios over the years.
But these publishing projects assume you're already a dedicated fan, and willing to shell out $30 (or more) per book for archival quality hardcovers. What if you just want to sample some of the best from the golden age of kid's comics? For that, I heartily recommend Art Spiegelman and Francoise Mouly's wonderful volume, The Toon Treasury of Classic Children's Comics.
Now, I'm a huge fan of superhero, science fiction, and horror comics. I loved everything from Magnus, Robot Fighter to House of Mystery to Blue Beetle. Still do, to be honest.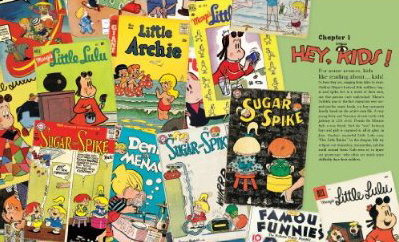 But I also loved Richie Rich, Uncle Scrooge, Little Lulu, Pogo, Dennis the Menace, Archie, and many other comics that were usually regarded as "kid's stuff," even by most comic collectors.
As a result, most of those classic titles haven't fared so well in the reprint sweepstakes.
Perhaps that's why I love The Toon Treasury of Classic Children's Comics so much. It's an unabashed celebration of the finest kid's comics published between the late 1930s and the early 1960s, including Uncle Scrooge, Donald Duck, Sugar and Spike, Pogo, The Fox and the Crow, Supermouse, Uncle Wiggily, Dennis the Menace, Little Lulu, Melvin Monster, Little Archie, and dozens of others.
Focusing on comic books, not strips, this huge volume collects some of the finest work of the best comic creators of the 20th Century, including Carl Barks, Theodor Seuss Geisel ("Dr. Seuss"), Walt Kelly, Basil Wolverton, Jack Cole, Jules Feiffer, John Stanley, Sheldon Mayer, George Carlson, and many others. Altogether, it gathers a total of 67 complete stories from dozens of comic titles.
I stayed up all night reading this wonderful book and was so enthralled, I didn't hear the burglars who broke into my home. Get your own copy and then you, too, will have no furniture.

— Lemony Snicket
Lemony Snicket busts me up.
There's a lot of brilliant work here. I probably don't need to extol the virtues of Uncle Scrooge creator Carl Barks, who's still revered today as one of the finest comic artists of all time, or Walt Kelly, whose Pogo is still in print.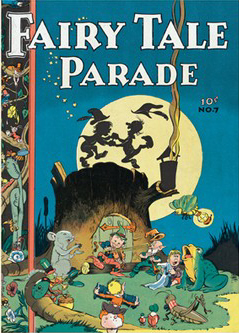 But Kelly's amazing work for Fairy Tale Parade, a 9-issue comic from Dell Publishing produced during World War II, is less well-known. But it's given pride of place here with two complete stories, including the 14-page epic, "Prince Robin and the Dwarves," and the cover to issue #7, reproduced in gorgeous detail.
Many of my favorite pieces came from folks who are not household names — cartoonists like John Stanley, whose Little Lulu has long been a favorite of mine.
Lulu has two complete stories here, both winners. If you're a Little Lulu fan, Dark Horse Comics has collected the series in 29 volumes, which I discussed here back in September.
But you don't come to a book like this solely to enjoy the work of creators you're already familiar with. It's called a Treasury for a reason: it contains a treasure trove of wonderful tales, and it rewards browsing.
Enjoy C.C. Beck's Captain Marvel as he confronts the horrors of modern art in "In the Land of Surrealism!" (from 1948). Laugh at the first appearance of "The Three Mouseketeers" by Sheldon Mayer (1956). And marvel at Dick Briefer's slightly off-kilter interpretation of Frankenstein in "Musical Monster" (1946).
Once you hold it in your hands, I challenge you to resist the incredible charms of this book.
The Toon Treasury of Classic Children's Comics was published by Abrams ComicArts in September, 2009. It is 352 pages in hardcover, and retails for $40.