Little Lulu Volume 25: The Burglar-Proof Clubhouse and Other Stories
Little Lulu Volume 25: The Burglar-Proof Clubhouse and Other Stories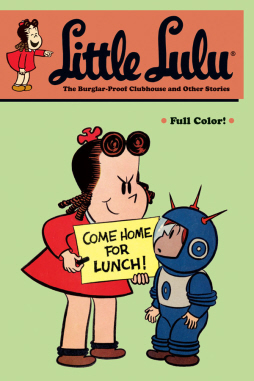 During my heyday as a young comic collector — from maybe 1973-1977 — I primarily chased Marvel titles, with the occasional DC offering like Legion of Super-Heroes, and a smattering of Charlton comics such as Blue Beetle. Like most ten-year-old collectors I scorned kid's comics, of course.
At least in public. Behind closed doors, I loved virtually all comics, and read whatever I could get my hands on: Archie, Uncle Scrooge, Casper the Friendly Ghost, and even Little Lulu, which featured the comparatively tame adventures of Lulu Moppet and her neighborhood friends as they hunt for wild turkeys in the local woods, solve the mystery of a missing tea cup, and go to school.
I only recently discovered that Dark Horse Comics has reprinted over a decade's worth of Little Lulu in 29 volumes (!!), many of them in full color. A pretty staggering feat of cultural scholarship, sure, but I have to admit my initial reaction was "Who the hell wants to read that much Little Lulu?"
Me, as it turns out.
Just as I did roughly 40 years ago, I slipped a copy of Little Lulu into a stack of larger comics when I thought no one was looking.  Back then it would go between Amazing Spider-man and Grimm's Ghost Stories, just before I marched up to the drug store counter with my stack of quarters.  Last week, I quietly added it to my Amazon cart between Hellboy, Volume 1 and Marvel's collected Son of Hulk, when my kids were in the other room. Listen — no matter how old you are, the scorn of children is a terrible thing.
As soon as that package arrived, it wasn't Hellboy or Son of Hulk I opened first. It wasn't even Star Wars: Knights Of The Old Republic, Volume 7, and that baby had storm troopers on the cover. No. It was Little Lulu.
Sure, there's an degree of nostalgia at work. (Of course, thanks to the rapid onset of old age and what's likely dementia, I find I'm somehow equally nostalgic towards Hellboy, which I discovered in the dimly-remembered 90s).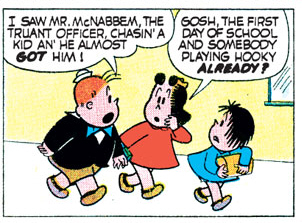 But there's more to it than that, and chalking the charming appeal of this comic up to a generic tendency "to love all comics" does an enormous disservice to the wonderful humor and compact story-telling of Little Lulu.
Lulu was created by Marge Buell for a cartoon in The Saturday Evening Post in 1935, and appeared weekly in that magazine until 1944. She appeared in ten issues of Dell Comics' Four Color comic book until graduating to her own title in 1948: Marge's Little Lulu, which continued until issue #268 in 1984 — a spectacular run of nearly four decades, making Little Lulu one of the most successful comic characters of the 20th Century. She also appeared in 28 cartoons from Famous Studios, and two animated TV series, including Cartoon Network's The Little Lulu Show (1995 – 1999).
Little Lulu Volume 25: The Burglar-Proof Clubhouse and Other Stories collects six issues of Marge's Little Lulu, #124 to #129, originally published by Dell Comics from October 1958 – March 1959. They were written and drawn by John Stanley and Irving Tripp, and their version of Little Lulu has all the warmth and humor I remember.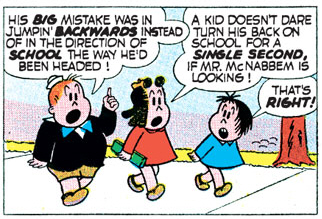 The stories in Volume 25 portray the world as seen through the peculiar and wonder-filled eyes of children better than any other work of fiction I can recall. Rarely straying outside a two-block radius from Lulu's front yard, the setting nonetheless encompasses a dazzling range of strange and danger-filled landscapes: shadowy caves in the middle of a club initiation, a treacherously steep toboggan run, a dark and magic-filled living room on Christmas eve, the mysterious kitchen of that new girl from France.
A hunting trip for wild turkeys across the street suddenly becomes a dangerous safari into a primeval forest filled with unknown horrors the moment Lulu and her friends lose sight of the street. The morning walk on the first day of school becomes a gauntlet run requiring exceptional courage and invention when the gang discovers the new truant officer is arresting anyone taking an accidental step in the wrong direction.
Magic appears in these tales in its truest and most believable form: in the stories the children tell each other. Just as I believed the tales of local ghosts and horrors whispered to me by older neighborhood kids with all my heart, so too do Lulu and her friends share tales of witches and Indian princesses, and solve mysteries with the help of a potent crystal ball that used to be a door knob.
You can enjoy a preview of the book in the form of a complete 5-page tale, the above-mentioned "Back to School" featuring the evil truant office Mr. McNabbem, here.
Little Lulu is a potent blend of childhood nostalgia and humor, with genuine laugh-out loud moments. Dark Horse is doing the world a favor by bringing it back in print in handsome and inexpensive volumes. Don't pass it up.