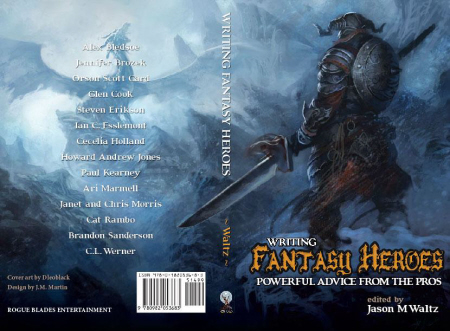 Three weeks ago, we asked Black Gate readers to tell us about their ideal hero in one paragraph or less. It could be a fictional character, or a general description of those qualities that make a hero ideal.
In return, we offered to award a copy of the new book, Writing Fantasy Heroes, edited by Jason Waltz and published by Rogue Blades Entertainment, to three lucky winners.
Those three winners will be randomly drawn from the list of all the entrants.
Before we announce the winners, let's have a look at some of the best entries. As much as we'd like to, we can't reprint all the entries we received, so we'll limit it to the 20 we found most insightful, well written, or original. We'll start with Daran Grissom, who tells us an ideal hero is:
Someone who, when confronted by the possibility of adventure, enters into it reluctantly, but with determination. A man or woman with a unique trait or skill who is delivered, by fate or vocation, to a place where he or she chooses to go above and beyond what is reasonably asked of them. An exceptional person, in exceptional circumstances, doing exceptional things. That is a hero.
A fine summary, and we'll see plenty of examples in the next 19 entires — including Han Solo, Conan, Kane, The Gray Mouser, and of course John Wayne.
---