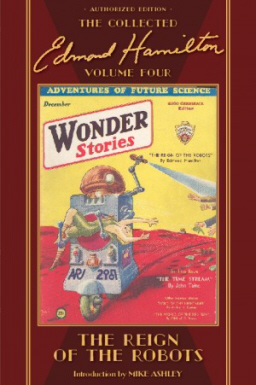 Last month, we invited Black Gate readers to send us a one-sentence review of their favorite Edmond Hamilton novel or short story.
In return, we offered to award a copy of the long-awaited fourth volume of The Collected Edmond Hamilton from Haffner Press to one lucky winner. The winner was randomly drawn from the list of all qualified entrants.
Before we announce the winner, let's have a look at some of the entries. We can't reprint all of them, but we can hit the highlights. (But fret not — all qualifying entries received before April 20 were included in the drawing.)
We left the choice of what novel or story to review up to you and we weren't too surprised to find the most popular topic was Edmond Hamilton's The Star Kings series. Robert James Parker kicked things off with this review:
John Gordon, suffering from an existential crisis, agrees to travel through time and space to the far future where he gets caught up in a sweeping space opera full of cosmic space battles, beautiful princesses, and bizarre monsters.
Andy Sheets gets bonus points for a completely à propos Alan Rickman reference.
How can you not be enticed by a story about an out of step WWII veteran getting mind-swapped into the body of a prince 200,000 years in the future, hooking up with a foxy future princess, and battling The League of Dark Worlds, lead by a guy who should totally be played by Alan Rickman in the movie, with a super-weapon called the Disruptor, all tightly packed into a fast-moving novel not even 200 pages long?!
---