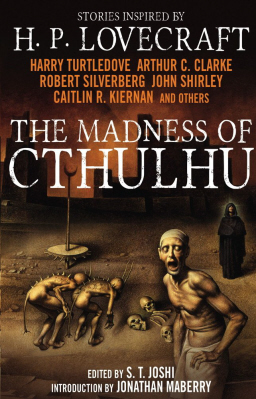 Earlier this month month, we invited Black Gate readers to send us a one-sentence review of their favorite H.P. Lovecraft tale.
In return, we offered to give out two copies of S.T. Joshi's major new horror anthology, The Madness of Cthulhu, Volume One, on sale this month from Titan Books. The winners were randomly drawn from a list of all qualified entries.
And what entries they were! This was the most popular contest we've run in some time — by a wide margin. Before we announce the winners, let's have a look at some of the best entries. We can't reprint them all, but we can share the Top 20 or so with you. (But fret not — all qualifying entries received before October 21 were included in the drawing.)
We left the choice of what story to review up to you, and we weren't too surprised to find most of Lovecraft's most famous stories represented — starting with one of the most famous horror stories in the English language. A reader who went simply by "Bob" kicked off the contest with his brilliantly concise entry:
What could possibly be better then rats…..in the walls?
The Rats in the Walls
Rich Miller beautifully sums up the appeal of this classic tale with his entry:
For fans of large rodents, ruined estates, underground caverns, degenerate humanity, and dark family secrets better left undiscovered, you can't go wrong with this classic Lovecraft tale from 1924.
---