Vintage Treasures: The Horror Horn by E. F. Benson
Vintage Treasures: The Horror Horn by E. F. Benson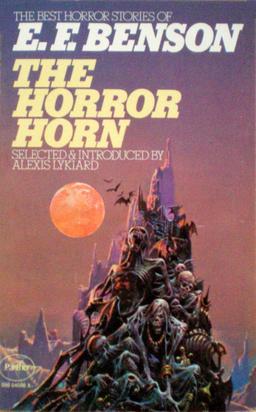 Is Bruce Pennington the finest cover artist in publishing history?
Probably. I talked at length about my own interest in his art — and how we licensed two of his paintings as covers for Black Gate — in The Lost Art of Bruce Pennington. Over the years, I've collected much of his work and seen a great deal more online and in various art books, but from time to time I'm still surprised to see a previously undiscovered Pennington cover on a hard-to-find book (as I was with the Panther edition of Fritz Leiber's Night Monsters back in January.)
So you can understand my delight last week when I stumbled upon The Horror Horn on eBay, a 1974 collection by British horror writer E. F. Benson. It had a marvelously macabre cover by Bruce that I'd never laid eyes on before. In fact, I didn't even know this book existed. The bidding stood at 5 bucks, with less than two days to go.
Well, you know how reluctant I am to pay more than $8 – $10 for a paperback. It's rare indeed that the patient collector has to pay more than that for anything. But this was an exception, and I submitted my bid for $14 and sat back to see what happened.
In the meantime, I did a little homework on E. F. Benson. We've never really mentioned Benson here before (although he's popped up in horror collections from time to time, including Otto Penzler's magnificent The Vampire Archives and Henry Mazzeo's Hauntings: Tales of the Supernatural), and that's probably an oversight.
Benson, who died in 1940, was an English novelist and short story writer, with 68 novels to his credit and 10 collections published in his lifetime. He was a frequent Weird Tales contributor and he also appeared regularly in British publications like Hutchinson's Magazine and The Illustrated London News.
Most of his work is now long out of print, but Wordsworth published Night Terrors: The Ghost Stories of E.F. Benson (part of their terrific Tales of Mystery & The Supernatural series, which we've discussed many times) in 2012, and Ash-Tree Press collected all of E.F. Benson's supernatural fiction in The Collected Spook Stories (five volumes, 1998 – 2005 — that's them, below right).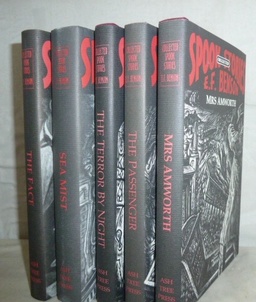 In his "Surprising literary ventures" column for The Spectator, Gary Dexter wrote a brief review of The Horror Horn in 2006. Here's what he said, in part:
The title story concerns a female yeti who pursues the quivering hero down a mountainside with the specific intention of catching and 'mating' with him. 'She was enveloped in a thick growth of hair grey and tufted, and from her head it streamed down over her shoulders and her bosom, from which hung withered and pendulous breasts… A fathomless bestiality modelled the slavering mouth and narrow eyes.' And I must draw a veil over what happens next.
Yeah, that's sounds pretty creepy to me.
Here's the description from the back of the book (which I painstakingly transcribed from this blurry pic on eBay:
Are you ready for the ultimate in sheer horror?

Here are stories from the darker reaches of the mind, stories which will cling like mould in your memory because there is something horribly real and convincing about them. Walk carefully down these familiar paths — you will find the unfamiliar awaiting you. What is that shadow in the corner? The dark area behind the stairs? The movement behind you when your candle goes out? Why is there blood in the coffin? Each of these tales rings an ominous bell, tolling in the mind's graveyard, reminding you of some hidden nightmare.

Be Warned: Don't read it at bedtime…
And here's the complete Table of Contents:
Introduction by Alexis Lykiard
"The Sanctuary" (More Spook Stories, 1934)
"Monkeys" (Weird Tales, December 1933)
"The Bed by the Window" (Weird Tales, November 1929)
"And No Bird Sings" (Woman, December 1926)
"The Face" (Hutchinson's Magazine, February 1924)
"Mrs. Amworth" (Hutchinson's Magazine, June 1922)
"Negotium Perambulans" (Hutchinson's Magazine, November 1922)
"The Horror-Horn" (Hutchinson's Magazine, September 1922)
"The House with the Brick-Kiln" (The London Magazine, December 1908)
"The Thing in the Hall" (The Room in the Tower and Other Stories, 1912)
"Caterpillars" (The Room in the Tower and Other Stories, 1912)
"Gavon's Eve" (The Illustrated London News, January 13, 1906)
"The Room in the Tower" (The Room in the Tower and Other Stories, 1912)
By the time the eBay auction ended, the price had skyrocketed to $22.27… perhaps a fair price for a nearly 40-year-old paperback in great condition, but a little beyond my means. I lost out on this one, but I'm on the hunt for another copy, and I know one will turn up. Eventually.
The Horror Horn was published by Panther Books in 1974. It is 205 pages in paperback, cover priced at 40 p. The cover is by Bruce Pennington. It has never been reprinted, and there is no digital edition. If you see a copy for sale, do me a solid and shoot me an e-mail. I would appreciate it.
See all of our recent Vintage Treasures here.