Vintage Treasures: Night Monsters by Fritz Leiber
Vintage Treasures: Night Monsters by Fritz Leiber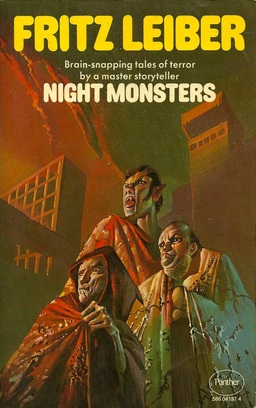 Night Monsters is an interesting case study in book collecting, as least for me.
It was originally published in 1969 as part of an Ace Double set, with a moody but otherwise fairly unremarkable cover by Jack Gaughan (see below). The subtitle Ace put on the collection was "A new collection of the weird, the wonderful, and the macabre," which was certainly accurate, if a little pedestrian.
I bought a copy 25 years ago. Never read it. It shared a spine with Leiber's early novel The Green Millennium (here's John Schoenherr's cover, just because I have a thing about uploading paperback covers), which I found a little more interesting. To be honest, after a few years I kinda forgot about the book on the back side of The Green Millennium.
Fast forward to early 2013. I'm surfing eBay and I stumble on a copy of Fritz Leiber's Night Monsters, a Panther paperback published in the UK in 1975. I have no immediate recollection of a Fritz Leiber collection called Night Monsters, but that's not necessarily a big deal; it could be a re-titled version of one of his collections I do remember.
What is a big deal is that I recognize the cover artist. There's no doubt in my mind that it's the work of the great Bruce Pennington, who provided some of the finest covers for Black Gate, for BG 12 and BG 14.
I'm a huge Pennington fan. Part of it is simple gratitude — the man was enormously gracious to me when I called him up in 2007, hoping to buy the rights to two of his paintings. He had no idea who I was, calling him from America with nothing more than high spirits and a meager budget. He very politely asked to see "a copy or two" of my little magazine, before making up his mind.
Twenty-four hours later I had two sample issues in the mail bound for England, with an enthusiastic hand-written note telling Bruce how much I admired his work. About a month later I received a marvelous letter from him, saying he had been very impressed with the issues, and that he would be delighted to provide us the art we wanted — and at the price I had offered.
But it's not just gratitude. I'm convinced Bruce Pennington (website here) is one of the most talented fantasy artists of the last 50 years, and I was enormously proud to have his paintings grace two issues of my magazine.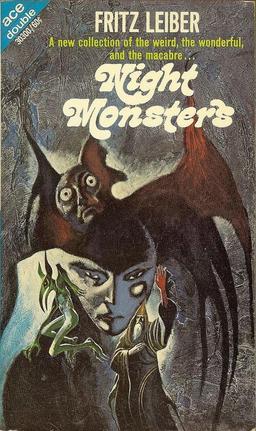 So you can imagine how covetous I was of that copy of Night Monsters… a previously unknown collection by one of the finest fantasy authors of all time, wrapped up in a marvelously colorful and baroque Bruce Pennington cover. As an added bonus, the subtitle for this version is far more satisfying:
Brain-snapping tales of terror by a master storyteller
Brain-snapping! It had to be mine.
And very shortly thereafter it was mine, and at a very fair price, too. No one puts up a fight for vintage paperbacks on eBay any more. It's sad.
Of course shortly thereafter, with great pride and satisfaction, I shelved my bright new copy of Night Monsters in my collection… and that's when I discovered it had a US release a few years earlier, and in fact I already had a copy. (Not to worry — this thing happens to me all the time. Indeed, shortly after the Panther edition of Night Monsters arrived, I found I already had a copy of that one too, buried in a collection I'd purchased months ago. Man, I desperately need a decent filing system…)
Anyway, this is where the story gets interesting. The US and UK versions of Night Monsters are not identical… in fact, they're practically two different collections.
Here's the Table of Contents for the Ace Double edition of Night Monsters, originally published by Ace in 1969:
"The Black Gondolier," (1964)
"Midnight in the Mirror World," (1964)
"I'm Looking for Jeff," (1952)
"The Casket-Demon," (1963)
A little slim… but it is half of an Ace Double volume, after all, so space is at a premium. And here's a peek at the TOC for the Panther edition, published in 1975:
"The Black Gondolier," (1964)
"Midnight in the Mirror World," (1964)
"I'm Looking for Jeff," (1952)
"The Creature from Cleveland Depths," (1962)
"The Oldest Soldier," (1960)
"The Girl With the Hungry Eyes," (1949)
"A Bit of The Dark World," (1962)
So, only three stories overlap, out of a total of 8. They are, indeed, for all intents and purposes two different anthologies — something I doubt I would ever have discovered if I hadn't accidentally purchased both versions.
So here's to those random collecting moments when an unnecessary purchase leads to an unexpected and rewarding discovery. And here's to — once again — Bruce Pennington. The man hasn't steered me wrong yet.
Night Monsters was published by Panther in 1975. It is 187 pages in paperback, published at 60p (Canadian price: $2.50). There is no digital edition, but used copies start at just 82 cents at Amazon.com.
See all of our recent Vintage Treasures here.