New Treasures: City of Stairs by Robert Jackson Bennett
New Treasures: City of Stairs by Robert Jackson Bennett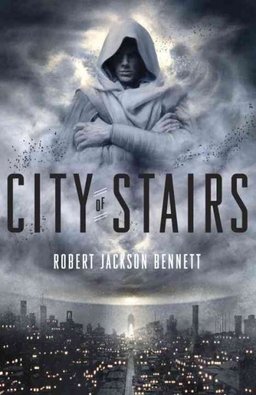 Last month, I made a feeble attempt to sneak in a three-year old book as a New Treasure: The Company Man, a Robert Jackson Bennett novel I'd missed when it first came out. Truthfully, I'd only stumbled on The Company Man because of all the pre-publication buzz around his newest, City of Saints, and I didn't want to seem late to the party.
I'm not going to make the same mistake with City of Saints, a tale of vast conspiracies, dead gods, buried histories, and a mysterious, protean city. Robert Jackson Bennett, author of Mr. Shivers (2010), The Troupe (2012), and American Elsewhere (2013), is quickly gaining recognition as one of America's most acclaimed young fantasy writers.
Personally, I think he owes at least part of his fame to the fact that he's a dead ringer for Chris Pratt, star of Guardians of the Galaxy. (See the results of our explosive investigative report: Robert Jackson Bennett and Chris Pratt: Separated at Birth?)
The city of Bulikov once wielded the powers of the gods to conquer the world, enslaving and brutalizing millions — until its divine protectors were killed. Now Bulikov has become just another colonial outpost of the world's new geopolitical power, but the surreal landscape of the city itself — first shaped, now shattered, by the thousands of miracles its guardians once worked upon it — stands as a constant, haunting reminder of its former supremacy.

Into this broken city steps Shara Thivani. Officially, the unassuming young woman is just another junior diplomat sent by Bulikov's oppressors. Unofficially, she is one of her country's most accomplished spies, dispatched to catch a murderer. But as Shara pursues the killer, she starts to suspect that the beings who ruled this terrible place may not be as dead as they seem — and that Bulikov's cruel reign may not yet be over.
City of Stairs was published by Broadway Books on September 9, 2014. It is 452 pages, priced at $25 in paperback and $9.99 for the digital edition. The cover is by Sam Weber.