New Treasures: The Company Man by Robert Jackson Bennett
New Treasures: The Company Man by Robert Jackson Bennett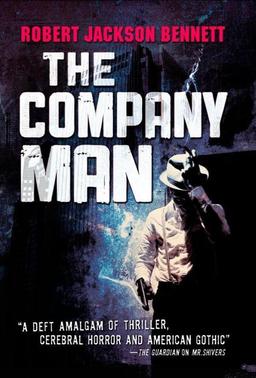 Yes, I'm late to the party with The Company Man. Yes, it came out three years ago. And yes, here I am trying to pull a fast one and sneak it in as a "New Treasure." Work with me here; it's been a long week.
Basically, I decided it's time to pay attention to this Robert Jackson Bennett fellow. He made a considerable splash with his debut novel, Mr. Shivers (2010), and since then he's put out a book a year: The Company Man (2011), The Troupe (2012), and American Elsewhere (2013). His latest, City of Stairs, which Tor.com described this morning as "an atmospheric and intrigue-filled novel of dead gods, buried histories, and a mysterious, protean city," goes on sale next week. The Company Man looks like a very dark alternate history that combines gumshoe pulp fiction with a steampunk setting. I bought a copy last week, and it shot immediately to the top of my TBR pile.
The year is 1919.

The McNaughton Corporation is the pinnacle of American industry. They built the guns that won the Great War before it even began. They built the airships that tie the world together. And, above all, they built Evesden – a shining metropolis, the best that the world has to offer.

But something is rotten at the heart of the city. Deep underground, a trolley car pulls into a station with eleven dead bodies inside. Four minutes before, the victims were seen boarding at the previous station. Eleven men butchered by hand in the blink of an eye. All are dead. And all are union.

Now, one man, Cyril Hayes, must fix this. There is a dark secret behind the inventions of McNaughton and with a war brewing between the executives and the workers, the truth must be discovered before the whole city burns. Caught between the union and the company, between the police and the victims, Hayes must uncover the mystery before it kills him.
Others have clearly caught on to Robert Jackson Bennett long before me — he's been awarded an Edgar, the Shirley Jackson, and the Philip K. Dick Citation of Excellence. The Company Man was published in April 2011 by Orbit Books. It is 466 pages, priced at $13.99 in trade paperback and $9.99 for the digital version.