Special Fiction Feature: "The Moonstones of Sor Lunarum" by Joe Bonadonna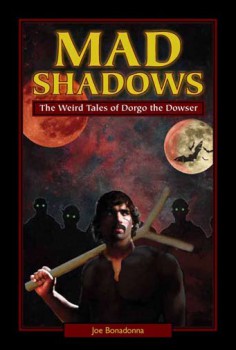 Back on August 9, 2011, I wrote an article entitled "Dorgo the Dowser and Me," which John O'Neill graciously posted on the Black Gate website here.
It was all about my first published novel of swords and sorcery, Mad Shadows: The Weird Tales of Dorgo the Dowser, the influences that inspired the book, plus some teaser "trailers" about each story. Mad Shadows is really a picaresque novel — a collection of six stories linked together by a main character, and a cast of recurring characters. While the first three stories are somewhat humorous in tone, they contain all the ingredients of sword and sorcery fiction: magic, mayhem, monsters, and murder. The final three stories are darker, grimmer, and deal with loss and tragedy.
Mad Shadows: The Weird Tales of Dorgo the Dowser can be purchased online at Amazon.com, Barnesandnoble.com, or directly from the publisher, at iuniverse.com. It's available in hardcover, trade paperback, and as an eBook for both Nook and Kindle.
The story I've chosen for the Black Gate website is "The Moonstones of Sor Lunarum." This is the third story in the book, and the only one not told in first person. While it contains its share of humorous scenes and amusing characters, the theme is one of loss. And of course, the shadow of death is constantly lurking in the shadows…