The Desert of Souls is One of the Best Fantasy Novels of 2011
The Desert of Souls is One of the Best Fantasy Novels of 2011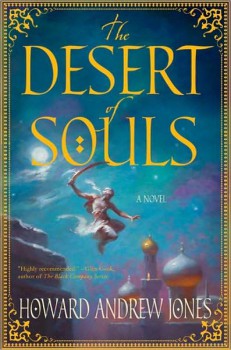 Howard Andrew Jones' first novel The Desert of Souls has been named one of the best fantasy novels of the year by Barnes & Noble.
Paul Goat Allen, a full-time genre book reviewer who's reviewed thousands of titles over the past 20 years, posted his choices for the Best Fantasy Releases of 2011 at Explorations, the highly respected Barnes & Noble science fiction and fantasy Blog. In addition to Desert of Souls (#4), the list also includes Prince of Thorns by Black Gate blogger and author Mark Lawrence (at #5), and our good friend James L. Sutter's first novel, Death's Heretic (#3).
The top two books in the list were The Wise Man's Fear by Patrick Rothfuss and Farlander by Col Buchanan. Allen writes:
The sheer amount of noteworthy fantasy debuts in 2011 was remarkable. Besides Buchanan and Sutter's stellar first novels, this year gave us The Desert of Souls by Howard Andrew Jones, Mark Lawrence's Prince of Thorns, Stina Leicht's Of Blood and Honey, Courtney Schafer's The Whitefire Crossing, Paula Brandon's The Traitor's Daughter, The Emperor's Knife by Mazarkis Williams, Among Thieves by Douglas Hulick, Michael J. Sullivan's Theft of Swords, and Teresa Frohock's Miserere.
You can read an exclusive excerpt from Prince of Thorns, Brian Murphy's recent review of The Desert of Souls, and Andrew Zimmerman Jones' review of Death's Heretic, all right here at Black Gate. Don't tell us we don't point you to the best fantasy.
Congratulations to Howard, Mark and James!