Art of the Genre: I.C.E.'s Middle-Earth Roleplaying Part Two, Angus McBride [1931-2007]
Art of the Genre: I.C.E.'s Middle-Earth Roleplaying Part Two, Angus McBride [1931-2007]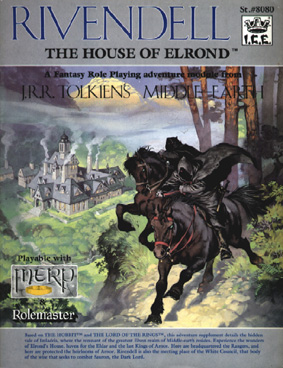 It's the day after Christmas here in L.A. as I write this, the office quiet, but I felt like going in anyway and getting some work done. Perhaps it was because yesterday, after a wonderful feast of turkey, potatoes, and all the fixings, I took a walk with the family three miles from my home out onto the Palos Verdes peninsula. This walk, in seventy degree temperatures with a slight easterly breeze and done in shorts and a T-shirt, held an immense amount of physical beauty.
With a cloudless azure sky, and a tranquil ocean all the way to the mountainous shadows of Catalina Island, the channel is was an epic vista. Still, what strikes a writer's soul is often the movement of it all, the flights of pelicans looking like pteranodons sailing at eye level as you walk atop the hundred foot bluffs that drop into the whitewater curls of water churning below. If you look down into the kelp fields further out from the breakers you can spy the blazing orange Garibaldi, the state fish of California, as they shine under the waves amid the deep green strands, and further out into the endless blue go the whales.
Gray's this time of year, majestic and high breaching, they spew mist into the air in pods traveling south, their monstrous tales fully lifted from the waves before plunging down once more into the depths.
It's a stirring event, these migrations, and as I went home I couldn't help but think about my next article and how the artist I'd be featuring had first seen and been moved by similar events, this time humpbacks, off the western cape of South Africa.
This gift of nature, and having shared his life between England and Africa, helped shape an artist who transitioned from full-time historical military drawer to the role of visionary painter in J.R.R. Tolkien's Middle-Earth.
So, today I bring you the next part of my argument as to why the Middle-Earth Role Playing game is the most beautiful RPG ever made.
PART TWO: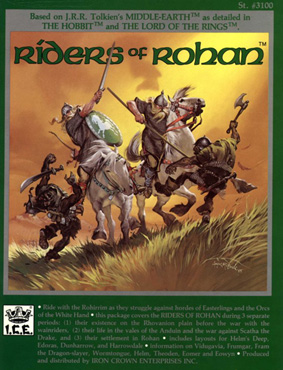 As I stated in my first piece, Middle-Earth Role Playing, or MERP, was a lofty success in the 1980s, and with a world as rich with history as the one created by Tolkien, it's no wonder that the game helped capture the imagination of so many gamers during that decade.
At its height, it could be found alongside AD&D at bookstores nationwide, and I got my first 'red box' copy of the game at Waldenbooks in Lafayette, Indiana sometime around 1984.
This first introduction to the game didn't include either of the two pillars of the MERP genre where art was concerned, but it was more than enough to get me hooked. After beginning play, I often went out looking for more information and adventures on the haunts of the Fellowship of the Ring and Bilbo Baggins, with the bulk of the supplementation during that early 80s timeline being covered by artist Gail B. McIntosh.
Success, however, brings money, and money turned Iron Crown Enterprises, the gaming company who produced MERP, from a local sourcing gaming start-up to a world recruiting entity with the bank account to pick any artist they wanted for their line.
To do this, Art Director Rick Britton, went for the Osprey Publishing mainstay Angus McBride and the rest is history.
Angus was born of Highland Scot parentage and orphaned at an early age when his mother died at 5 and his father was killed in World War II when Angus was 12. Still, he managed his way through school, joined the Royal Fusiliers, and then went into advertising [as many young artists do]. When England's economy was extremely slow to recover after WWII, he found it necessary to move to Cape Town, South Africa and pursue a career in art.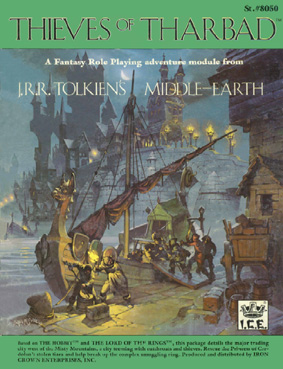 There, he became a modestly successful local artist, and although he moved back to England in 1961, and then back to South Africa in the early 70s, he did attach himself to several British and American publishers along the way. The most famous of these connections came when he started illustrating the Osprey Publishing series Men-At-Arms in 1975.
If McBride is known world-wide for any one thing, it's certainly his work as Osprey, but I contend that his most vital work came in defining Middle-Earth for I.C.E. beginning in 1985. Replacing McIntosh's straight watercolor designs, McBride brought in his gouache styling, the heavier pigments involved stepping the weight of the images to a near oil level while still maintaining a subtlety and flow that draws the eye of the reader.
When I took time out of talk to I.C.E.'s former Art Director, Rick Britton, concerning his working relationship with Angus he stated the following in no uncertain terms, "Angus was absolutely the best MERP cover artist (in my never-to-be-humble estimation). His studio was in Cape Town, and in part because of the South Africa connection, he had a great affinity for Tolkien's work. What made him the best MERP artist, however, was something very simple—Angus McBride was a military artist extraordinaire. He had already illustrated weaponry and armor and combat scenes from many different time periods, so when it came time to put armor on an Orc . . . well, it worked!"
Now Rick is never one to mince words, and although he's pulling no punches here, I think it's refreshing for an Art Director, who should be known for his ambiguity on 'favorites', to come right out and give a quote like that. Not only does it speak to Rick's personality, but it also gives a hearty vote of confidence to just how great Angus really was.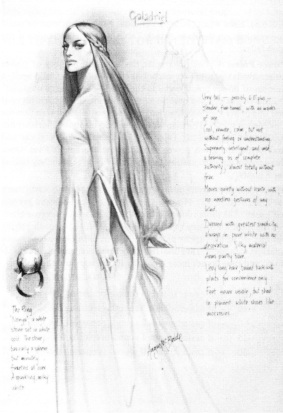 Once Angus began work on MERP, it didn't take long for him to become the face of the game. I'm going to go out on a limb here and say the first time I saw a McBride was on the cover of the 1985 campaign module Lorien & the Halls of the Elven Smiths.
In this particular piece, he defines Galadriel, and although in my opinion it's not his finest representation [that came in a black and white sketch in the MERP 2nd edition soft cover in 1986] it's still a fluid and stunning piece that shows us the elven settlement, its beauty, and the regality of the Tolkien's elves.
1985 also brought about covers for Riders of Rohan campaign module, as well as the Pirates of the Pelargir adventure module and a personal favorite MERP adventure with the rogue friendly Thieves of Tharbad. Tharbad is a bit of a divergence for McBride because in this piece he features a great deal of characters, a night scene, and a full cityscape which isn't seen in most of his work. Each time I look at it I can't help but think that he had a longer deadline on this piece, but of course I have no proof of this.
These first four MERP covers helped set the stage for a media blast of images over the course of the next five years.
In 1986 McBride recovered the MERP 2nd Edition soft cover and did his only black and white interior work for the game. It's said that he was an intensive sketch artist and did countless images leading up to each painting which plays well into talent of the images found within this core book. His black and whites are flawless, smooth, and make me think of the ink wash techniques employed by Elmore, Easley, Truman, and Trampier in some of the early 80s TSR modules.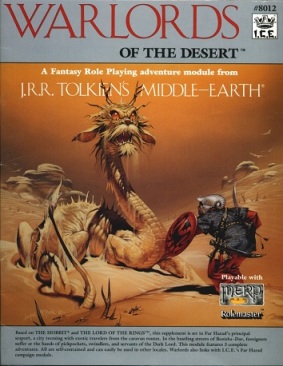 In the later part of 86 he produced the cover for Lords of Middle Earth Volume 1: The Immortals which depicted the titanic clash between Gandalf and the Balrog.
This image would be followed in 1987 by Lords of Middle-Earth Volume II: The Manish Races, which depicts Eowyn versus the Lich King, perhaps the most played out image ever in the Tolkien universe and certainly my favorite rendition of this classic scene.
1987 also brought a mass of covers including Woses of the Black Wood, Brigands of Mirkwood, Gates of Mordor, Rivendell the House of Elrond, and the campaign module Sea-Lords of Gondor.
Of these, the Nazgul riding along the ridges above Rivendell is iconic, and yet each image screams of war, or strife, and of beauty unmatched. By this point, Angus isn't shying away from the subject, and he's taking it to a whole new level.
He tackles the famed Moria tomb fight in the 1988 Lords of Middle-Earth Volume III: Hobbits, Dwarves, Ents, Orcs & Trolls, and continues his adventure series with books such as Mouths of the Entwash, Warlords of the Desert, and the masterful rendition of Gandalf denying the Lich King entry to Minas Tirith in Cities of Middle-Earth.
I'm personally intrigued by his ability to detail desert scenes, his rendition of the forces of Lebennin, Harondor, and even Arat Agmir seem to show a personal love of a more middle-eastern or sub-Saharan Africa flavor.
He continues on into 1989 with Dark Mage of Rhudaur, Rogues of the Borderlands, Forest of Tears. The final volumes started to roll out in 1990 with additions such as Hazards of the Harad Wood [another fantastic desert scene] and Ghost Warriors but by this time the industry was thinning and McBride's contributions to I.C.E. waned.

Even with everything mentioned above, there are another dozen or so covers I've not even alluded to, McBride's total contribution in beautiful color to MERP numbering more than an astounding thirty products before the 90s gave way to Magic the Gathering and the death of independent RPGs. That means he was not only doing work for Osprey and other companies, but also producing six or seven covers a year for I.C.E. which shows how prolific he was at the height of his career.
I cannot say what one of these original covers might go for on the open market today, but I can attest to my sadness at the passing of this magnificent artist on the 15th of May, 2007. He brought a gift to us all, and as I go back through all these works I can't help but feel joy at their creation, even if there will be no more.
There can be no debate about how impressive Angus was or how much he contributed to the genre of RPGs during his tenure. The beauty he brings to conflict is almost an oxymoron, and yet I believe whole-heartedly in those words. He creates a canon of conflict as he breathes life into the works of Tolkien which is no easy task considering how the fans of those venerable tales take their subject matter.
So I would like to say thank you to Angus. He will forever be linked to something epic, and his work will last as long as that of Tolkien, which I hope to be far and again beyond any date which I reside in this world. Because of Angus, the debate concerning MERP being the prettiest role-playing game ever produced goes up to a whole new level.