Black Gate 15 Now Available for Kindle
Black Gate 15 Now Available for Kindle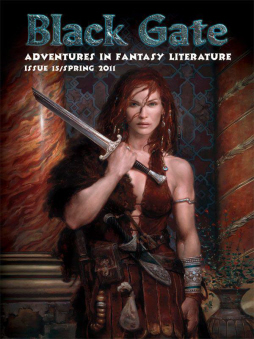 Our latest issue, Black Gate 15, is now available for the Amazon Kindle for just $9.95. That's roughly half the cost of the print version.
The Kindle version comes with new content, color art, hundreds of striking color images, and every word of the print version.
Originally published at $18.95 in May 2011, the massive Black Gate 15 is 384 print pages of the best in modern adventure fantasy, with 22 new stories, 23 pages of art, and a generous excerpt from The Desert of Souls, the blockbuster new novel by Howard Andrew Jones featuring the intrepid explorers Dabir and Asim in 8th Century Arabia.
The theme of the issue is Warrior Women, and behind Donato Giancola's striking cover eight authors contribute delightful tales of female warriors, wizards, weather witches, thieves, and other brave women as they face deadly tombs, sinister gods, unquiet ghosts, and much more. Frederic S. Durbin takes us to a far land where two dueling gods pit their champions against each other in a deadly race to the World's End. Brian Dolton offers us a tale of Ancient China, a beautiful occult investigator, and a very peculiar haunting. And Jonathan L. Howard returns to our pages with "The Shuttered Temple," the sequel to "The Beautiful Corridor" from Black Gate 13, in which the resourceful thief Kyth must penetrate the secrets of a mysterious and very lethal temple. Plus other tales of female fighters from Maria V. Snyder, Sarah Avery, Paula R. Stiles, Emily Mah, and S. Hutson Blount.
What else is in BG 15? Harry Connolly returns after too long an absence with "Eating Venom," in which a desperate soldier faces a basilisk's poison — and the treachery it brings. John C. Hocking begins a terrific new series with "A River Through Darkness & Light," featuring a dedicated Archivist who leads a small band into a deadly desert tomb; John Fultz shares the twisted fate of a thief who dares fantastic dangers to steal rare spirits indeed in "The Vintages of Dream," and Vaughn Heppner kicks off an exciting new sword & sorcery series as a young warrior flees the spawn of a terrible god through the streets of an ancient city in "The Oracle of Gog." Plus fiction from Darrell Schweitzer, Jamie McEwan, Michael Livingston, Chris Willrich, Fraser Ronald, Derek Künsken, Jeremiah Tolbert, Nye Joell Hardy, and Rosamund Hodge!
Buy the complete issue for the Kindle at Amazon.com, or buy the print version at our online store.  The complete table of contents is here.