Wrath of the Titans Trailer Gives Me a Chimera, But Little Hope
Wrath of the Titans Trailer Gives Me a Chimera, But Little Hope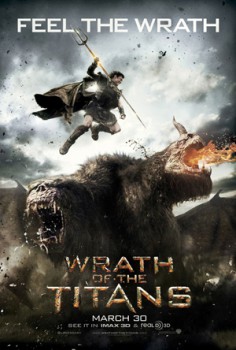 If you were talking about movie trailers yesterday or over the weekend, chances are the subject was The Dark Knight Rises. The most anticipated film of 2012 revealed its first full-length trailer (after a teaser during the summer) on selected theater screens with Sherlock Holmes: Game of Shadows. The IMAX six-minute prologue to the film also appeared before 70 mm screenings of Mission: Impossible—Ghost Protocol. I saw the prologue yesterday in the glorious IMAX presentation, and yes, The Dark Knight Rises is going to be something amazing. (By the way, Ghost Protocol is the best of the "Mission: Impossible" films, and delivers everything you want from a big-budget action movie. Here's to Brad Bird having a great career in live-action films.)
In the middle of mad speculation and analysis from the new Bat-info Warner Bros. and Legendary Films poured on us, the studio and production company also sneake out the trailer for another of their 2012 releases: Wrath of the Titans, the sequel to the 2010 re-make of Ray Harryhusen's Clash of the Titans.
From a domestic perspective, a sequel to Clash '10 feels like a weird choice. The movie had only middling box-office success, and audience reaction was lukewarm to say the best. I reviewed the movie at Black Gate when it premiered and gave a cautiously positive take of it. I would like to retract most of that review now. One of the difficulties of doing reviews of new movies or books is that reviewers' tastes frequently change on a second visit. Some movies I shrugged off when they first came out I now love. Other films that seemed enjoyable in the theaters end up as lifeless on repeat viewings. In the case of Clash of the Titans '10, when I returned to the movie on home video, it seemed almost unwatchable. It's a dead fish, an inert bore. There is no imagination or joy in this thing. I didn't want a sequel, and I can't imagine anyone else wanted one either.
But these days, international box office makes all the difference. Clash '10 pulled in enormous coin outside of the U.S., doing 66% of its worldwide business in foreign markets for a total gross of just a Nemean Lion's whisker under $500 million — the eleventh highest grossing movie of the year. And that equals "sequel."
Here's the trailer from iTunes. Even though star Sam Worthington stated in an interview that he thinks the new film is more "weighty," this trailer does little to raise my hopes (The YouTube version of the trailer is imbeded below the jump.)
The preview shows more of the same from the last movie, plus alarming similarities to the awful Immortals that I recently loathed on this site. Perseus has better hair this time around than the Full Metal Jacket cut of Clash, and it looks a ton of monsters will rampage across the screen. There's nothing in the world wrong with big monsters in movies — in fact, one of the few things right in the world is that filmmakers often put big monsters in their movies — but poorly done CGI beasts are among the most lifeless variety of the species. I would prefer a man in a suit over lazy CGI.
Is there any Greek mythology here? I can't make it out. Hades is a bad guy again. (Groan. Hades is not the equivalent of Satan!) I think I see a Chimera blowing fire around. Early synopses describe Perseus going to the underworld to rescue a kidnapped Zeus. Wha—? Maybe nobody on the movie realized that Greek mythology already has a perfectly good "person kidnapped to the underworld" story. Why not use Persephone? True, she doesn't fit with the Perseus story, but the original Clash of the Titans did some mash-ups and still managed to feel faithful to the Greeks myths.
The Marilyn Manson cover of "Sweet Dreams" that slathers the trailer is perhaps the worst indication of what is to come. This is a terrible choice from the marketing team, and shows that nobody cares about Greek mythology. No surprise, honestly, but could they have shouted "We don't care!" a bit softer?
However, there's a moment where it looks like the filmmakers are doing an homage to Harryhausen's multi-armed Kali from The Golden Voyage of Sinbad. Cannot find fault with that. Nor can I complain about the appearance of the wonderful Rosamund Pike (Die Another Day, Pride and Prejudice) in a major role as a warrior queen. That sounds fun.
And maybe the Chimera will be cool. Fine, I'll try to keep my hopes up. Rosamund Pike, Chimera. Rosamund Pike, Chimera. Rosamund Pike, Chimera. . . .
One thing you can know for certain about Wrath of the Titans: when it comes out in March, I will see it opening weekend and deliver a review to you. That's what I'm here for.
---
Ryan Harvey is a veteran blogger for Black Gate and an award-winning science-fiction and fantasy author. He received the Writers of the Future Award in 2011 for his short story "An Acolyte of Black Spires," and has two stories forthcoming in Black Gate and a number of ebooks on the way. He also knows Godzilla personally. You can keep up with him at his website, www.RyanHarveyWriter.com, and follow him on Twitter.