Some Xmas Cheer from Apex Magazine
Some Xmas Cheer from Apex Magazine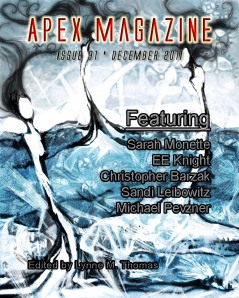 This month's Apex Magazine features E.E. Knight's essay on holiday-themed movies, with a couple of odd picks. Other things you might want read after finishing your gift wrapping (or your bah-humbumbing) include fiction by Christopher Barzak, Sarah Monette and Michael Pevzner's first professional sale.  Poetry by Sandi Leibowitz and F.J. Bergmann and an interview with Jennifer Pelland.
This and more of the Lynne M. Thomas edited on-line publication can be found here.
Whether you believe in Santa or not, happy holidays.