The Public Life of Sherlock Holmes: John Cleese as Holmes – Take One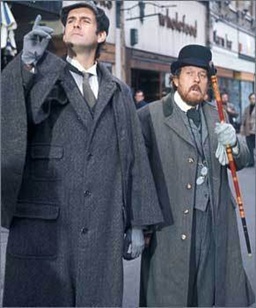 John Cleese is best known, of course, as the sardonic Q opposite Pierce Brosnan's James Bond in Die Another Day. Though not as well remembered, he also played a key role in the British comedy troupe, Monty Python.
I'm kidding!
On January 18, 1973, the final episode of Python's third season aired. It was Cleese's last episode with the group, which would continue on for one more season. That very same same day, Cleese's next project aired – Comedy Playhouse Presents: Elementary, My Dear Watson. It was produced by Barry Took, who had brought the Python members together.
I'm going to tackle the Achilles heel (really, it's more like the entire torso) of this show, the plot: or rather, the lack of one. It's barely a story. Try to stick with me, and no, I'm not leaving things out: it really goes like this…
The show opens in a room full of dead lawyers, slumped over their desks, each with a knife in the back.  Some would say that's a pretty good start, but let's stay focused. Thus the show's subtitle, The Strange Case of the Dead Solicitors. A policeman and a secretary exchange what are intended to be witty comments, which immediately brings the lame laugh track to the viewer's attention. This is not the most robust laugh track you'll come across.