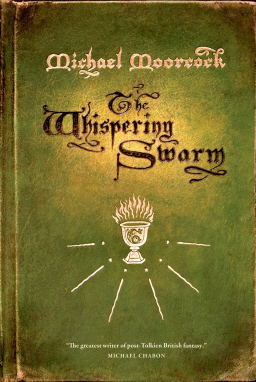 Michael Moorcock is a giant. He is probably most famous for his Elric of Melniboné stories, but he also has written many other fine works. In addition, he is also well known for having been the editor of the controversial British science fiction magazine New Worlds from 1964 to 1971. From this position Moorcock is usually credited with fostering the development of the New Wave in science fiction and fantasy.
Personally, I have been a big Moorcock fan for years and was something of a rabid devotee in junior high. I read the Elric stories over and over, almost memorized the "Melnibonéan Mythos" section of the Dungeons and Dragons Deities and Demigods book, and even bought the old Chaosium RPG Stormbringer, which was based on Moorcock's Elric tales.
So I was incredibly excited when I heard that Moorcock was releasing a new novel, The Whispering Swarm, the first in a new trilogy. Having just finished it, I have to say that it is one of the most unique books I have ever read. Described in a sentence: It's part fantasy and it purports be part autobiographical.
What?!
I think a little light can be shed on the book's conception with the following.
StarShipSofa, the excellent British science fiction podcast and website, interviewed Moorcock back in 2008 (if you're interested, you can watch it here). At one point in the interview, Moorcock relates that his publisher thought he should write a memoir. But Moorcock admits that he is very reticent to do so because many of the people he would be writing about are still alive, and he didn't want to hurt anyone's feelings — nor did he want to get into any "he said vs. she said" controversies.
---