Future Treasures: The Whispering Swarm by Michael Moorcock
Future Treasures: The Whispering Swarm by Michael Moorcock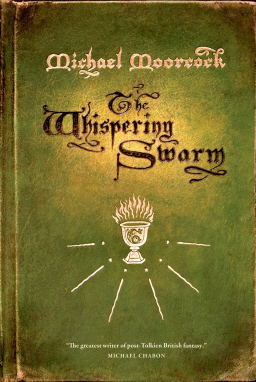 We're big fans of Michael Moorcock at Black Gate.
I published an original Moorock novella, "The Dreamthief's Daughter," way back in our very first issue. More recently, Fletcher Vredenburgh reviewed his classic The Eternal Champion, Connor Gormley looked his at Von Bek series, Matthew David Surridge examined his Hawkmoon novels, and I covered the reprint of his early novels The Warlord of the Air and The Sword of the Dawn.
Now comes word that Tor will publish a brand new novel from Moorcock, a semi-autobiographical fantasy of a young man in post World War II London…
Tor Books now proudly presents Moorcock's first independent novel in nine years, a tale both fantastical and autobiographical, a celebration of London and what it meant to be young there in the years after World War II. The Whispering Swarm is the first in a trilogy that will follow a young man named Michael as he simultaneously discovers himself and a secret realm hidden deep in the heart of London.
The Whispering Swarm is the first novel of The Sanctuary of the White Friars.
The Whispering Swarm will be published by Tor Books on December 9, 2014. It is 512 pages, priced at $26.99 in hardcover and $12.99 for the digital edition.