New Treasures: Seeker's Bane by P.C. Hodgell
New Treasures: Seeker's Bane by P.C. Hodgell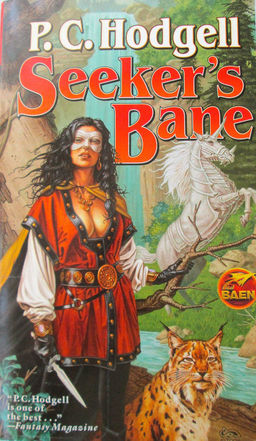 Sometimes it's handy being editor of Black Gate. For one thing, it sure keeps you in-the-know on great books. I was editing Fletcher Vredenburgh's enthusiastic review of P. C. Hodgell's God Stalk last October, which begins thusly:
Out of the haunted north comes Jame the Kencyr to Rathilien's greatest city, Tai-Tastigon. From the hills above, the city appears strangely dark and silent. She arrives at its gates with large gaps in her memory and cat claws instead of fingernails. She's carrying a pack full of strange artifacts, including a ring still on its owner's finger… and she's been bitten by a zombie. Wary, but in desperate need of a place to heal, Jame enters the city. So begins God Stalk, the first book in P.C. Hodgell's Kencyrath series and one of my absolute, bar none, don't-bother-me-if-you-see-me-reading-it, favorite fantasy novels…

I'm so grateful Carl gave me this book thirty years ago. P.C. Hodgell seems so far below the general fantasy radar, I don't know if I would have ever heard of her at all, which is pretty darn shameful.
Ha, I thought smugly, looking at my bookcase. Maybe she's below the radar for most folks, but I've got my copy right here. Fletcher continued:
Following God Stalk came the 1985 sequel, Dark of the Moon… It's taken nearly thirty years for the next four books to appear: Seeker's Mask, To Ride a Rathorn, Bound in Blood, and Honor's Paradox.
Wait, what? There are sequels? Like, five sequels? How did I not know? Are they out of print? Gahhh!
Fortunately, Baen Books to the rescue. Baen has collected the first four novels in two handsome mass market paperbacks: The God Stalker Chronicles (January 2010) and Seeker's Bane (August 2010), both still in print. They're a great way to get started on this terrific series, which Hodgell and Baen are continuing — I note the seventh volume, The Sea of Time, was just published last month. I just bought Seeker's Bane and it's a fabulous bargain: 1168 pages, priced at $7.99 in paperback and $6.99 for the digital version. The covers are by Clyde Caldwell. Check 'em out.