New Treasures: The Warlord of the Air by Michael Moorcock
New Treasures: The Warlord of the Air by Michael Moorcock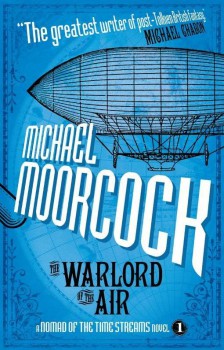 We covered several high quality reprints from Titan Books last year, including Kim Newman's Anno Dracula: The Bloody Red Baron; Sax Rohmer's The Hand of Fu Manchu; and books by James P. Blaylock, Guy Adams, and others.
But their accomplishments don't end there. Starting in January of this year, Titan began reprinting Michael Moorcock's early steampunk trilogy Nomad of the Time Streams, beginning with The Warlord of the Air, originally published way back in 1971:
It is 1973, and the stately airships of the Great Powers hold benign sway over a peaceful world. The balance of power is maintained by the British Empire – a most equitable and just Empire, ruled by the beloved King Edward VIII. A new world order, with peace and prosperity for all under the law. Yet, moved by the politics of envy and perverse utopianism, not all of the Empire's citizens support the marvelous equilibrium.

Flung from the North East Frontier of 1902 into this world of the future, Captain Oswald Bastable is forced to question his most cherished ideals, discovering to his horror that he has become a nomad of the time streams, eternally doomed to travel the wayward currents of a chaotic multiverse.

The first in the Nomad of the Time Streams trilogy, The Warlord of the Air sees Bastable fall in with the anarchists of this imperial society and set in train a course of events more devastating than he could ever have imagined.
These classic novels have been out of print for some fifteen years. Titan has already released the second, The Land Leviathan, on April 16; that volume finds Bastable in an alternate 1904 devastated by a terrible war waged with futuristic weapons and deadly biological attacks. The third and final volume, The Steel Tsar, follows Bastable's adventures in an alternate 1941 where both World Wars were averted and Russia is still ruled by Tsars, and Bastable finds himself imprisoned by the rebel 'Steel Tsar,' Joseph Stalin. It will be released on August 13.
The Warlord of the Air was published by Titan Books on January 15. It is 215 pages in trade paperback, priced at $9.95 ($9.95 for the digital edition).