New Treasures: The Hand of Fu Manchu, by Sax Rohmer
New Treasures: The Hand of Fu Manchu, by Sax Rohmer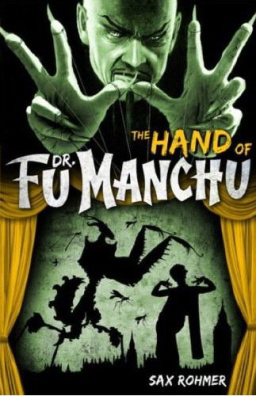 William Patrick Maynard, Black Gate's resident Sax Rohmer expert, wrote an excellent 9-part series on The Hand of Fu Manchu, starting last November. It piqued my curiosity towards Rohmer, and The Hand of Fu Manchu in particular, and I vowed I would spend some quality time with both.
You'll note it's now October. Maybe I don't always do it quickly, but I do keep my promises. This one was made even easier by the arrival of the gorgeous reprint edition of Rohmer's third Fu-Manchu novel from Titan Books.
London, 1913. The era of Sherlock Holmes, Dracula, and the Invisible Man. A time of shadows, secret societies, and dens filled with opium addicts. Into this world comes the most fantastic emissary of evil society has ever known… Fu-Manchu.

A sealed box and murder most foul call Nayland Smith and Dr Petrie back from distant Egypt to the fog-enshrouded streets of London. There they discover that Dr. Fu-Manchu is an agent of a vast and deadly organization — one which will stop at nothing to achieve its ruthless goals.
The Hand of Fu Manchu was originally published in 1917 (the UK title was The Si-Fan Mysteries). There have been numerous paperback reprints over the last century, but few of this level of quality. These Titan editions are handsome and very affordable, in oversize trade paperback format; this one includes an afterword by Leslie S. Klinger, an abbreviated version of his essay from The Mystery of Fu-Manchu.
The Hand of Fu Manchu was published by Titan Books in May 2012. It is 266 pages, and priced at $9.95 for the print version and $7.99 for the digital edition. Read more at the Titan Books website.