Win a Copy of The Final Programme, the First Volume in Michael Moorcock's Cornelius Quartet
Win a Copy of The Final Programme, the First Volume in Michael Moorcock's Cornelius Quartet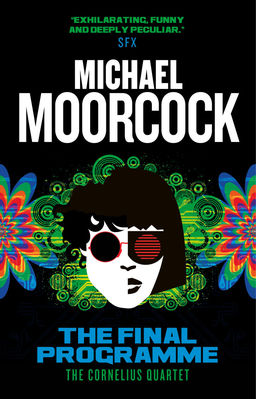 Titan Books has been doing something pretty marvelous for modern fantasy fans: they've been gradually reprinting Michael Moorcock's fabulous back catalog, which includes some of the most fondly remembered fantasy of the 20th Century.
They began with his early steampunk trilogy Nomad of the Time Streams (which opened with The Warlord of the Air), and continued with the complete Chronicles of Corum (see our cover gallery from last May). In 2016, they've turned their attention to the Cornelius Quartet, starring the hippest adventurer in fantasy, scientist and rock star Jerry Cornelius.
Black Gate has copies of The Final Programme to give away to three lucky readers, compliments of Titan Books. How do you make one of them yours? Just send an e-mail to john@blackgate.com with the subject "The Final Programme," and a one-sentence review of your favorite Michael Moorcock tale.
That's all it takes. Three winners will be drawn at random from all qualifying entries, and we'll reprint some of the best reviews when we announce the winners.
All entries become the property of New Epoch Press. No purchase necessary. Must be 12 or older. Decisions of the judges (capricious as they may be) are final. Not valid where prohibited by law, or anywhere postage for a trade paperback is more than, like, 10 bucks (practically, that means US and Canada).
The Final Programme was published by Titan Books on February 2, 2016. It is 255 pages, priced at $9.95 in trade paperback and $7.99 for the digital edition.