The 1940 Chicon Auction, or, "My Kingdom for a Time Machine!"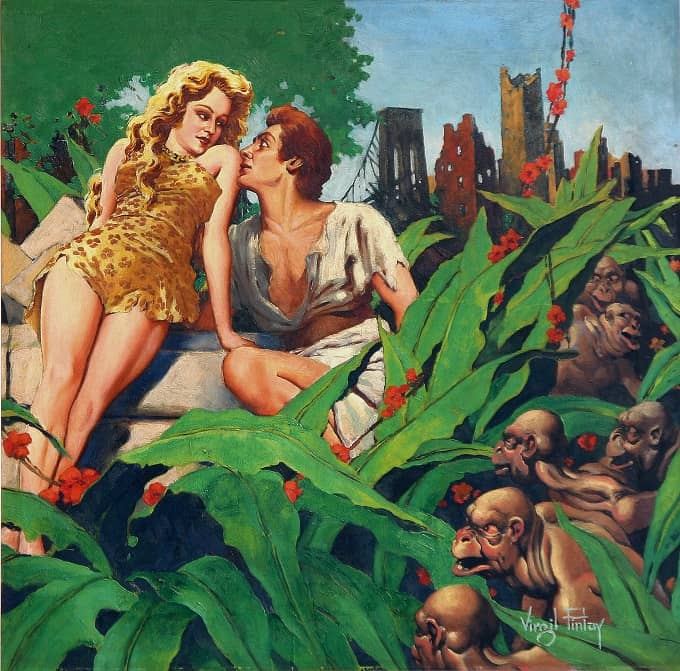 Virgil Finlay painting for George Allen England's "Darkness and Dawn" (Famous Fantastic Mysteries, 1940)
For decades, beginning with the very first Worldcon in 1939, held in New York City, science fiction magazine publishers sent art to the convention, to be auctioned off to fans to help raise money for the con. Particularly in those early years, so much art was sometimes sent that the con didn't have time to auction it all, and at the end of the auction original interior illustrations from the likes of Virgil Finlay, Edd Cartier and Frank R. Paul would be tossed into the audience for free.
Sadly, no one has ever thrown a free Finlay at me.
The tradition that was started at Nycon 1 continued in 1940 at the second Worldcon, held in Chicago from September 1-2, 1940 – Chicon 1. One of the attendees, and a man who was actively involved in organizing that Chicon, was legendary fan and SF author Wilson "Bob " Tucker. At the time of the con, Tucker was in the midst of publishing his classic fanzine, Le Zombie, and in issue #40 (July 1941), he posted the results of the Chicon auction. In his list, Tucker identifies (where he knows) the artist, the piece, the fan who bought it and the selling price. I include that list below; I think it's a fascinating glimpse at the earliest days of SF art collecting.
Not every item was a piece of original art; some books, magazines, fanzines and ephemera were auctioned also, but the vast majority of it was art. Tucker notes that his list is missing some info, as the auction moved so fast and he was rapidly taking notes as each piece was being auctioned. He also notes that the list is only for the Sunday night auction (September 1, 1940), but he did not make the same sort of notes for the continuation of the auction the next night.