Vintage Treasures: Deathweave and Darkloom by Cary Osborne
Vintage Treasures: Deathweave and Darkloom by Cary Osborne

Deathweave and Darkloom (Ace Books, 1998 & 1999). Covers by Royo
I bought a collection of vintage paperbacks on eBay a while back (I do that a lot), and buried in the mix was one I knew nothing about, a midlist ACE SF adventure titled Deathweave by Cary Osborne.
Now, I love midlist paperbacks. They're basically an undiscovered country. If you're an entry-level author, the theory is that if you work long enough, like countless writers before you, you'll eventually build an audience large enough to break out of midlist and start hitting the bestseller lists. Of course, the vast majority of writers never make it, which means that most midlist titles vanish after a few months in the sun, never to be seen or mentioned again. There are many, many talented writers who never had the good fortune (or perseverance, or celebrity connections, or whatever pixie dust it takes) to break into the front rank, and toil away in undeserved obscurity their entire career.
What does all this mean? It means these eBay lots I buy are littered with undiscovered gold, that's what it means. Which means that when Deathweave finally fell into my eager hands 24 years after Ace first published it, I treated it as exactly that. Especially when I found out it had a sequel, Darkloom, which I tracked down a few weeks later.
[Click the images for fantasy-sized versions.]

Realms of Fantasy covers by Luis Royo (October 1998, December 1999, October 2004). Published by Sovereign Media
I think part of what intrigued me about these books was that they looked so 90s, and a big portion of that was the bright Royo covers. Luis Royo made a name for himself painting powerful female characters, and in the US was strongly associated with Realms of Fantasy magazine, painting nearly a dozen covers for them over nine years in the late 90s and early 00s.
I selected a sample of his ROF covers above. There's lots more to choose from, and in the coming days I'll showcase some more of his Realms of Fantasy art to give you a better sense of his style.
Royo began doing cover commissions for Heavy Metal in the 80s, and branched out to book covers with Robert Adams' Horseclans books in 1984. I most closely associate him with the DAW editions of Julie E. Czerneda's early science fiction novels (starting with A Thousand Words for Stranger, 1997) and the Tor editions of Sara Douglass' The Wayfarer Redemption, but ISFDB lists well over a hundred SF and fantasy covers produced between 1984-2014.

Luis Royo's covers for Julie E. Czerneda's Trade Pact novels: A Thousand Words for Stranger,
Ties of Power, To Trade the Stars (DAW, 1997-2002). Click the images to see the original art.
For Cary Osborne's Deathweave books, Royo centers his covers on strong women, as usual, and also draws the eye with detailed and colorful alien landscapes.
Cary Osborne began her career with the Iroshi trilogy (Iroshi, The Glaive, Persea, Ace Books, 1995-1996), a space opera of a ronin fighting her way across savage alien planets. With Deathweave she tried her hand at more classical space opera, the tale of a disgraced imperial guard given a chance at redemption. Thomas M. Wagner nicely covers the highlights at SF Review.
The story opens on the distant world of Glory, where Arden Grenfell, bodyguard to Princess Jessa, has allowed her young charge to forsake her birthright and flee the planet for parts unknown. Six years later, Arden still languishes in prison, awaiting an inexplicably postponed execution. Then she is offered a deal. Go find Princess Jessa, wherever in space the girl might be, and bring her back, and Arden will be a free woman. See, Jessa's mother, one of the Emperor's most favored concubines, is dying as a result of her addiction to lifeweave, a mysterious alien fabric that somehow enhances a person's mental abilities while taking a devastating toll on their health. Jessa's mother has developed the ability to predict accurately the outcome of the current war Glory is waging against several neighboring worlds, and the Emperor, a cold-hearted swine as emperors tend to be, is enjoying this psychic trump card and wants Jessa to come back to fill in her mother's role…

What Osborne does well is construct good space opera tension. There are factions on Glory who both want Jessa to return to help the Emperor, then there are those who want the Emperor and his son and heir deposed entirely and Jessa put on the throne in their place. Who belongs to which camp, and who can be trusted?

Action scenes are well-handled. In what could be a nod to Star Wars (as well as Osborne's fondness for Oriental culture and fighting techniques) many characters favor swordfighting to shooting it out with blasters… Osborne in the end focuses on what makes good space opera work: action, suspense, characters you like. While not, perhaps, as high-profile among fans as Bujold, Bradley or Cherryh, Cary Osborne is a writer many SF readers might well enjoy discovering.
Read the whole thing here.

Back covers of Deathweave and Darkloom
My friend Thomas Myer had a fine review of Darkloom at my old website SF Site, which I founded back in 1996 with Wayne Maclaurin.
Arden Grenfell has big trouble on her hands. As head of the elite Imperial guard, she must prepare for the ascension of the first Empress of Glory — and quell a rebellion within the military, of which some members resent having a woman on the throne.

But who are the traitors, and who is merely not coping well with sudden change? General Hsing, commander-in-chief of the home guards, and so very physically close to the palace? Or General Radieux, who commands the military's heavily-defended armory on the vacuum world of Baltha? And what of the rank and file? How many of them are spies or traitors, ready to strike without warning?

To add to the troubles, there is the matter of the lifeweave, a psychotropic-laced material that, when used, allows the user to leverage the powers of another dimension, including information about the future. Of course, there is a price: a gradual addiction that will eventually kill the user…

Darkloom is a great yarn, with an excellent set of core characters. I found myself wrapped up in the storyline, and caring about what happened to the half-dozen or so characters that anchor the telling of the tale. Cary Osborne manages to carry a subtext of equal rights thoughtfully and unobtrusively while sprinkling in cleanly executed sword fights and vivid lifeweave-induced dimension shifting…

As a strong female characters go, I would rank Arden Grenfell with any female character created by Tanith Lee, Wilhelmina Baird, or Severna Park. She is a full person: a warrior, a thinker, an addict, a seeress, and a lover.
Read Thomas' full review here.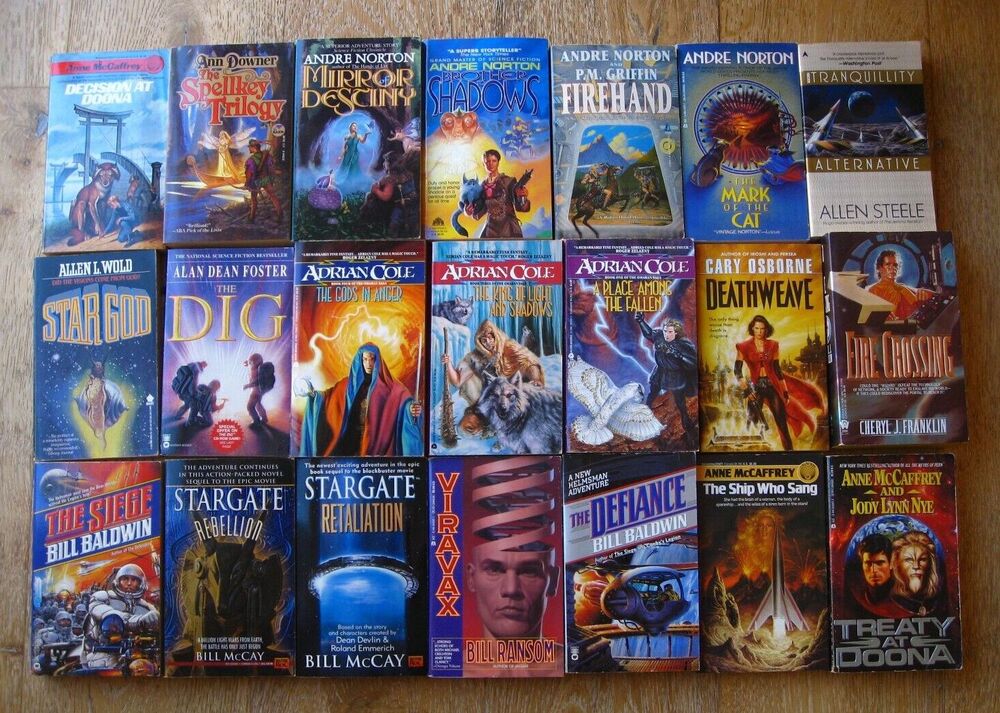 I found Deathweave in this set of 198 unread paperbacks on eBay
I picked Deathweave out of a set of 198 unread paperbacks live4art was selling for $3.95 each on eBay. I bought 15 of them, all in beautiful condition; most of the rest remain unsold. If you're in the market for brand 25-year new paperbacks still at cover price, check out the whole set here.
Once I had the first volume, I had to track down Darkloom. There were plenty of copies available online for less than the original cover price ($5.99), but I'm always on the hunt for a bargain, and ended up buying a lot of eleven paperbacks I found on for $13 (see below).
In addition to Darkloom it also included The Startling Worlds of Henry Kuttner (a delightful volume that I discussed ten years ago here), Richard S. McEnroe's Skinner (covered that here), E.C. Tubb's Stardeath (haven't talked about that yet), Mick Farren's Phaid the Gambler (definitely want to talk about that), and a few more of interest.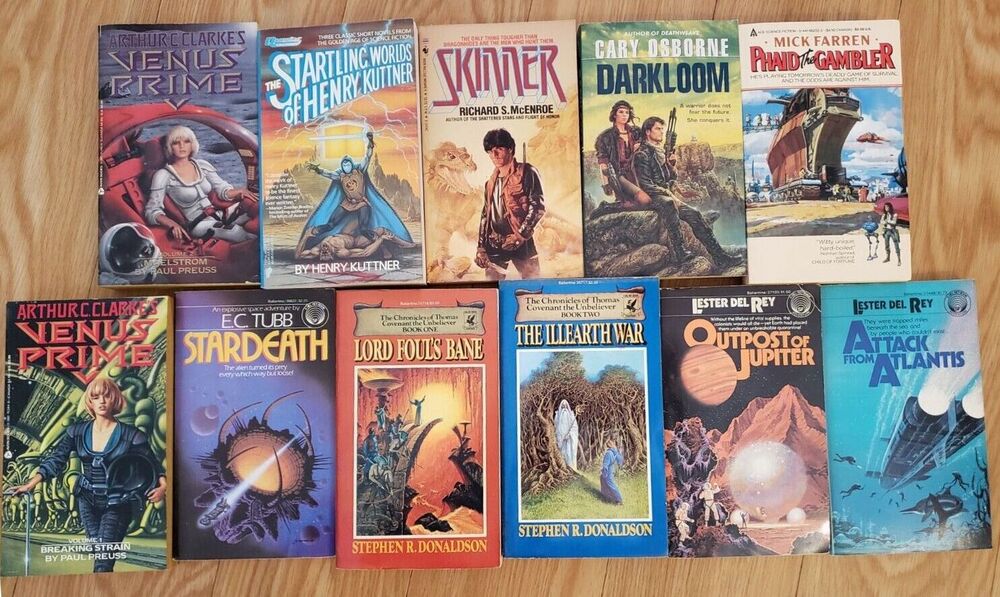 How do you find a copy of Darkloom? Best way is to buy another lot of paperbacks for 13 bucks on eBay.
Here's the complete publishing details for both books.
Deathweave (296 pages, $5.99 in paperback, January 1998)
Darkloom (262 pages, $5.99 in paperback, October 1998)
Both books were published by Ace, with covers by Luis Royo. Both are currently available through Kindle Unlimited.
See all of our recent Vintage Treasures here.