Random Review: "The Devil Was Sick" by Bruce Elliott
Random Review: "The Devil Was Sick" by Bruce Elliott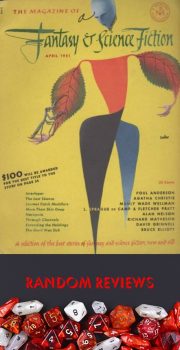 Bruce Elliott was the author of ten short stories and three novels during a career that ran from 1944 until 1970, with seven of his stories appearing between 1951 and 1953. "The Devil Was Sick" appeared in the April 1951 issue of The Magazine of Fantasy and Science Fiction and was promptly reprinted in the anthology Adventures in Tomorrow, edited by Kendell F. Crossen.  It was subsequently reprinted in Deals with the Devil, Heaven and Hell, and Isaac Asimov's Magical Worlds of Fantasy #8: Devils.
Set in the distant future (the forty-sixth century is well in the past), the only route off Earth is through original research. Acleptos is hoping to leave the home planet for a planet in orbit around Alpha Centauri, where the love of his life had emigrated following her successful research. Running some ideas for research through the almost-all-knowing Machine, he comes up with the question of whether devils and demons are real or hallucinatory. Ascleptos tackled the issue with the hopes of being reunited with his lost love.
Acleptos' research leads him to an attempt to summon a demon with the assistance of his friend Ttom. Although they are successful, it is the appearance of the demon that causes the story to fail. Elliott offers up some interesting ideas, but there is a lack on internal consistency in the story and it seems he wasn't able to decide exactly what was happening. It is possible this is caused by Acleptos' inability to accurately understand the situation, but it feels as if Elliott hadn't thought it through carefully enough.
The demon is variously an interdimensional being or an actual fallen angel. Although previously Acleptos has been informed by the Machine that God did not exist, the demon indicates that God is real. Although everything has been researched, there are numerous concepts that have clearly been lost to the humans living in this future world, including the idea of good and evil. According to Acleptos, the goal of everyone on Earth is to leave the planet, which seems to have no other society, trade, or culture, yet Ttom notes that it has been five years since anyone has successfully researched a new topic.

Elliott has some interesting ideas in the story, but he fails to think them through or present them in a coherent manner. The nature of the demon, the existence of God, and other aspects of the story seem to have been hastily assembled. Similarly the story takes place in a single room. There are hints of an outside world in which people can leave Earth, find research projects, and not know what gold or power are, but there is no sense that there is life outside of the room in which Acleptos and Ttom find themselves, except when something needs to intrude upon them.
Despite having a reasonable reprint history, "The Devil Was Sick" is an eminently forgettable story. In some ways, it epitomizes the type of story that I hoped would crop up during the Random Reviews I've been writing this past year. It was written by someone with a modest career, was published and forgotten, although not entirely, and exhibited promise, even if it was unmet. While it would have been nice to have finished this review series with a more enjoyable or better written story, part of the point was to discover works and authors with whom I was previously unfamiliar.
---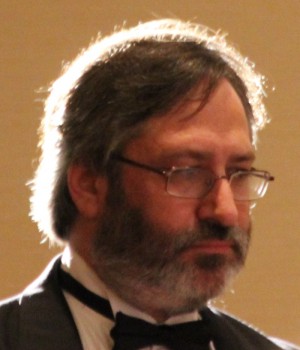 Steven H Silver is a nineteen-time Hugo Award nominee and was the publisher of the Hugo-nominated fanzine Argentus as well as the editor and publisher of ISFiC Press for 8 years. He has also edited books for DAW, NESFA Press, and ZNB. His most recent anthology is Alternate Peace and his novel After Hastings was published in 2020. Steven has chaired the first Midwest Construction, Windycon three times, and the SFWA Nebula Conference 6 times. He was programming chair for Chicon 2000 and Vice Chair of Chicon 7.