Random Review: "The Devil Was Sick" by Bruce Elliott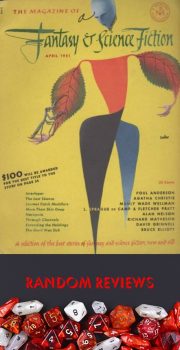 Bruce Elliott was the author of ten short stories and three novels during a career that ran from 1944 until 1970, with seven of his stories appearing between 1951 and 1953. "The Devil Was Sick" appeared in the April 1951 issue of The Magazine of Fantasy and Science Fiction and was promptly reprinted in the anthology Adventures in Tomorrow, edited by Kendell F. Crossen.  It was subsequently reprinted in Deals with the Devil, Heaven and Hell, and Isaac Asimov's Magical Worlds of Fantasy #8: Devils.
Set in the distant future (the forty-sixth century is well in the past), the only route off Earth is through original research. Acleptos is hoping to leave the home planet for a planet in orbit around Alpha Centauri, where the love of his life had emigrated following her successful research. Running some ideas for research through the almost-all-knowing Machine, he comes up with the question of whether devils and demons are real or hallucinatory. Ascleptos tackled the issue with the hopes of being reunited with his lost love.
Acleptos' research leads him to an attempt to summon a demon with the assistance of his friend Ttom. Although they are successful, it is the appearance of the demon that causes the story to fail. Elliott offers up some interesting ideas, but there is a lack on internal consistency in the story and it seems he wasn't able to decide exactly what was happening. It is possible this is caused by Acleptos' inability to accurately understand the situation, but it feels as if Elliott hadn't thought it through carefully enough. …