Random Reviews: "The Loser of Solitaire" by Paul David Novitski
Random Reviews: "The Loser of Solitaire" by Paul David Novitski
The introduction to Paul David Novitski's short story "The Loser of Solitaire" in the January 1979 issue of Fantastic Stories notes "Paul Novitski is not a prolific author." In fact, he sees to have published a total of five short stories over a period of seven years, with the first two, appearing in 1973 and 1975, published under the name Alpajpuri, and the last three, all appearing in 1979 under his own name.
Novitski tells the story of a man who is looking someone named Zo. Through the course of the story, we learn that this man is a rover, someone who travels at relativistic speeds through space and therefore ages differently than mere mortals. He also has four arms, although at no point does Novitski address whether the arms are natural or an augmentation.
His search for Zo takes him into a night-club/brothel, where he is assaulted by the sights, colors, and sounds while he is being propositioned until he finds Zo. When he does find her, he explains that they have a friend in common, Sergi, although it is unclear how much of a friend Zo considers him. What is clear is that Zo is something of a writer and Sergi had shown the rover some of her writings, which has caused him to want to track her down.
The story seems to be a couple of characters in search of a narrative. The conversation between the two characters has the feeling of two ships passing in the night, nothing being said of particular consequence to either participant, a meeting that would be forgotten upon the rovers return to space, where the world is less claustrophobic.
"The Loser of Solitaire" is one of those stories in which the main character finds himself in a place where he is not entirely comfortable, and the reader is not entirely sure what Novitski's world, either within the confines of the story or beyond, looks like.
Although Novitski hints at a world that could be interesting, he doesn't really give the reader anything to grab onto as his nearly anonymous rover reveals little of his own personality or purpose and Zo also comes across as something of a tabula rasa.
---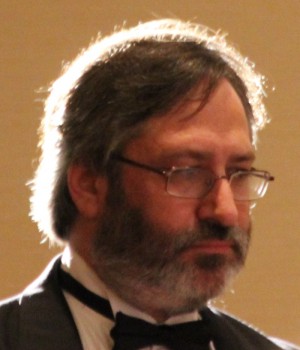 Steven H Silver is a nineteen-time Hugo Award nominee and was the publisher of the Hugo-nominated fanzine Argentus as well as the editor and publisher of ISFiC Press for 8 years. He has also edited books for DAW, NESFA Press, and ZNB. His most recent anthology is Alternate Peace and his novel After Hastings was published in 2020. Steven has chaired the first Midwest Construction, Windycon three times, and the SFWA Nebula Conference 6 times. He was programming chair for Chicon 2000 and Vice Chair of Chicon 7.