Goth Chick News: The Night at the Bride of Killer Piñata Movie Premier
Goth Chick News: The Night at the Bride of Killer Piñata Movie Premier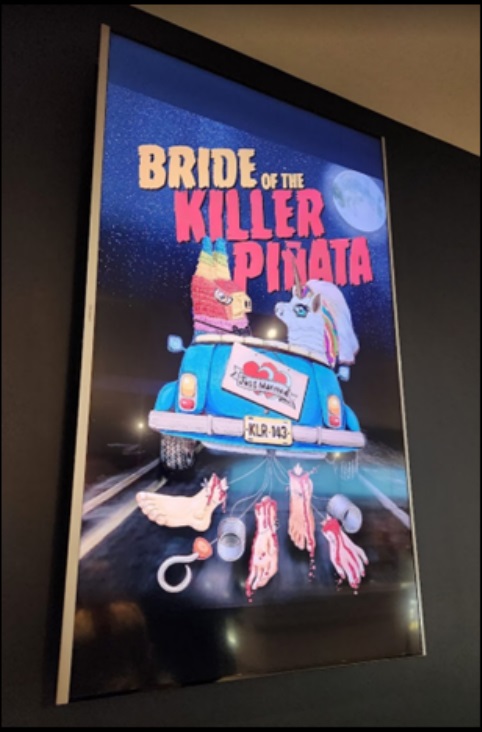 Bride of Killer Piñata
It's true that in the horror movie industry, premiers are often referred to as "black carpet" events, as opposed to "red carpets." When you think about it, either color would work, but it makes sense that our more alternative industry would want to distinguish itself from the mainstream.
Regardless, the concept is the same.
A theater is booked for the first-ever big-screen showing of a new film. There's a cool backdrop near the entrance, against which photos are snapped. The director, the stars, and the whole production staff roll up, along with their family and friends, while intermingled is press and local reviewers. Usually there are a few speeches before the lights go down, then an uproarious cheer when the movie title appears on the screen. It is literally one of the coolest things you could ever get to do, so if you get invited to one, accept immediately.
And that is exactly what happened to me recently.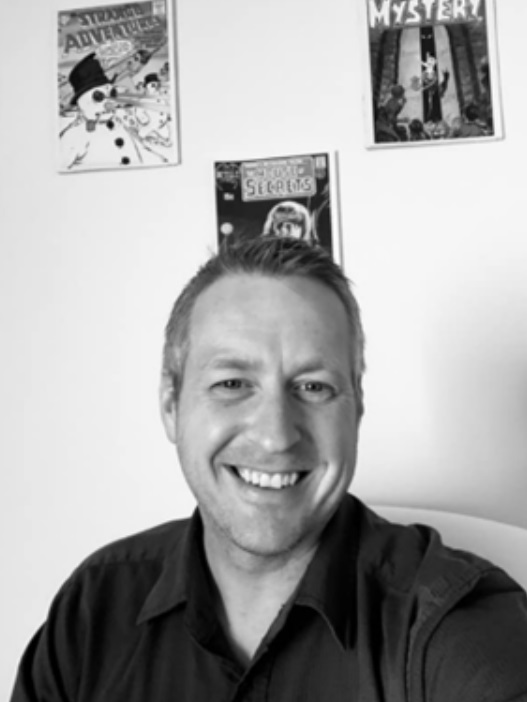 Stephan Tramontana
Back in August I posted an interview with Stephan Tramontana, the writer, director and producer of two indie horror/comedies; Killer Pinata and Bride of Killer Pinata. At the time of the interview the sequel was in the can but final editing was still underway.
Now you are likely well aware of how much we at Black Gate love indie anything, but especially indie movies. I admire the tenacious, passionate and fearless way all of these artists approach their craft, though the outcomes, as you would expect, display varying degrees of talent. But what is really exciting is when you can be a witness to emerging talent that evolves and takes shape over multiple projects.
Am I really waxing poetic over a movie with Killer Pinata in the title?
Indeed.
Actor Eric Bays
Turns out, the interview with Tramontana, along with a friendship with one of the star's family, got me an invitation to Bride of Killer Pinata's black carpet event in Chicago. Everything I described previously happened. My seat was surrounded by the film's stars and crew, and I finally got to meet Tramontana in person, having conducted our interview virtually. I also got to meet Eric Bays, the star whose family I know and who was one of the lead characters in the film. More on him in a minute.
Lights down. Uproarious cheers. And then…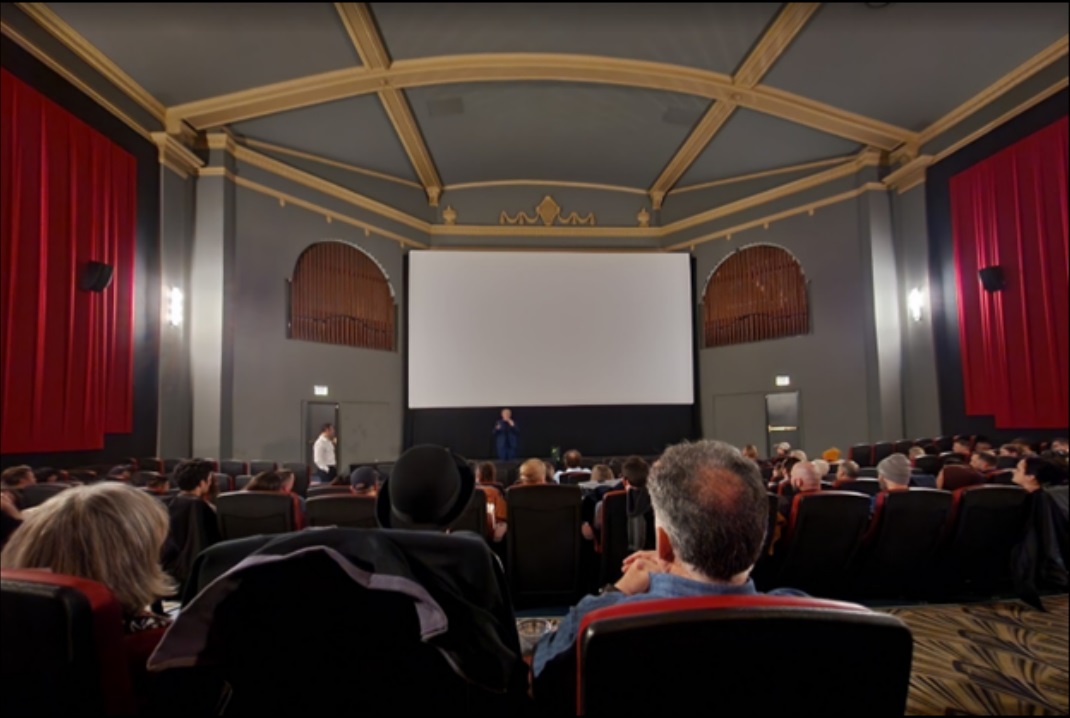 Now, this is precisely where things could have gone wrong. Even in an audience of "friendlies" forced reactions will sound… well… forced. Personally, sitting behind, beside and in front of people who worked on and in the film, I was fully prepared to laugh hysterically, no matter how looney it might sound. But what happened next was approximately 80 minutes of highly entertaining filmmaking during which I laughed heartily, often and entirely authentically; a pseudo-rarity for an indie comedy (horror or no).
The storyline is funny in its absurdity. Like the first film, a pinata is on a killing spree and only a few survivors from the first movie's slaughter are wise to the cause of the carnage. Instead of pretending this is not a micro-budget undertaking, Tramontana and the cast treat the dollar-store pinata like the mortal enemy he (and she) is.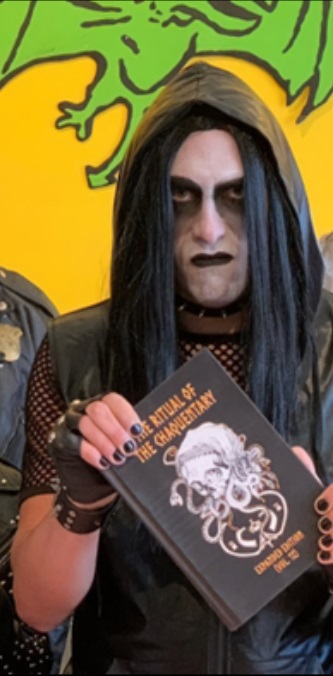 Lord Chain
There's also real character development and side stories that shine a spotlight on serious acting chops within the cast. Casey James Brockway who played goth mercenary "Lord Chain" was hysterical to watch given the deadly seriousness with which he played the role. I also loved Josette Waters whose character and acting style was very reminiscent of Irene Worth in DeathTrap.
But my personal favorite was Eric Bays. Beyond the drunken neighbor trope, Bays comic timing seemed to sharpen throughout the story, not unlike the knives of the pinatas.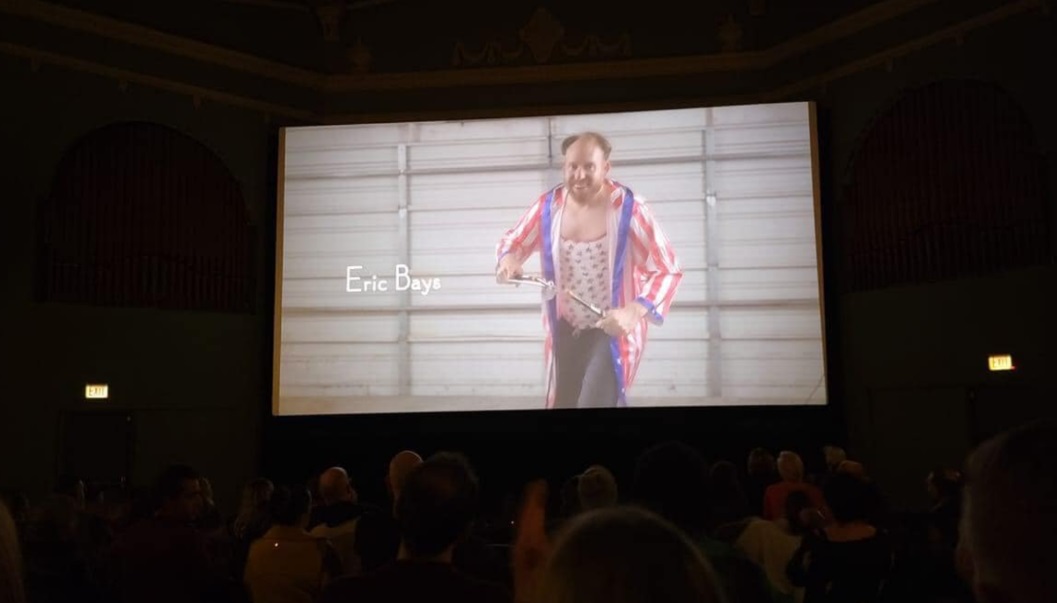 Eric Bays in Bride of Killer Pinata
But when you watch Bride of Killer Pinata, and you most surely should, hang out through the closing credits. What you'll find is not only a mid-credit scene which has become very popular of late, but one of the most hysterical few minutes I've watched on film for some time. When the lights came up, I was on my feet with the rest of the audience.
Bride of Killer Pinata hasn't been widely released yet, but you can keep on eye on the FB page or check out Angry Mule Productions on Insta for the latest news. You can catch the first installment, Killer Piñata, streaming on Screambox Amazon Channel, FlixFling or for free with ads on The Roku Channel, Tubi TV, and Darkmatter TV.