Vintage Treasures: Skinner by Richard S. McEnroe
Vintage Treasures: Skinner by Richard S. McEnroe
Skinner by Richard S. McEnroe. Bantam Spectra, June 1985. Cover by Enric
One of the advantages of writing up at least one Vintage Treasure every week is that it gives me an excuse to read a lot of the forgotten and overlooked classics I missed out on over the decades. And occasionally, to indulge in a guilty pleasure.
Take Skinner for example. It's the fifth (and last) science fiction novel by Richard S. McEnroe, a literary agent turned author who began his career writing Buck Rogers novels in 1981. Skinner didn't make much of a splash when it first appeared; it had a single paperback printing in the US, a UK edition from Orbit a year later, and then went out of print forever. But I don't care. It's got a dinosaur on an alien planet right there on the cover, and I want to read it, damnit.
When I went looking for contemporary reviews, I was surprised to find a few. And they only sharpened my interest. Here's the most popular review on Goodreads, by Scott Schmidt.
What an odd, unique and refreshing work of science fiction. Well worth the fifty cents I paid for it at Goodwill. While I initially picked it up for the content depicted on the cover, this is only a part of a bigger plot that essentially boils down to interstellar shipping economics. I really loved the ending, which came about just as I was beginning to wonder where the story was headed. Great to read a piece of science fiction that didn't have to be an epic, seven-part space opera. If I happen upon more of McEnroe's works, I won't hesitate to pick them up.
It might not be part of a seven-part space opera, but Skinner is the third book in a trilogy (which I didn't learn until about 30 minutes ago… thank you, ISFDB). Here's the first two.
The Shattered Stars (January 1984, cover by John Berkey) and
Flight of Honor (July 1984, Peter Gudynas). Both published by Bantam Spectra.
All three books were paperback originals published by Bantam Spectra, each with a different cover artist.
If you're the kind of person who obsesses over tiny cover details on vintage paperbacks (in other words, a totally normal person), you'll notice that the first two have a colorful banner at the top proudly proclaiming they're part of an "Exciting New Future History, Far Stars And Future Times." All mention of that has done away with by the third book. I wouldn't have had any clue this was part of a series if it hadn't been listed that way at ISFDB.
I suppose this means the series was not successful. Having three different cover artists probably didn't help.
There are reports of a fourth planned novel, such as this mention in the breezy and entertaining review at Tzer Island.
Skinner is the third (and, apparently, the last) novel in Richard McEnroe's Far Stars and Future Times series. There is an ad in the novel's back pages for a fourth book titled Chains of Knowledge, but it isn't included in McEnroe's bibliography and I've found no evidence that it was ever published.

Skinner begins on the planet Wolkenheim, where most of the action in Flight of Honor (the second book in the series) takes place. The Earth emigrants who settled Wolkenheim (the First Wavers) have implemented a scheme to make sure their hard-won prosperity isn't supplanted by newly arriving immigrants: anyone setting foot on Wolkenheim who can't establish his financial solvency is forced into indentured servitude — serving, of course, the First Wavers. Chavez Blackstone has been scraping by on Wolkenheim, but after engaging in a drunken brawl with a member of the power structure, he's declared insolvent….

Seamlessly merging with the main plot is a story of economic and political intrigue as Eli Santer fights to save his fabric monopoly from a competing product, from a disloyal employee, and from new flight technology that will undermine his way of doing business. Joining the two plotlines is a woman who works for (and sleeps with) Santer, who feels compassion for the skinners he economically enslaves. Political machinations run through the story, but politics and economics take a back seat to the action, making Skinner a very readable novel… Skinner is a worthwhile, intelligent read for sf fans. It's unfortunate that McEnroe didn't continue the series beyond the three fine novels that he produced.
Here's that ad in the back of Skinner.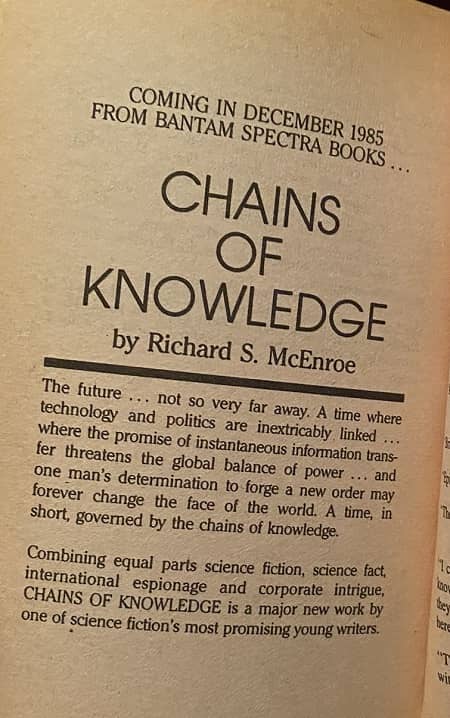 House ad for the unpublished Chains of Command
I don't know… no mention here that's it part of the ongoing series. But the author is right that the book never appeared. McEnroe never published another SF novel, with Bantam Spectra or anyone else, far as I know.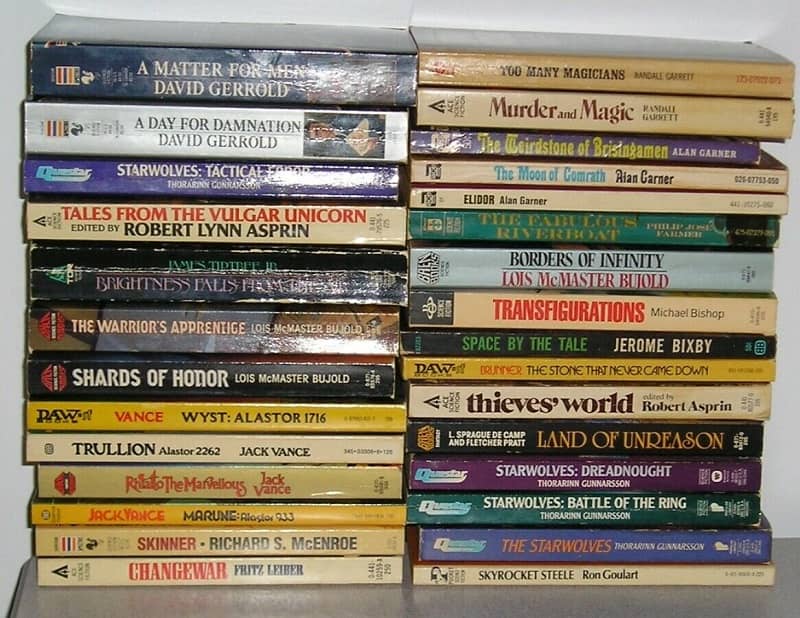 Somewhere in this eBay lot was a copy of Skinner
Skinner was part of a lot of high-grade vintage paperbacks I bought for $48 on eBay last month (see photo above; click for bigger version). The seller had multiple lots, each with a few dozen titles, and an offer to Choose any 3 for $5. I contacted him with a list of 30 I was interested in; 29 were still available, and he sold them to me in a single transaction. It's like that time I went to the Mexican restaurant and built my own burrito. Yeah. Exactly like that.
Skinner was published by Bantam Spectra in June 1985. It is 199 pages, priced at $2.95 in paperback. It has never been reprinted in the US, and there is no digital edition. The cover is by Enric (who is that?)  I still haven't read it yet, but I'm looking forward to it.
See all our recent Vintage Treasures here.