Vintage Treasures: The Startling Worlds of Henry Kuttner
Vintage Treasures: The Startling Worlds of Henry Kuttner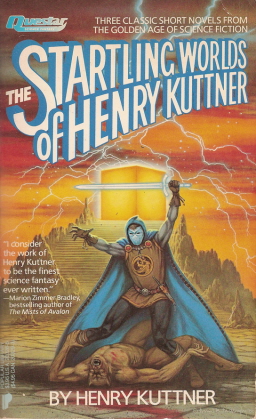 I have fun with these Vintage Treasure pieces. For one thing, they're a great excuse to shine some light on interesting items that cross my path.
Take Henry Kuttner's paperback collection, The Startling Worlds of Henry Kuttner. Published in 1987, nearly 20 years after his death, it's unusual in several respects. For one thing, it includes only novellas. And all originated from a single source: the long-dead pulp magazine Startling Stories.
I think this is a neat idea. The best writers of the pulp era — and Kuttner certainly qualifies — have seen most of their short fiction studiously reprinted. In fact, we've covered four generous collections of Kuttner's pulp fiction just in the last few years: the weird-menace collection Terror in the House, the first volume in The Early Kuttner series; Thunder in the Void, gathering his early space operas; Detour to Otherness, the massive retrospective of his collaborative work with C.L. Moore; and none other than the distinguished James Enge reviewed his Gallagher stories for us, collected in Robots Have No Tails.
But short novels, 40,000-word epics printed in a single pulp issue, rarely (if ever) get reprinted. They're too long for most collections, and generally too short for a standalone novel, so most of them have slipped through the pages of history. The Startling Worlds of Henry Kuttner rescues three such wonders and puts them under one cover.
But that's not even the most interesting thing about The Startling Worlds of Henry Kuttner. Since all three novels appeared in a single source, this isn't just a collection of Kuttner's work. It's an anthology that celebrates Startling Stories. Just as most collections give us insight into the recurring themes in an author's work, this book offers us a  generous sampling of the kind of fiction that appeared in that grand old pulp.
The Startling Worlds of Henry Kuttner collects The Portal in the Picture (originally published in 1949), Valley of the Flame (1946), and The Dark World (1946). It's one of the most intriguing collections I've come across in the past year. At press time, there are 23 used copies available on Amazon.com, ranging in price from $2.25 to $9.99.