More Haffner Goodness: Detour to Otherness
More Haffner Goodness: Detour to Otherness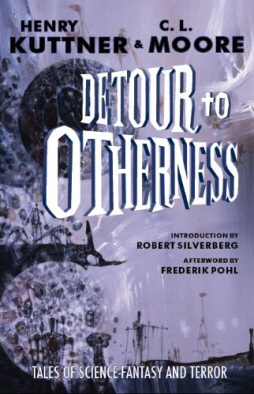 Yesterday's deliveries here at the Black Gate rooftop headquarters yielded — among the usual bills, magazines, and spare parts for the plutonium-powered signal beacon — a review copy of Detour to Otherness, by Henry Kuttner & C.L. Moore.
Hallelujah!  I've been looking forward to Detour since I first saw the dust jacket at Steve Haffner's table at the Windy City Pulp & Paper show in April. It collects twenty-four stories of science fantasy and terror by the legendary husband and wife team, with a new intro by Robert Silverberg and an afterword by Frederik Pohl.
Of course, I probably won't get to keep it.  Not unless I can distract Howard Andrew Jones, who will almost certainly gleefully take it back to Indiana to write a review (Hey Howard! Look at this!!)
Detour to Otherness shows the usual care and craftsmanship of all of Haffner's titles. The core of the book is the 1961 Bypass to Otherness, the famous paperback collection of many of Kuttner and Moore's finest stories, drawing from Kuttner's popular  "Gallegher Galloway" series, featuring a quirky scientist who invents technical marvels only while drunk, his comedic  "Hogbens" stories of otherworldly hillbillies, and the "Baldy" tales about mutant telepaths. It was followed by Return to Otherness in 1962, containing eight more stories. Both paperbacks are valuable collector's items today. Detour to Otherness assembles both Bypass to Otherness and Return to Otherness, plus eight additional stories "selected for their scarcity, quality, and sheer entertainment value."
Kuttner's "Gallegher Galloway" stories were collected by Paizo in Robots Have no Tails (reviewed for us by James Enge here), and Paul Di Filippo recently reviewed Moore's seminal collection Judgment Night for us here.  But both books are dwarfed by this thick new volume.  If you're a fan of science fantasy, you'll want to add this to your collection.  It's available from Amazon.com, or directly from Haffner Press, for just $40 for an archival-quality hardcover packed with 568 pages of classic fiction.