Happy 100th Birthday, C. L. Moore!
Happy 100th Birthday, C. L. Moore!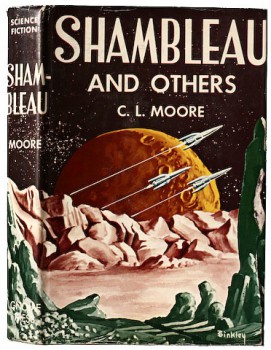 Catherine Lucille (C.L.) Moore, one of the great pulps writers of the 20th Century and author of Judgment Night, Shambleau and Others, Northwest of Earth, and Jirel of Joiry, was born 100 years ago today, on January 24, 1911.
Moore's first story, "Shambleau," the tale of a beautiful alien vampire, introduced interplanetary adventurer and pulp hero Northwest Smith  in the November 1933 issue of Weird Tales. The next year she published "Black God's Kiss," the first tale of Jirel of Joiry. They remain two of the most famous stories Weird Tales ever published.
Much of Moore's early science fiction and fantasy stories were collected by Gnome Press in handsome volumes that are still highly collectible today, including Judgment Night (1952), Shambleau and Others (1953), and Northwest of Earth (1954).
Moore married fellow science fiction author Henry Kuttner in 1940, and they collaborated on many classic tales for the pulps, including "Mimsy Were the Borogroves," (filmed in 2007 as The Last Mimzy), "The Twonky," and "Vintage Season." Much of their work together appeared in Astounding Science-Fiction,  usually under the name Lewis Padgett or Laurence O'Donnell.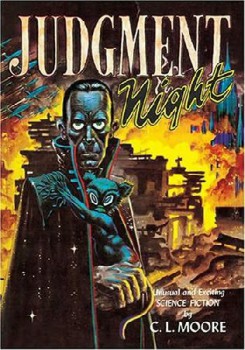 Moore published three novels before her death in 1987: Doomsday Morning(1957), and two with Kuttner: Earth's Last Citadel (1943) and The Mask of Circe (1948).
Unlike most pulp authors, C.L. Moore's fame continued to grow after her death, and the past decade alone has seen several major collections of her work including two Planet Stories editions from Paizo: Black God's Kiss (2007) and Northwest of Earth (2008); as well as Volume 31 in the Fantasy Masterworks series from Gollancz, Black Gods and Scarlet Dreams (2002); and two huge retrospectives: Two-Handed Engine (Centipede Press, 2006) and Detour to Otherness (Haffner Press, 2010).
Over the years we've done our own tributes to C.L. Moore, including Ryan Harvey's Jirel of Joiry: The Mother of Us All, Paul Di Filippo's review of Judgment Night, and C.S.E. Cooney's recent Jirel, Ma Joie!
Celebrate the life of one of our finest writers this week — pick up and enjoy a C.L. Moore story. You'll thank us later.
[Thanks to Stephen Haffner of Haffner Press for the tip.]