Fiction Review: Black God's Kiss by C. L. Moore
Fiction Review: Black God's Kiss by C. L. Moore
A Review by Ryan Harvey
Copyright 2007 by New Epoch Press. All rights reserved.
Black God's Kiss
by C. L. Moore
Planet Stories (160 pages, October 2007, $12.99)
The back of the new collection of C. L. Moore's Jirel of Joiry tales loudly exclaims: "THE FIRST LADY OF FANTASY!" Unlike most marketing taglines, this is actually an understatement. Does it imply the author or her character is the first lady of fantasy? Surprise, it's both. Shout it loud: THE FIRST LADIES OF FANTASY!
Catherine Leigh Moore shattered the masculine barriers of fantasy and science fiction when she started publishing her remarkable short stories in Weird Tales in the 1930s. Her character Jirel, the ruler of the fiefdom of Joiry in medieval France, was the first female Sword-and-Sorcery hero. And, considering how much competition she faces today from the warrior women who have followed the path she blazed, she remains one of the best.
What makes Jirel stand out today, over seven decades after her first appearance in 1934, is that C. L. Moore stubbornly refused to mold her character to fit the pattern of the male heroes of the day. Readers expecting a female Conan when they first delve into the Jirel stories are in for a surprise. Jirel rarely defeats her foes with slashing steel or muscular brawling. She uses the power of her overwhelming personality, her fierce determination to be who she envisions herself to be, to lay her foes to waste. It isn't merely that Jirel is tough, brave, and needs help from no one — man or god in man's shape — that make her such a vibrant creation. She has a receptive emotional core and an aching empathy that make her unlike the majority of male warriors with whom she shared the pulp pages…and, unfortunately, the majority of female warriors created today.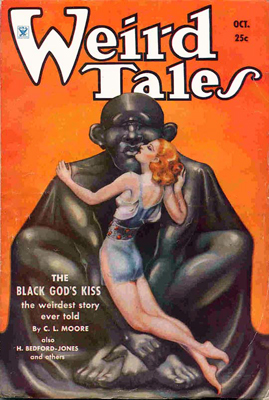 Paizo Publications' division Planet Stories (borrowing the name of the most grandly pulpy science fiction magazine of them all) brings together the complete Jirel chronicles in Black God's Kiss, including one that has seen few reprints, as part of a monthly series that might be called "Why the Hell Isn't This in Print?" books. A new painting from Arnold Tsang graces the cover, a beautiful homage to Frank Frazetta — even if it portrays Jirel in a bronze-bikini look that doesn't fit her character the way it fits her curves. The Jirel of the page would proudly wear the full armor of a knight. But if this cover pulls in a few newcomers, I won't complain (much).
With the exception of the last, the six novelettes in the volume are in order of first publication. The title story stands as one of the strongest of the classic Weird Tales canon. It sets the tone for the works that follow, sending Jirel across a dangerous magical world in search of a weapon to defeat a foe who has humiliated her. I have personally re-read "Black God's Kiss" perhaps a half dozen times and it never fails to astonish me, in particular the climax that dares to do the unexpected, the almost irrational, with its heroine.
The direct sequel, "Black God's Shadow," repeats much of the structure and ideas from "Black God's Kiss." Despite its merits, it can't live up to its predecessor's originality and surprise. The contender for the second-best Jirel tale is "Jirel Meets Magic," which puts the red-haired Lady of Joiry against a deliciously icy sorceress in another one of Moore's twisted otherworlds. "The Dark Land" again thrusts Jirel into a bizarre magic landscape, and readers who tack straight through the collection may find the similarity of plotlines turning stale at this point. However, "Hellsgarde," a more conventional horror-themed work that keeps Jirel in medieval France, offers a fresh perspective.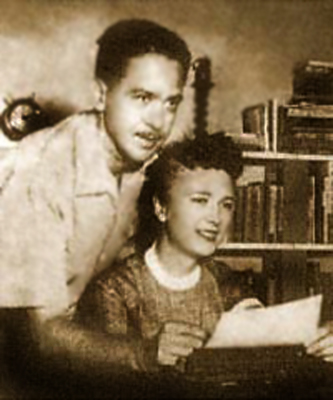 The final story in Black God's Kiss (written before "Hellsgarde"), "Quest of the Starstone," is Planet Stories' bait to lure readers who may already have an older Jirel anthology on their sagging shelves. Moore co-wrote "Starstone" with her future husband Henry Kuttner at the request of Weird Tales readers who wanted to see a meeting between Jirel and Northwest Smith, her two most popular characters. It has appeared only sporadically since its first publication in 1937, and most collections of the Jirel series omit it entirely. It is certainly different from the other stories: the plot-driven style and level of humor make Kuttner's part in the collaboration obvious, and Northwest Smith has a larger role in the action than Jirel does. It is worth reading, however, both to see how effectively the authors bring together two characters who have no connection to each other (a medieval noblewoman and a space-faring rogue) and for its external view of Jirel. It may not have the deep imagination of Moore's solo work, but it does provide a great deal of fun.
Author Suzy McKee Charnas provides a new introduction for the collection, which extols Jirel's virtues as a groundbreaking female heroine and puts her in historical context. However, the introduction provides no bibliographic information about the stories, which would be particularly rewarding for "Quest of the Starstone." Strangely, Charnas takes a few paragraphs to praise the setting of Joiry, even though Jirel spends hardly any time in it!
Having a complete Jirel of Joiry at last in one volume is reason enough for fans to purchase Black God's Kiss. And for those who have never read the wondrous adventures of the First Lady of Sword-and-Sorcery from the First Lady of Sword-and-Sorcery… oh, gods, how I envy the dark pleasures before them.
(Read Ryan Harvey's in-depth Black Gate essay on C. L. Moore's Jirel of Joiry tales here.)
---
Ryan Harvey has lived most of his life in Los Angeles, although he attended Carleton College in Minnesota where he studied Medieval History, Classical Islam, and Film. He considers himself a full-fledged writer, with three completed novels, but has supplemented his income at various times as a speed reading instructor, reading development teacher, and magazine copyeditor. When not absorbing mounds of science fiction and fantasy literature and indulging in pulp, he swing dances wearing bizarre 1930s clothing. He also maintains his own website: The Realm of Ryan.