Friends From an Alien Universe: Buying Perry Rhodan Art
Friends From an Alien Universe: Buying Perry Rhodan Art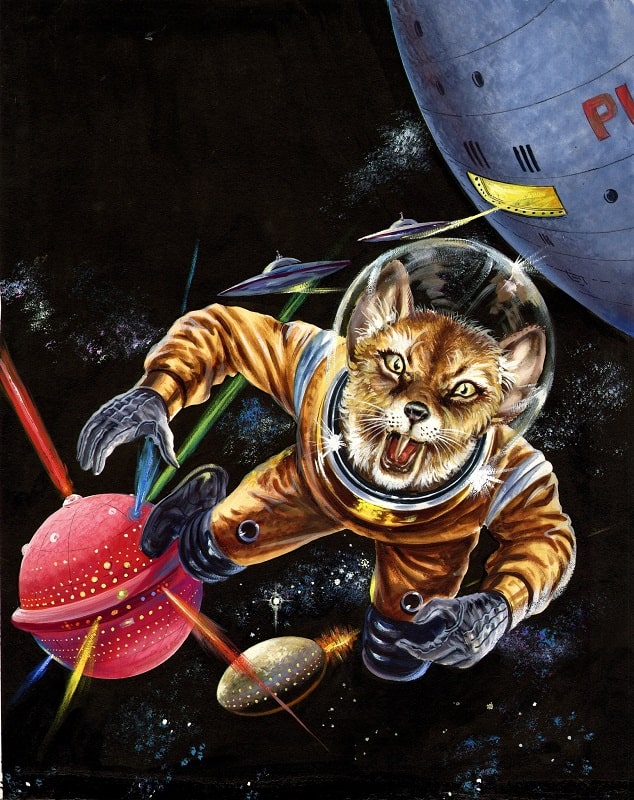 Original art for Perry Rhodan #415 (August 15, 1969) by Johnny Bruck
As a teenager in the late 1970's, my favorite science fiction series was Perry Rhodan. Although the U.S. editions ceased in 1979 after #137, in its native Germany the series continues to this day in various forms, with over 3200 installments in the main series and counting.
Some of the earliest SF art I ever collected, starting at the old Chicago Comicon in the late 1980's, were U.S. Perry Rhodan covers by artists Gray Morrow and George Wilson. In Germany up to that time, the primary cover artist was Johnny Bruck (a few of which were reprinted on early printings of some of the U.S. editions). For decades I tried to find Bruck PR covers, but with no success.
About six months ago, an avid SF art collector in Switzerland, Markus Rohrwild, began to post loads of Bruck PR covers on the Comic Art Fans site. He was friends with Bruck's widow and had acquired hundreds of paintings from her. I eventually reached out to him to see if any might be for sale, and I was extremely pleased when he agreed to sell some to me.
[Click the images for Perry Rhodan-sized versions.]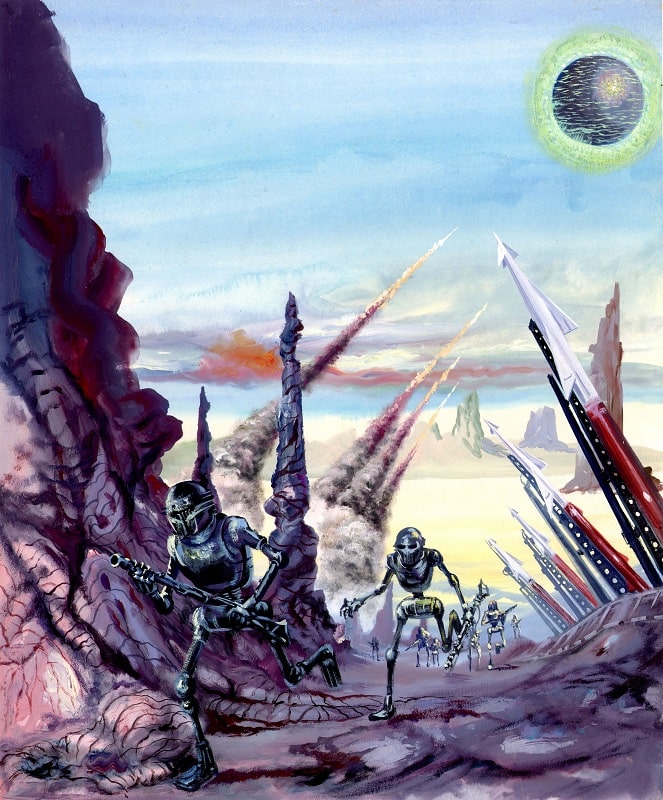 Original art for Perry Rhodan #270 (November 4, 1966), by Johnny Bruck
After several messages back and forth, I convinced him he should come to this year's Windy City Pulp and Paper Convention and bring original Bruck SF art to sell. While we've had dealers from the U.K. before, he was our first from continental Europe, and he brought over two dozen amazing Bruck paintings for sale. Plus he hand delivered the ones that I'd bought from him — you can't ask for better service than that!
At the top is one of the ones we picked up from him — the cover to Perry Rhodan #415, published August 15, 1969, "Freunde aus einem fremden Universum" ("Friends From an Alien Universe"). The character portrayed on the cover is one of Rhodan's most valuable allies and friends, the alien mouse-beaver Gucky (although in the U.S. his name was changed to Pucky), who has the powers of telekinesis, telepathy and teleportation. Since Deb's a big fan of rodents, we had to get a Gucky cover, and we're thrilled to have this classic one!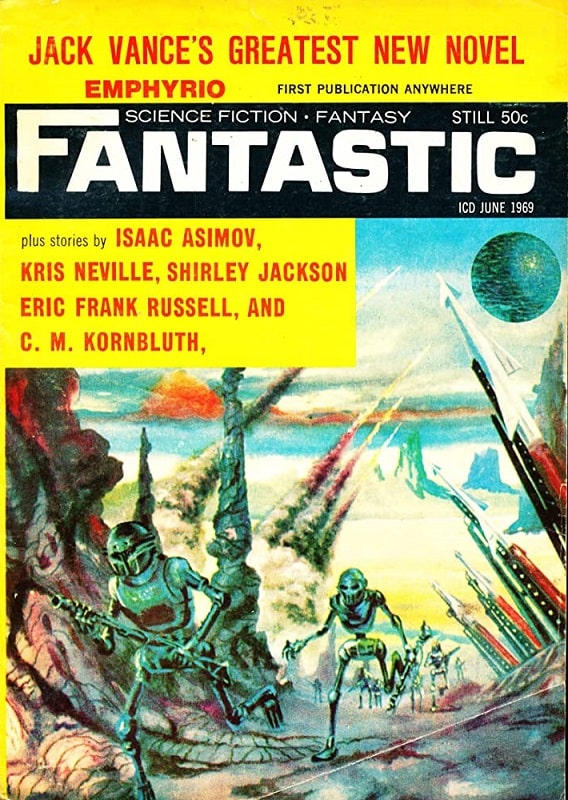 Fantastic, June 1969. Cover by Johnny Bruck
In the late 1960's and early 1970's, when publisher Sol Cohen was running a lot of reprint material in Amazing Stories and Fantastic (as well as in other, shorter-lived, titles), to save expense on the covers he obtained the rights to use several Bruck Perry Rhodan covers on his magazines. I guess he figured an American audience wouldn't have seen them before.
We picked up one of those (shown above), which originally was the cover to Perry Rhodan #270, published November 4, 1966, for the story "Ultimatum an Unbekannt" ("Ultimatum to Unknown"). Three years later, it appeared as the cover of the June 1969 issue of Fantastic.
---
Doug is a collector of pulps, as well as of pulp, science fiction and fantasy art. He co-founded and co-organizes the Windy City Pulp and Paper Convention. For many years his Tattered Pages Press published the pulp fanzine Pulp Vault, as well as other books on the pulps. He was one of the authors of The Adventure House Guide to Pulps, and has edited several pulp anthologies, including the Best of Adventure series. His book, Uncovered: The Hidden Art Of The Girlie Pulps, an in-depth study of the spicy pulps and their art, was named ForeWord Magazine's 2003 Popular Culture Book of the Year. In 2013, Bob Weinberg, Bob Garcia and he collaborated on The Collectors' Book of Virgil Finlay, a collection of Finlay's gorgeous art. The Art of the Pulps, which he co-edited with Bob Weinberg and Ed Hulse, won the 2018 Locus Award for Best Art Book. At the Worldcon in 2022, Doug and his wife, Deb Fulton, were presented with the Sam Moskowitz Archive Award from First Fandom.
Doug's last article for Black Gate was The Art of Things to Come: 1964-1966.