Bob's Books – Shelfie #5: (REH, Moorcock, Kurtz)
Bob's Books – Shelfie #5: (REH, Moorcock, Kurtz)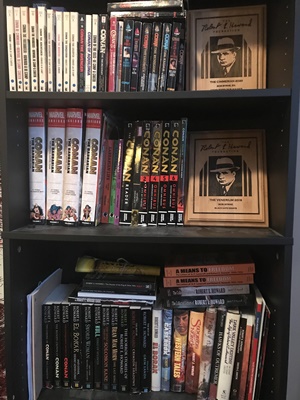 It's installment number five in Bob's Shelfie series. This time, I'll do a shelfie for my favorite fantasy author (Tolkien is second) – Robert E. Howard.
He is of course best known for his Conan the Cimmerian (the movies made it 'the Barbarian'). They are terrific sword and sorcery stories. If you only know the movies, you should read some of the stories.
On the bottom left are the Del Rey volumes, covering most of his writing. Howard struggled to make a living as a pulpster in Cross Plains, TX, during the Depression. He wrote fantasy, weird menace, westerns, boxing,spicy, horror, historical – the guy was an extremely talented writer. And those Del Reys are superb collections – with some great intros from very knowledgeable folks.
He was an extremely prolific letter writer, and I've got several books of his –mostly with fellow Weird Tales contributor, HP Lovecraft.
I never got into graphic novels, but I really like the Marvel Omnibus' of the color comic that started in the seventies. The three mini-memoirs from Roy Thomas, covering the first hundred-ish issues, are fantastic and great buys.
Up top are various pastiches by other authors. I used to have all the Tors, but don't any more. Many are pretty poor. For me, L. Sprague de Camp did pretty well (though he was an ass toward REH) and John Maddox Roberts was the best of the Tors, along with Chris Hocking's lone book (he wrote a second, which has had a long, torturous path to still not being out there – but is due out soon). I like Robert Jordan's six books, though they all kind of feel the same by the end.
And those two plaques are awards I've received from the Robert E. Howard Foundation for my work in the REH world.
Besides Conan, the Solomon Kane stories are very good. He' a Puritan wanderer using a sword and a flintlock around 1600. Supernatural tales – good reads. And his El Borak (an adventurer in Afghanistan and nearby areas) tales have an Indian Jones meets Conan type of feel. He rivals Conan as my favorite. I discovered Howard late, but he was an amazing writer.
I'll  have to do an updated pic, with Hither Came Conan, which came out after I took this one.
Michael Moorcock
And a huge influence on me has been Michael Moorcock.
I have been an RPG and fantasy fan for almost all my life. Three things set the foundation: Greek Mythology, Dungeons and Dragons, and Elric of Melnibone. Tolkien came shortly after, and the list of 'likes' is now almost endless (I even became a Pathfinder DM).
Moorcock's tragic anti-hero, the albino king of Melnibone, is a cornerstone of sword and sorcery. I can re-read Elric, and Conan, over and over (Fafhrd and the Gray Mouser didn't hold up as well for me).
I'm not too crazy about the books starting with The Fortress of the Pearl, but I am going to pick up the new one. And I've got Hawkmoon, Corum, Erekose – I am a fan of the Eternal Champion saga. I'm pretty sure a couple video game rangers have been called Rackhir the Red Archer.
The War Hound and all the World's Pain is a brilliant book – maybe his best. I've read that the Elric graphic novels are very good, but haven't seen those. I've messaged with him some, and he seems like a pretty good guy. He's a big fan of Carroll John Daly's Race Williams, which I wouldn't have guessed (you'll be seeing a lot of harboiled/pulp shelfies from me).
I'm more of an epic fantasy guy: Tolkien, Brooks, Eddings, McKiernan. But I do like sword and sorcery as well, and Elric of Melnibone is the epitome of the genre. Those first six books are about unsurpassed.
I wrote a neat little essay on "The Jade Man's Eyes." That one had an…unusual publishing history.
I love those old DAW covers. A friend of mine has a couple of the original paintings for them hanging in his house. Moorcock wrote a Sherlock Holmes shorty story – The Adventure of the Dorset Street Lodger. Every writer secretly wants to write Holmes.
Katherine Kurtz
I haven't re-read this Katherine Kurtz series in quite a while, but I've liked it for a long time. The Deryni are a race with mental powers. Sometimes the race is ascendant, sometimes it's persecuted. There are five trilogies, plus a stand-alone novel, and they cover a long time-span, so there's a lot of different stuff going on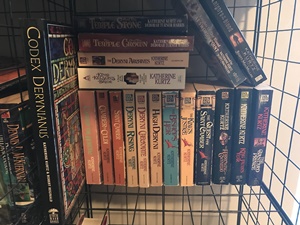 It's often depressing, but still a great series. I prefer the second-written series, which is first chronologically. It's about Saint Camber, who is really the heart of the Deryni story. I haven't read the final trilogy, which takes place the latest. I don't have any real itch to do so, either.
It's a medieval-setting fantasy world, and the plots are often deep in political, religious, and military machinations. There's a heavy Catholic overlay, though not in a theological sense.
There is one short story collection written by Kurtz herself, and another written by fans, which she edited. I don't mean to sound 'meh' on this series, which I know I've read at least three times. But I've just kind of moved in the couple decades since I last looked at this one. It's really pretty cool, though I don't like the depressing books as much.
Kurtz was really into the Knights Templar. She also came up with an idea (I think it was hers) for a series involving Templars fighting the Nazis in WW II. And then,one set in the seventies. They were fun reads for an action fix, but I never revisited them. Cowritten by Scott McMillan, there was suppose to be a third, but it never happened.
Kurtz wrote an epic fantasy series which has its admirers, but seems to have fallen by the wayside for some reason. I'm not exactly sure why. It's pretty good, and pretty deep. But while I still infrequently run across some mention of Anne McCaffrey's Dragonriders of Pern series, you just don't hear about the Deryni.
That big book on the right is a way cool encyclopedia of the then still-in-progress series. This was before you could look anything up on the internet, and it was terrific.
Bob's Books

Shelfie #1 (Sherlock Holmes #1)
Shelfie #2 (Sherlock Holmes #2)
Shelfie #3 (Constitutional Convention of 1787)
What I've Been Reading: July 2019 (Clive Cussler, Gabriel Hunt, Tony Hillerman)
What I've Been Reading: December 2019 (Scott Oden, Howard Andrew Jones, Norbert Davis, Mycroft Holmes)
What I've Been Reading: January 2020 (Glen Cook, John D. MacDonald, Dashiell Hammett, Robert R. McCammon, Howard Andrew Jones, Nero Wolfe)
What I've Been Reading: September 2020 (Jo Gar, William Baring Gould, The Game's Afoot, Casablanca, William Bernhardt, Roger Torrey, William Goldman)
What I've Been Reading: September 2022 (Cleveland Torso Killer, Columbo, Douglas Adams)
---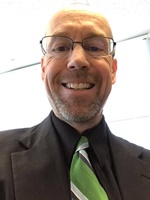 Bob Byrne's 'A (Black) Gat in the Hand' made its Black Gate debut in 2018 and has returned every summer since.

His 'The Public Life of Sherlock Holmes' column ran every Monday morning at Black Gate from March, 2014 through March, 2017. And he irregularly posts on Rex Stout's gargantuan detective in 'Nero Wolfe's Brownstone.' He is a member of the Praed Street Irregulars, founded www.SolarPons.com (the only website dedicated to the 'Sherlock Holmes of Praed Street') and blogs about Holmes and other mystery matters at Almost Holmes.
He organized Black Gate's award-nominated 'Discovering Robert E. Howard' series, as well as the award-winning 'Hither Came Conan' series. Which is now part of THE DEFINITIVE guide to Conan.

He has contributed stories to The MX Book of New Sherlock Holmes Stories – Parts III, IV, V, VI and XXI.
He has written introductions for Steeger Books, and appeared in several magazines, including Black Mask, Sherlock Holmes Mystery Magazine, The Strand Magazine, and Sherlock Magazine.