A Dark and Glorious Vision: Michael Moorcock's Elric, from Titan Comics
A Dark and Glorious Vision: Michael Moorcock's Elric, from Titan Comics

All four volumes in Michael Moorcock's Elric from Titan Comics (2014 – 2022)
There's been a lot of comic adaptations of Michael Moorcock's Elric over the years. Perhaps the most famous is the French artist Philippe Druillet's ambitious rendition of The Eternal Champion, but there have been many others associated with the character, including P. Craig Russell, James Cawthorn, Walter Simonsen, Mike Mignolia, Howard Chaykin, and many more. First Comics had a lengthy association with Moorcock for many years, producing highly regarded adaptations of Elric, Hawkmoon, and others. I think my favorite was Mark Shainblum's lengthy Chronicles of Corum adaptation.
Titan Comics has had a long partnership with Moorcock, and recently it has released the best Elric adaptation I have ever seen, in any medium. The four volumes, The Ruby Throne, Stormbringer, The White Wolf, and The Dreaming City, are among my favorite comics of any kind in the past few years. Produced by the French team that includes the writer Julien Blondel and several enormously talented artists, including Didier Poli, Julien Telo, Robin Recht, and Jean Bastide, these books belong in every decent library of modern fantasy.
First off, these are gorgeous stories. There's a reason the Elric tales, alongside the Conan stories of Robert E. Howard and the Fafhrd and the Gray Mouser adventures by Fritz Leiber, are seen as the very cornerstones of the genre of sword & sorcery. The Elric tales are set in a violent and merciless world, where true power flows from pacts with dark and capricious gods, and Elric is a man who easily walked the corridors of power and trucked with soul-thirty entities, and — through schemes not entirely of his own making — now walks a different path.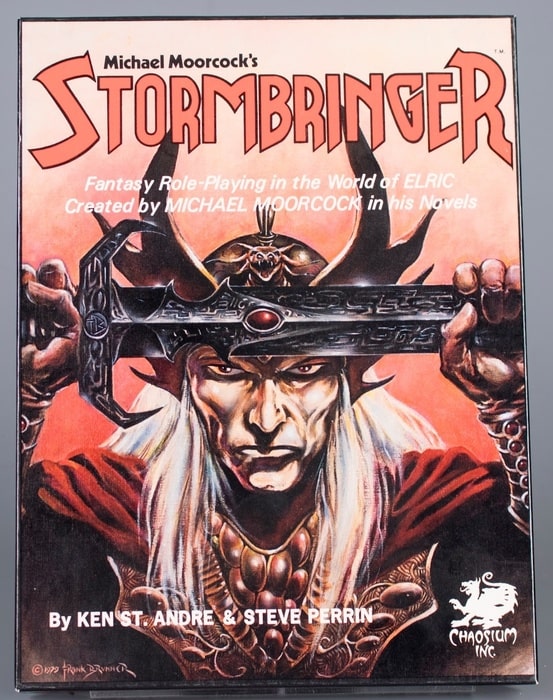 Stormbringer role playing game by Ken St. Andre and Steve Perrin
(Chaosium boxed set, 1981). Cover by Frank Brunner
As author Julien Blondel says in his Afterword to the first volume,
In the beginning these was passion. A passion for the dark, baroque and decadent world of Elric the necromancer… Elric is a sickly albino sorcerer-emperor, a drug addict, plaything of the gods, tormented anti-hero of a violent world, a rider of dragons, and an invoker of demons…

There was passion, fueled by nostalgia for the books read in adolescence and for the epic role-playing game (the legendary game Stormbringer, originally published by Chaosium)… and then came a slightly mad idea, one which originated with the artist Didier Poli: what if, after so many English adaptations, French authors created their own Elric? An Elric freed from the constraints of comic book fantasy cliches — as, in spite of his power, Elric is NOT a superhero, not a new Conan the Barbarian. This would be a graphic novel series that would be unwaveringly loyal to the writer's work.
This is an adaptation that does not flinch from the gruesome aspects of Moorcock's vision. The ancient kingdom of Melniboné is a nightmarish place, especially for those who serve. It is an empire whose leaders long ago forged lasting alliances with deities whose dark appetites would make Thanos or Lord Voldemort blanche and turn away.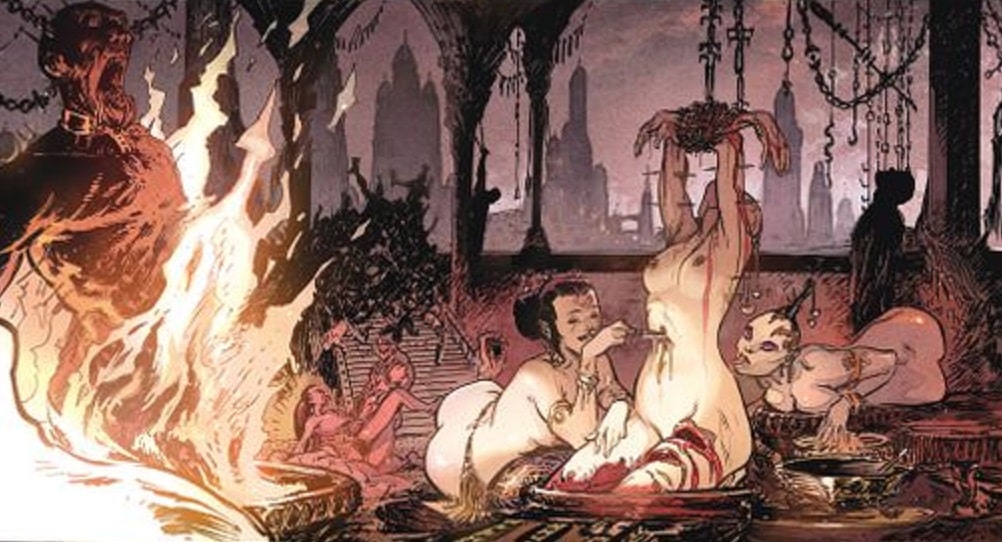 A gruesome Melniboné scene from Elric Vol. 1: The Ruby Throne
This series opened my eyes to a unique aspect of Moorcock's vision. The ruin Moorcock brings upon his ancient Melnibonéan line, though dressed as tragedy, is both long overdue and richly deserved. Unlike Tolkien, who wrapped his tales of the fall of Númenor and the decline of the West with rich allusions to the Biblical tale of the fall of man, Moorcock's epic contains no such yearning for a long-lost Golden Age of chivalry and honor. His ancient empires are dripping with blood and inhumanity.
From Moorcock's insightful introduction to Elric Vol. 1: The Ruby Throne:
The best graphic adaptation of the story, however, has to be the current one by Julien Blondel and his team. Not only have they stayed faithful to the spirit of the book, but they have made subtle additions to the story which, had I thought of them fifty years and more ago, I would have included…

This is perhaps the first graphic version of Elric to fully capture the sense of utter decadence I tried to convey in the books. Melnibonéans are a casually cruel race with a very different sense of morality to that which we take for granted. In this sense they can be seen to be pre-human and baffled by many of the things which concern Elric in his troubled searching for something else — for a new morality, perhaps. In this sense the books are allegories, representing my own rejection of the many moral assumptions with which I was brought up in post-war Britain, an island nation which once ruled much of the known world…

Another theme in the Elric stories is the end of empire. For those of us who grew up after the end of the Second World War, the attitudes of our parents could be baffling and disturbing. We could see how so many of their assumptions could be easily contradicted by our own experience. A vast literature of nostalgia began to see print, much of it aggressively and sentimentally arguing for the return of imperialism. It saw a troubling revival under Mrs. Thatcher… Attacking this nostalgia became the province of many of the graphic stories published in such magazines as 2000 A.D. People like Alan Moore and Bryan Talbot smelled the corruption in British society, particularly in its politics, and made it their business to attack it. The graphic story began to do what SF had done in the 1950s.
The first volume I read in Titan's adaptation was The White Wolf, and I was extremely impressed. It opens a year after Elric has turned his back on Melniboné and his throne, and wanders the frozen north.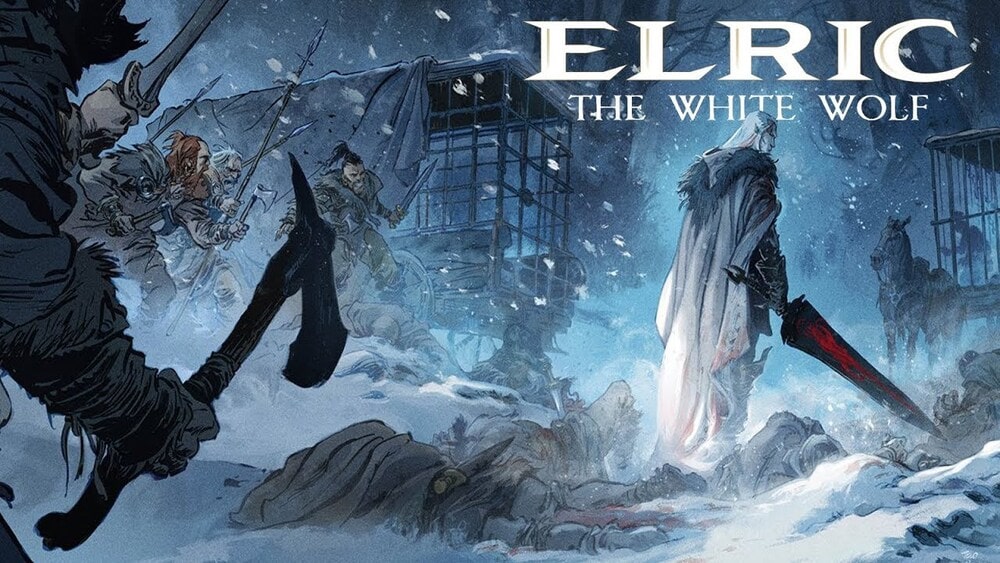 There Elric finds himself caught in an ancient mystery, one which draws him to the fortress city of Dhakos, ruled by a powerful merchant guild. In Dhakos Elric meets the princess Vassliss, who needs Elric to open the legendary Crimson Gate, so she can find what has befallen her lost love.
Beyond the Crimson Gate Elric finds deeper mysteries, and a glimpse at the truth of his ancient sorcerous heritage, and the great cost his people have paid for it.
Below are a few of the gorgeous full-page layouts from Elric: The White Wolf.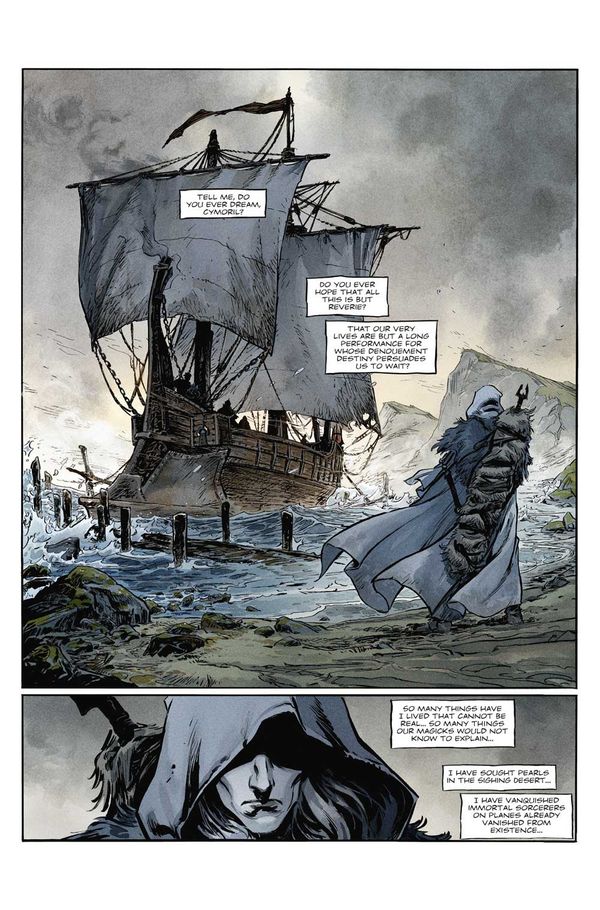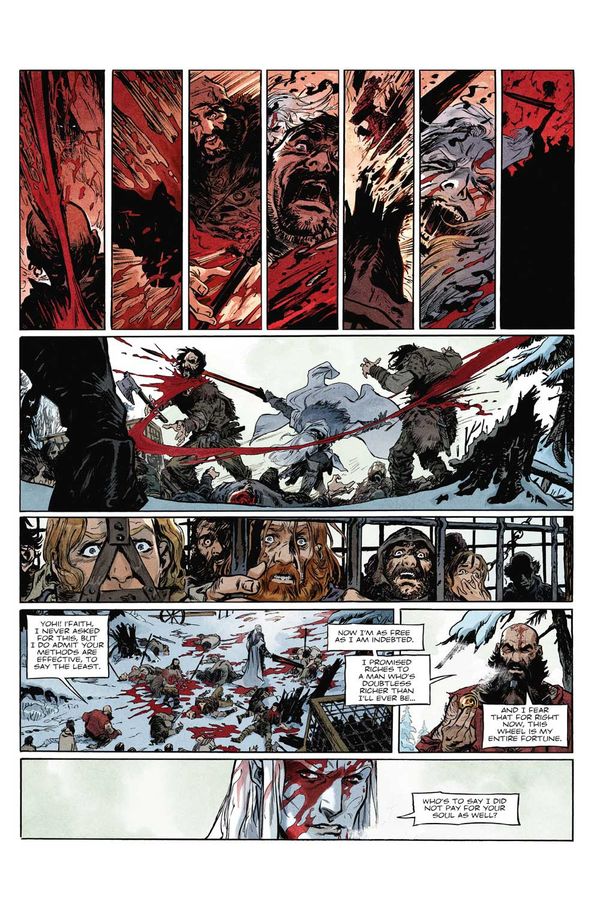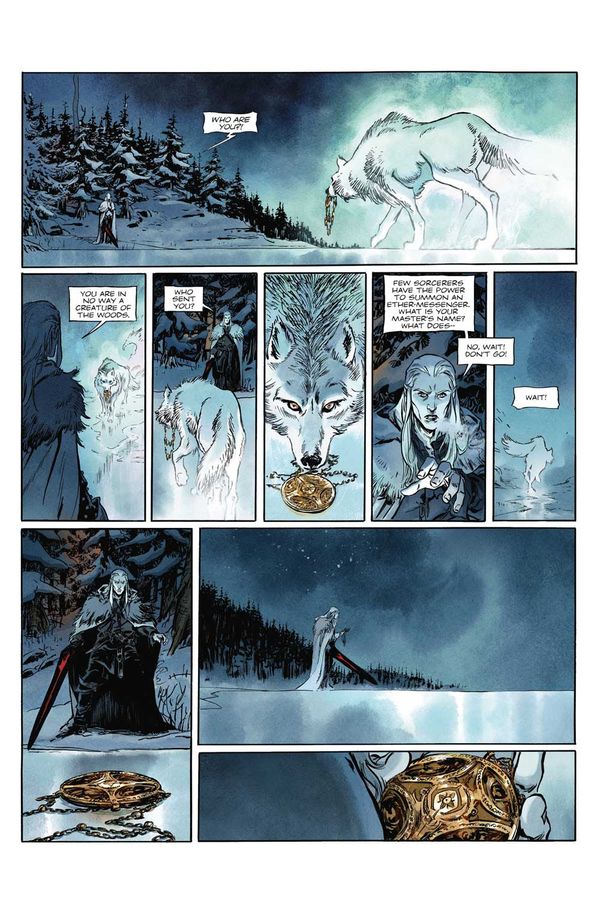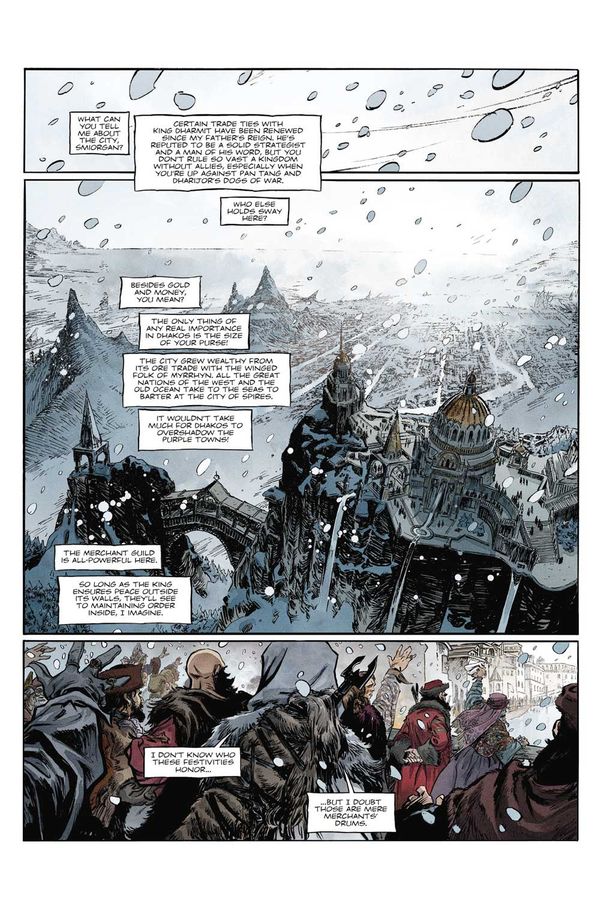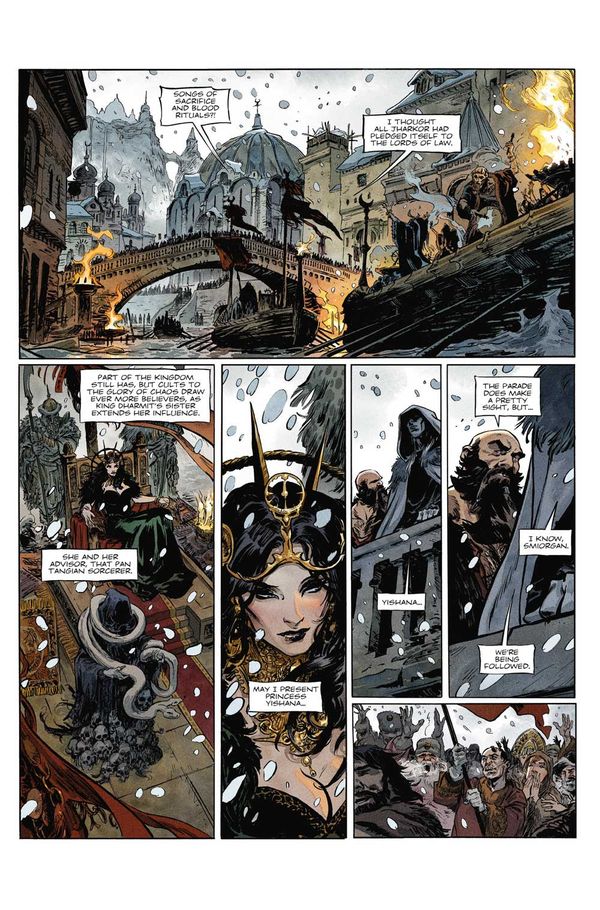 Titan's Elric adaptation is available in hardcover and digital formats. It is written by Julien Blondel and Jean-Luc Cano, with art by Didier Poli, Julien Telo, Robin Recht, and colors by Jean Bastide and Stephanie Paitreau.
The translation is by Nora Goldberg, Jessica Burton, and Edward Gauvin. Covers are by Jean Bastide and Robin Recht.
Four volumes have been published so far, all based on the work of Michael Moorcock. Titan has assembled all four in a handsome collector's set, for those who like that kind of thing.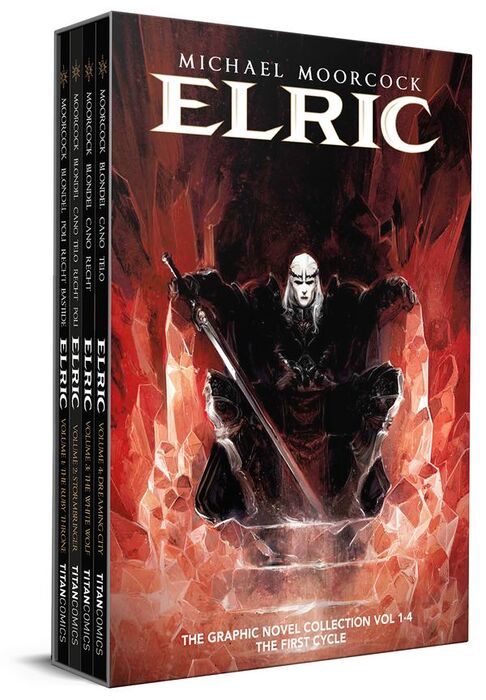 The first volume, The Ruby Throne, was published in 2014, and new volumes have appeared roughly every two years since. I don't know if the creative team plans additional books, but I certainly hope so.
Elric Vol. 1: The Ruby Throne (64 pages, $19.99 hardcover/$7.99 digital, September 16, 2014)
Elric Vol. 2: Stormbringer (64 pages, $19.99 hardcover/$7.99 digital, March 31, 2015)
Elric Vol. 3: The White Wolf (64 pages, $19.99 hardcover/$7.99 digital, December 11, 2018)
Elric Vol. 4: The Dreaming City (64 pages, $19.99 hardcover/$7.99 digital, April 5, 2022)
See all our recent coverage of the best fantasy comics here.