New Treasures: Isolation: The Horror Anthology edited by Dan Coxon
New Treasures: Isolation: The Horror Anthology edited by Dan Coxon

Isolation: The Horror Anthology (Titan Books, September 27, 2022). Cover by Kerry Lewis
I know that plenty of you lot like to keep your horror reading seasonal, and once Halloween wraps it's time to put the spooky tales away with the other decorations. But for me winter time, with its desolate landscapes and long dark nights, is the perfect time to curl up with some shivery tomes.
Dan Coxon's Isolation: The Horror Anthology has successfully commanded my attention for much of this long wintry week. Inspired by the forced isolation of the COVID pandemic, Coxon has challenged some of horror's brightest talents to tell creepy tales of isolation of all kinds. A mix of originals and reprints (15 originals, from Alison Littlewood, Mark Morris, Ramsey Campbell, Laird Barron, Tim Lebbon, Lisa Tuttle, Michael Marshall Smith, Nina Allen, Owl Goingback, Brian Evenson, and others, plus five reprints from Jonathan Mayberry, M.R. Carey, Joe R. Lansdale, Ken Lui, and Paul Tremblay), Isolation is an entertaining blend, with vampire tales, zombie apocalypses, tormented spirits, hostile presences, serial killers, and all the things that terrify us when we're alone.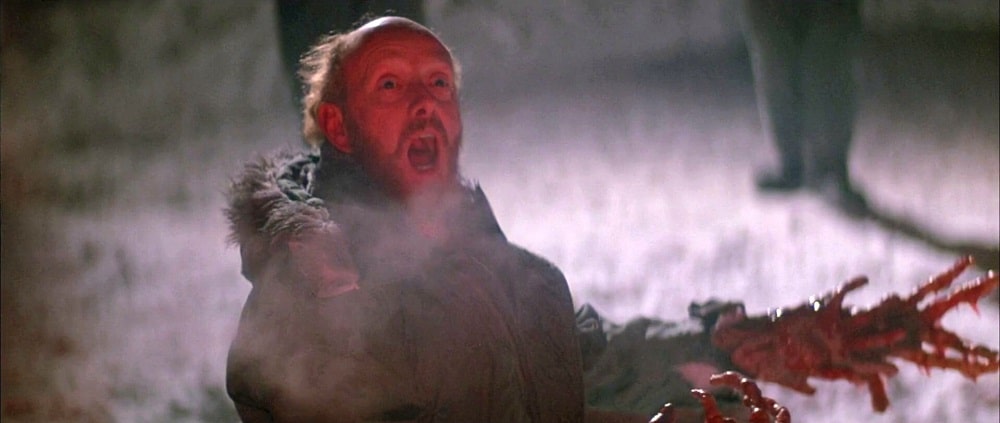 John Carpenter's The Thing
Dan Coxon teases the book splendidly in a guest post at Civilian Reader.
It's a familiar trope in horror stories. From The Thing to Ally Wilkes's debut novel All the White Spaces, the frozen wastelands of the poles are ripe with terror (without forgetting, of course, The Terror). The extreme conditions are clearly part of that – I've read that sustained exposure to extreme cold can cause hallucinations – but there's also the solitary world they create…

One of the threads that runs through the stories in Isolation is the possibility of being isolated within society…. Angela Slatter's 'Solivagant' tackles the loneliness of being trapped in an abusive relationship. This is a horror story, so the relationship just happens to be with a vampire – but as Kitty Lang says, "Maybe she sees all the years in my face that I normally hide. Maybe she sees how many of them I've been alone despite a constant companion I should have ditched an eon ago; how deep that isolation has eaten into me." The solitude and fear of being trapped with an abusive partner is just as terrifying as the snowy wastes – and, for many of us, even more real.

Chikodili Emelumadu's 'How We Are' also captures the loneliness of being an outcast within society; someone either labelled as 'different', or self-identifying as being unlike the crowds of people around them. In the story, this is complicated even further by an 'ability' that only manifests when she lays hands on other people – once again, the lack of physical contact during the pandemic casts its shadow.

Beyond this, some of the stories take us to a post-apocalyptic future. Tim Lebbon's 'After the Bridge' shows us an isolated survivor of an unspecified disaster. "I drink water that seeps down through the soil," he confesses when he's finally reunited with what remains of humanity. "I eat worms and woodlice and an occasional spider, and a few times I've managed to catch something larger." This is isolation stripped back to its barest truth: the human desire to survive. The life he has lived is debasing and often disgusting, but despite the loneliness, he has still hung on, waiting for a day when it will end.
Read the whole thing here.
Paul Mount has a fine review at Starburst. Here's a taste.
Alison Littlewood's 'The Snow Child' is an ice-cold tale of a serial killer a little too close to home and 'Friends For Life' by Mark Morris is a terrific, punchy, well-developed story of the loneliness of grief that leads to an atmospheric homage to The Wicker Man… M.R. Carey's 'Second Wind' is set post-apocalypse in a world where the dead rise but aren't the traditional slavering, ravaging brain-munches but maintain some intelligence and purpose whose protagonist stays one step ahead by allowing himself to die and become resurrected and then shuttering himself inside a climate-controlled environment to avoid decay and degradation. A.G. Slatter's 'Solivagant' and Owl Goingback's 'Full Blood' are superior vampire stories, the latter's scenario of a world riven by a virus eventually cured by a vaccine that turns survivors into flying vampire monsters is a full-length novel idea thrown away across twelve pages.
Here's the complete Table of Contents.
Introduction by Dan Coxon
"The Snow Child," Alison Littlewood
"Friends For Life," Mark Morris
"Solivagant," A.G. Slatter
"Lone Gunman," Jonathan Mayberry (Nights of the Living Dead, 2017)
"Second Wind," M.R. Carey (The New Dead, 2010)
"Under Care," Brian Evenson
"How We Are," Chịkọdịlị Emelumadu
"The Long Dead Day," Joe R. Lansdale (The Shadows, Kith and Kin, 2007)
"Alone is a Long Time," Michael Marshall Smith
"Chalk. Sea. Sand. Sky. Stone," Lynda E. Rucker
"Ready or Not," Marian Womack
"Letters to a Young Psychopath," Nina Allen
"Jaunt," Ken Lui (Make Shift: Dispatches from the Post Pandemic Future, 2021)
"Full Blood," Owl Goingback
"The Blind House," Ramsey Campbell
"There's No Light Between Floors," Paul Tremblay (Clarkesworld, May 2007)
"So Easy to Kill," Laird Barron
"The Peculiar Seclusion of Molly McMarshall," Gwendolyn Kiste
"Across the Bridge," Tim Lebbon
"Fire Above, Fire Below," Lisa Tuttle
Isolation: The Horror Anthology was published by Titan Books on September 27, 2022. It is 397 pages, priced at $15.95 in trade paperback and $9.99 in digital formats. The cover was designed by Kerry Lewis.
See all our recent New Treasures here.