Future Treasures: Time Troopers edited by Hank Davis and Christopher Ruocchio
Future Treasures: Time Troopers edited by Hank Davis and Christopher Ruocchio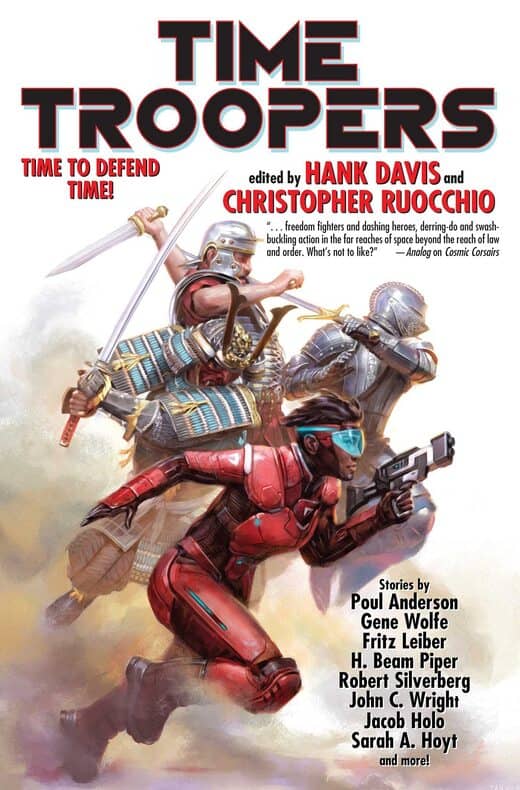 Time Troopers (Baen, April 5, 2022). Cover by Kieran Yanner
It's a delight to see a brand new anthology from the dynamic duo of Hank Davis and Christopher Ruocchio. Their previous collaborations (Space Pioneers, Overruled, and Cosmic Corsairs) were a lot of fun — and they even gave a shout out to the readers of Black Gate in the acknowledgments of Cosmic Corsairs for their help selecting the stories.
Their newest, Time Troopers, contains new and classic tales of Time Travel for military purposes, and it comes packed with stories by Robert A. Heinlein, Keith Laumer, Poul Anderson, A.E. Van Vogt, Fritz Leiber, Robert Silverberg, Gene Wolfe, Edmond Hamilton, H. Beam Piper, and many more. It arrives in two weeks from Baen, and looks like another solid addition to the fast-growing Davis-Ruocchio library.
[Click the images for more timely versions.]

Previous Davis and Ruocchio anthologies: Space Pioneers (November 2018), Overruled (April 2020), and
Cosmic Corsairs (August 2020). Covers by Bob Eggleton, Tom Kidd, and Tom Kidd again
I don't see a lot of SF reprint anthologies reviewed at Publishers Weekly — but this one was. Here's an excerpt:
This impressive anthology…  provides 15 stories from genre legends like Robert A. Heinlein and Fritz Leiber, and lesser-known talents, including Jacob Holo and T.R. Fehrenbach. Fehrenbach tweaks a well-known rallying cry in his standout entry, "Remember the Alamo," as a visitor from the future travels to 1836 San Antonio to witness the siege firsthand, but is surprised by what actually happens. Robert Silverberg's "House of Bones" cleverly imagines a 20th-century man's adjustments to finding himself 20,000 years in the past, part of an eclectic Cro-Magnon community, whose members include an architect and a poet. Leiber's "The Oldest Soldier," part of his Change War saga, is another high point, as a pacifist's encounter with a time traveller exposes him to cosmic horror and showcases the author's gift at creating nail-biting suspense. The editors' mastery of the military SF and time travel subgenres is evident in their thoughtful selections.
Here's the publisher's description.
BATTLEZONE: ETERNITY

Once, military actions were entirely two dimensional, confined to the surface of land and sea, but then submarines and aircraft added a third dimension, vastly extended by spaceflight. Now, consider that if time travel is possible, the fourth dimension of time opens up new possibilities for combat, necessitating new defenses, new strategies and tactics. A battle that was once decisively won might be refought, or a narrow victory might be subtly tilted to the other side. Never mind the history books, they're only works in progress. There might be even more than four dimensions involved, if parallel universes and alternate realities exist and can be accessed. Imagine a universe where Rome never fell and its troops want to do something about our universe, where it did fall. Or another where more recent wars turned out very differently. Battle is a recurrent motif in the Earth of this universe, and would alternate realities be different or all too similar, with the tune the same, but different lyrics. Supplying the lyrics for spacetime combat in these pages is an all-star general staff including Robert Silverberg, Poul Anderson, Fritz Leiber, John C. Wright, H. Beam Piper and more. It's zero hour, in whatever time stream, so grab your time-appropriate weapon, be it sword or ray blaster, buckle on your general issue timeporter belt, and follow the Time Troopers into action across strange aeons!
And here's the complete Table of Contents.
Introduction: From Here to Eternity… and Back Again by Hank Davis
"All You Zombies—" by Robert A. Heinlein (The Magazine of Fantasy & Science Fiction, March 1959)
"The Archaenaut" by Christopher Ruocchio (original to this volume)
"The Long Remembered Thunder" by Keith Laumer (Worlds of Tomorrow, April 1963)
"Delenda Est" by Poul Anderson (The Magazine of Fantasy & Science Fiction, December 1955)
"Evading History" by Hank Davis (original)
"Recruiting Station" by A.E. Van Vogt (Astounding Science-Fiction, March 1942)
"The Oldest Soldier" by Fritz Leiber (The Magazine of Fantasy & Science Fiction, May 1960)
"House of Bones" by Robert Silverberg (Terry's Universe, 1988)
"Free Time" by Sarah A. Hoyt & Robert A. Hoyt (original)
"Choosers of the Slain" by John C. Wright (Clockwork Phoenix, 2008)
"Against the Lafayette Escadrille" by Gene Wolfe (Again, Dangerous Visions, 1972)
"Doctor Quiet" by Jacob Holo (original)
"Remember the Alamo" by T.R. Fehrenbach (Analog Science Fact – Science Fiction, December 1961)
"Comrades of Time" by Edmond Hamilton (Weird Tales, March 1939)
"Time Crime" by H. Beam Piper (Astounding Science-Fiction, February and March 1955)
About the Authors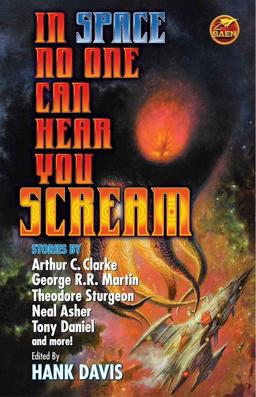 Hank Davis has been keeping classic science fiction alive in paperback on store shelves for years, and we've been following his efforts at Black Gate for most of that time. His books include:
The Human Edge by Gordon R Dickson (2003)
We the Underpeople by Cordwainer Smith (2008)
The Best of the Bolos: Their Finest Hour (2010)
A Cosmic Christmas (2012)
A Cosmic Christmas 2 You (2013)
In Space No One Can Hear You Scream (2013)
The Baen Big Book of Monsters (2014)
As Time Goes By (2015)
Future Wars … and Other Punchlines (2015)
Worst Contact (2016)
Things from Outer Space (2016)
If This Goes Wrong… (2016)
The Best of Gordon R. Dickson, Volume 1 (2017)
Space Pioneers, edited by Hank Davis and Christopher Ruocchio (2018)
Explore the Outer Rim with Space Pioneers, edited by Hank Davis and Christopher Ruocchio
Help Hank Davis fill a Space Pirate Anthology (2019)
Overruled edited by Hank Davis and Christopher Ruocchio (2019)
Time Troopers will be published by Baen Books on April 4, 2022. It is 480 pages, priced at $16 in trade paperback and $8.99 in digital formats. The cover is by Kieran Yanner. Read a generous excerpt, including Hank's introduction, at the Baen website.
See all our recent coverage of the best upcoming fantasy and SF here.