Goth Chick News: Kicking Off the 2022 "Season" With the Halloween & Attractions Show
Goth Chick News: Kicking Off the 2022 "Season" With the Halloween & Attractions Show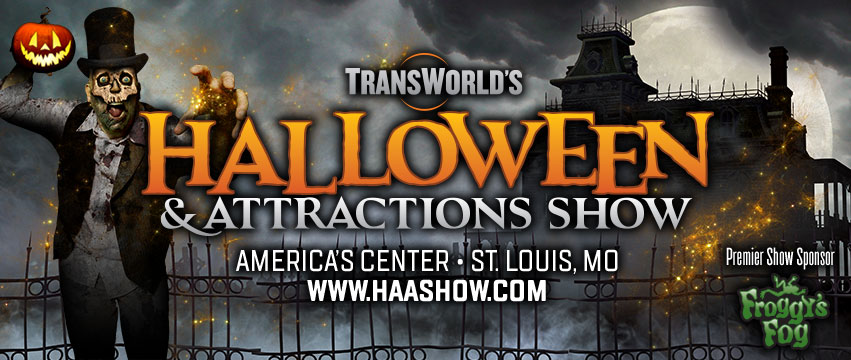 Given that I absolutely refuse to believe I am older than, say, 27 – it's even harder to believe that we here at Goth Chick News have been covering Transworld's Halloween and Attractions show for nineteen glorious years. But as Black Gate photog Chris Z and I once again headed south from Chicago at 5 a.m. toward St. Louis, I can't help recall that this was the time I used to be headed home from somewhere…
But as we motored through darkened cornfields dodging various small animals and quoting the movie Motel Hell ("It takes all kinds of critters to make Farmer Vincent's fritters!"), it dawned on me how many "firsts" this show represents in my Black Gate career; first trade show covered, first interview and first article in the top 50, though back then I think it was top 20.
Needless to say, not only does the H&A loom large professionally, the people we've met along the way mean it has an extra special place in my little black heart.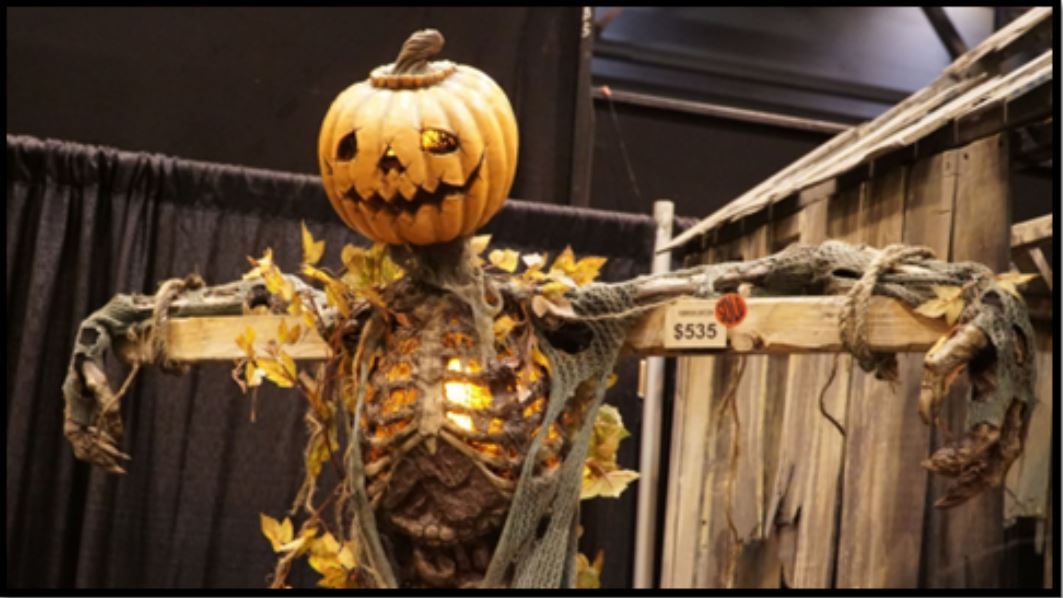 If you're unfamiliar with this international event, then let me briefly explain that the H&A is the only industry trade show of its kind in the world and no other show has as many exhibitors and haunt-industry related products. This is where the professionals come to see and acquire the latest in special effects, makeup, costuming, sets and animatronics.
Ever wonder where Universal Studio's Horror Nights or Great America's Fright Nights gets all their stuff? In other words, it's where a Halloween aficionado can lose her… uh… mind.
Unlike most of the shows we cover, the H&A is industry only and not open to the public. But fear not, Chris Z has taken loads of pictures so you'll feel like you were there. And should you be interested, most of the incredible exhibitors sell their offerings to the public via their websites. So, lets wade in, shall we?
The 2022 H&A is right back to being as big or bigger than the pre-pandemic shows which meant it took us a full five hours to walk the entire show floor. We noticed that the vast majority of the exhibitors make their wares right here in the U.S., meaning they have largely not been impacted by the supply chain issues that have plagued so many businesses.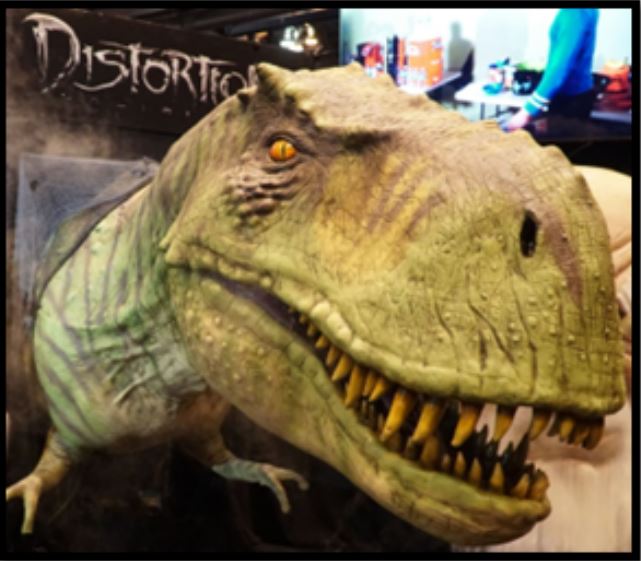 However, it also meant that several vendors who rely heavily on imports were not present this year. The supply chain dilemma may also be the reason we didn't notice any repeating themes to the props and costumes. In past years we have seen quite a lot of Exorcist, or Alien, or IT merchandise, to name a few. This year's selection seemed to focus on the standard horror tropes; monsters, psycho-killers and an abundance of blood.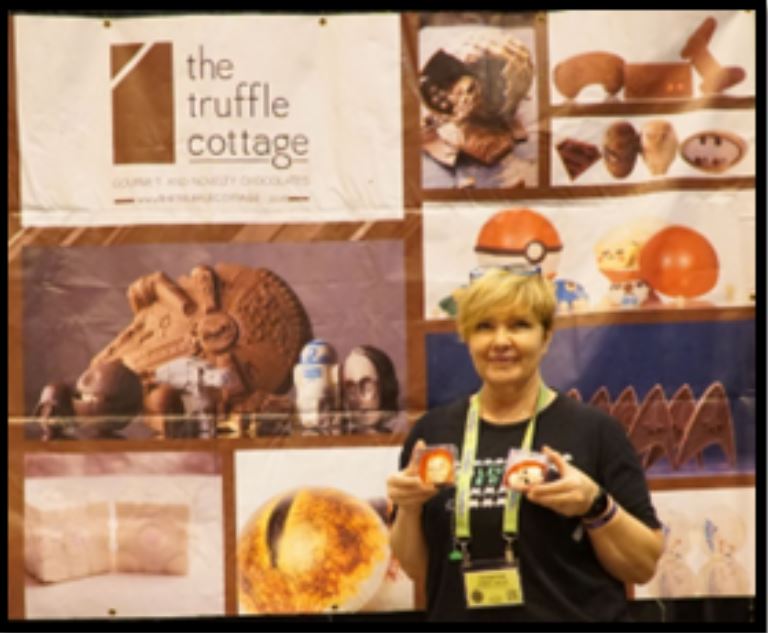 First up is a new favorite in the form of The Truffle Cottage. Though this may sound like an anomaly for the H&A, owner Jennie Hales creates incredibly detailed custom chocolates to fit any occasion. Therefore, being at the H&A meant a selection of edible horror icons. Jennie caters to all manner of themes beyond Halloween though, including chocolate invitations and cauldron "hot chocolate bombs" that reveal the color of your Hogwarts house.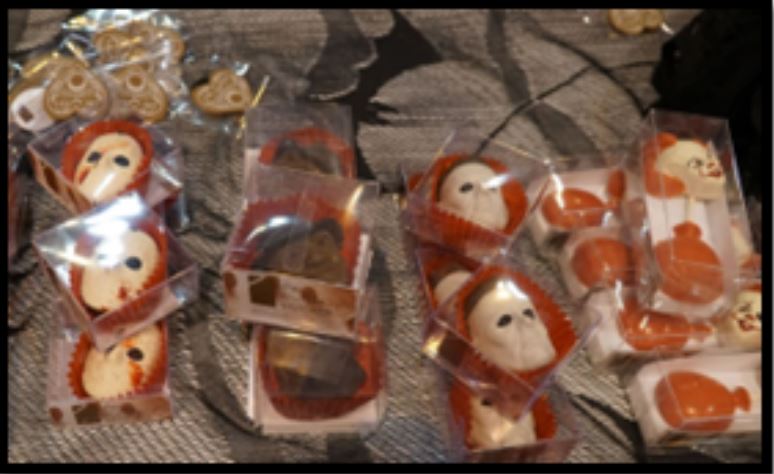 Jennie's marvelous chocolate horrors…
But here's the most important thing about Jennie's creations; the chocolate tastes amazing. Often themed candy looks great but tastes kind of blah. However, we're here to attest to the fact that Jennie's hand-crafted recipes result in fun designs with a gourmet flavor. Chris Z and I munched down several samples of her milk chocolate Ouija boards just to be absolutely sure.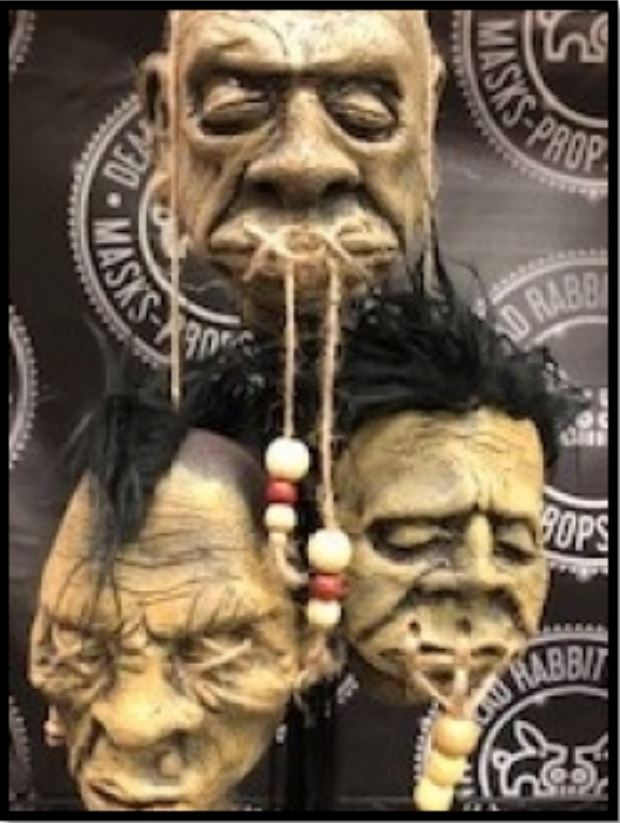 Dead Rabbit Studios
It should come as no surprise that the H&A is an opportunity for me to shop for home décor and this year was no exception. My next new favorite is costume, mask and prop purveyors Dead Rabbit Studios who supplied the perfect addition for my "Adventurers Club" library.
What respectable adventurer doesn't own a shrunken head (or heads) brought back from one of many forays into the deepest of African jungles? Certainly not this one, and thanks to DRS my collection is now augmented (I'll never say complete).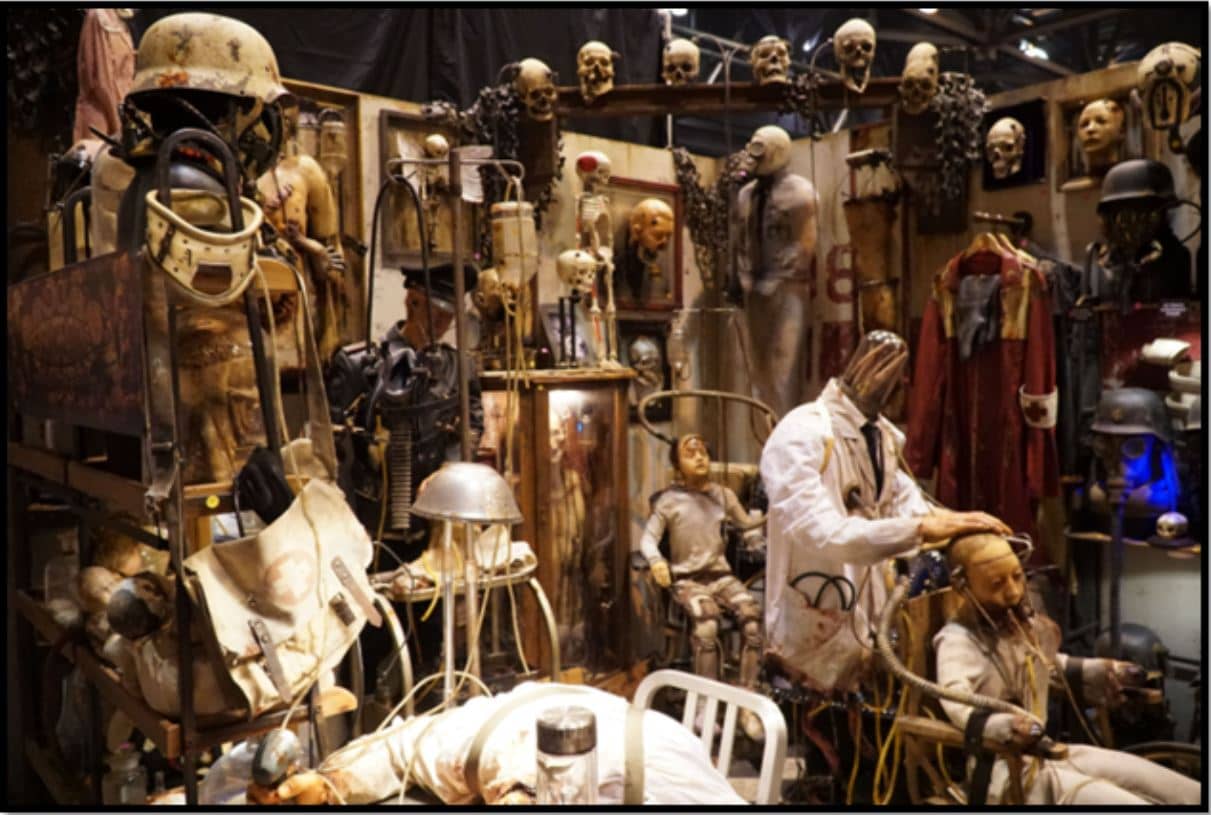 Demski Creations
Our "family reunion" portion of the H&A kicked off with a visit to the booth of artist Brian Demski of Demski Creations. Do Goth Chicks hug? Indeed, we do, especially when finally getting to see Brian, a production designer who also builds sets and creates custom props. As the proud owner of several Demski originals, I can say with all authority that his work is as stunning as it is unusual. Brian's props have appeared in 58 TV shows and films including House on Haunted Hill, Batman Returns, and one of my favorites, The Cell.
On this day I had to make way for what seriously looked like someone's grandmother who was eager to give Brian several hundred dollars in cash for his realistic "autopsy under glass" piece. At the same time Chris Z said it in my ear, I thought, "That's me(you) in another 20 years." You can check out Brian's work along with his incredible list of film credits at his web site, where you can also make purchases or contact him about commissions.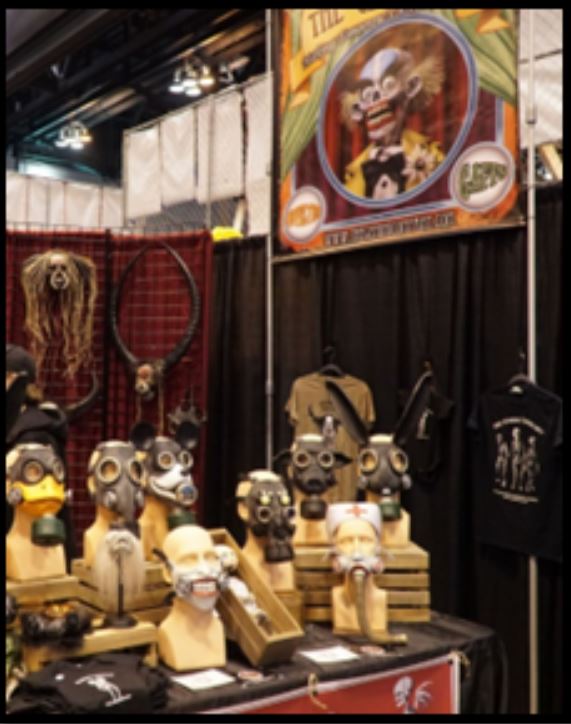 The Gemini Company
Continuing our reunion with our other goth siblings brings us to John Weisgerber, proprietor of The Gemini Company and purveyor of sideshow replicas, Fiji mermaids and conjoined twin skeletons. John builds creature and puppet effects for the haunted attraction and entertainment industries, and his work is on display in oddity museums, private collections (such as my own) and classrooms around the world. Gemini pieces have even been seen on TV shows such as American Horror Story and Mysteries at the Museum.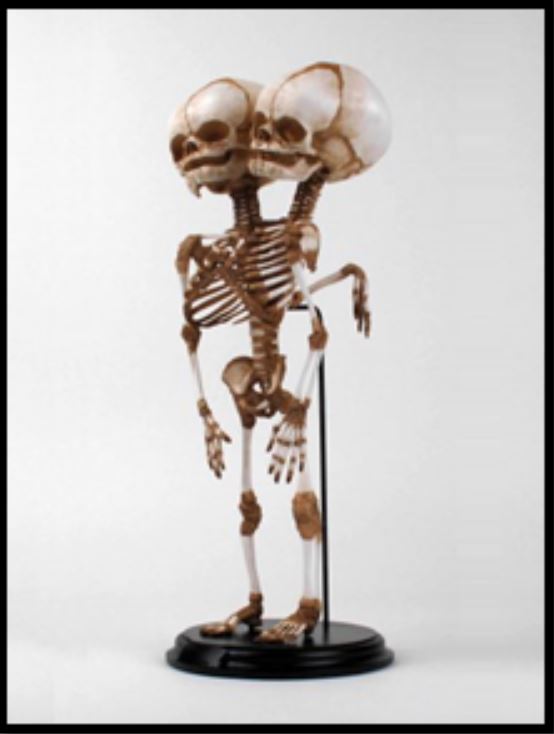 I also have several items from The Gemini Company including a mounted vampire bat skeleton and a couple of pigmy skulls under glass. Yes, they may have started out as props at one of my parties, but have migrated to my office shelves where they have been the stars of my Zoom meetings for the last two years. You can peruse and purchase a Weisgerber original for yourself at his website.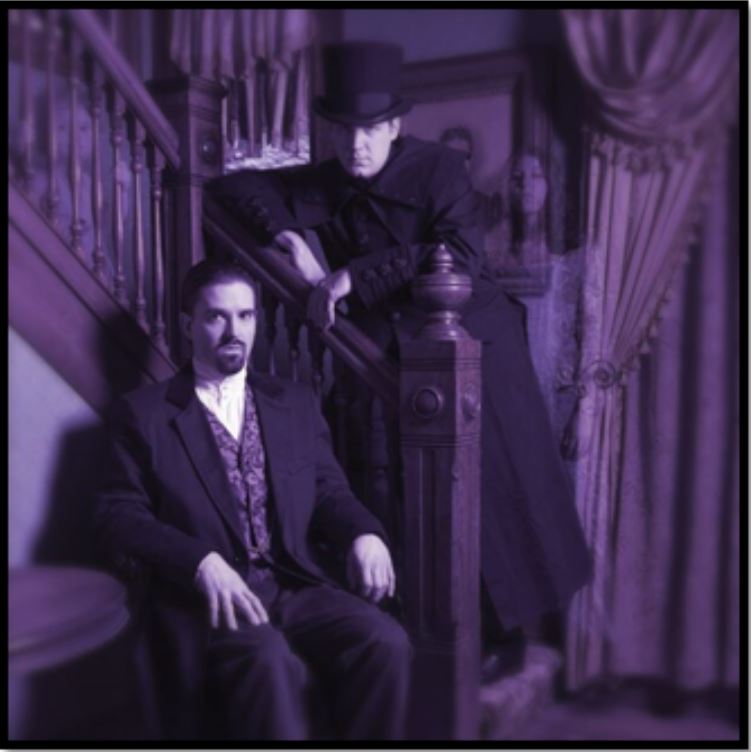 Midnight Syndicate
Finally, we were thrilled to catch up with one member of my goth boy-band crush, Ed Douglas from Midnight Syndicate, who we haven't seen since "the before times." And trust Ed to be the busiest he has ever been, during a global plague. Ed was my first professional interviewee from the H&A in 2004. Back then, he and Gavin were already famous with role-playing gamers who used Midnight Syndicate's music as background for their sessions (MS had released Dungeons & Dragons: Official Role-playing Soundtrack, the first officially licensed soundtrack to the classic roleplaying game, in 2003).
Ed and Gavin went on to do movie soundtracks and provide the background ambiance for events such as Great America's Fright Fest and Universal Studios Halloween Horror Nights. If you've visited a haunted attraction, costume shop, or amusement park during the Halloween season (or been trick-or-treating at my house), you've likely heard the music of Midnight Syndicate.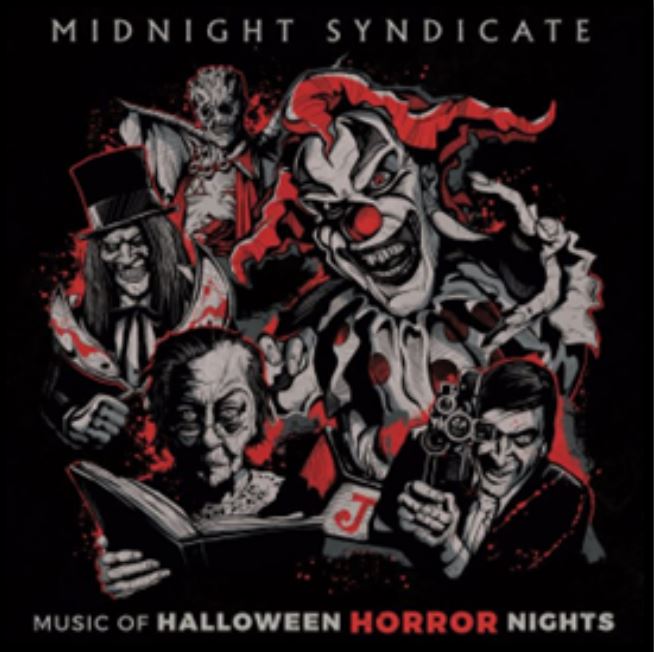 As Ed and Gavin have been producing music for Universal Orlando Resort's Halloween Horror Nights for more than twenty years, it was no surprise that Universal requested an album of that music specifically to sell in their Horror Nights Tribute Store in 2020. The album featured previously unreleased content and songs created by Midnight Syndicate specifically for Horror Nights, in addition to other Midnight Syndicate songs that have been used at the event and on the Halloween Horror Nights website since 1999. Universal had pressed 500 hand-number copies (red vinyl of course) of Music of Halloween Horror Nights that year, which sold out in 36 hours. Universal then re-released the album twice more in 2021 with different artwork each time, and with both pressings selling out.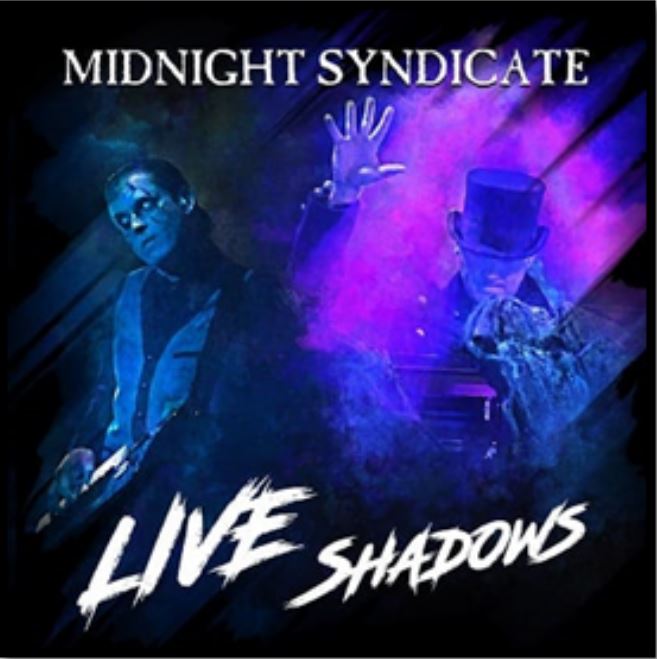 Also in 2021, Midnight Syndicate released their first live album, Live Shadows. Recorded between 2014 and 2019 at their multimedia Midnight Syndicate Live! shows at Cedar Point HalloWeekends, the album featured new material and newly-arranged live versions of music spanning their career.
I absolutely love that along with a digital download, Ed and Gavin pressed a vinyl version of the album on, what else, purple vinyl. Don't bother racing me to a copy – you can score your own here. And if you haven't seen Midnight Syndicate at Cedar Point, I highly recommend a road trip to Sandusky, OH during their HalloWeekends, like Chris Z. and I did.
It's way past time that I find out more about what Ed and Gavin have planned for 2022, so watch this space for more in the coming weeks.
Then before we knew it, it was time for Chris Z and I to get back in the car for the 5-hour trek north to Chicago; the first show of the 2022 season in the books. I could go on because there was no end of interesting things to see at the H&A. Though this particular show is not open to the public, TransWorld hosts a similar but smaller show called the Midwest Haunters Convention occurring Chicago on June 10-12, which is open to everyone. You can read about all the events our Black Gate business cards are getting us into this year here.
Goth Chick News would like to give a special thanks to Jen Braverman of TransWorld Trade Shows who looks after Chris and I each year in St. Louis, and promises to post bail if we ever need her to.