Goth Chick News: That Time We Drove 350 Miles for Haunted Houses and Gothic Music
Goth Chick News: That Time We Drove 350 Miles for Haunted Houses and Gothic Music
Cedar Point Amusement Park… the final word in destinations for rollercoaster enthusiasts.
The three hundred and sixty-four-acre attraction, located on a Lake Erie peninsula in Sandusky, Ohio opened in 1870 and is the second-oldest operating amusement park in the United States. Known as "America's Roller Coast," Cedar Point features a world-record 71 rides, including 16 roller coasters.
But is this the reason Black Gate photog Chris Z kept texting me the words "road trip" at least twice a day for a month since March?
Nope.
It goes back to our last road trip to St. Louis to attend the Haunted Attraction Association show where I spend time every year fan-girling out over my goth-boy-band crushes, the musical group Midnight Syndicate.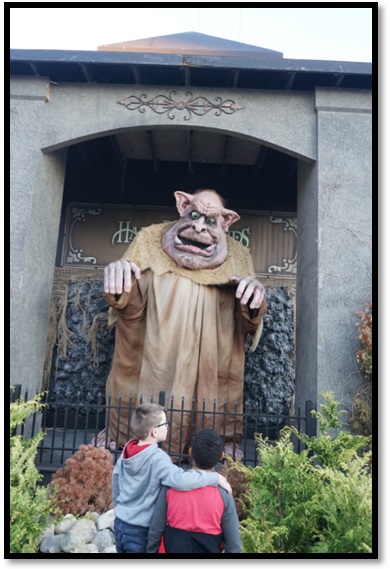 2017 marks Midnight Syndicate's 20th anniversary, and Edward Douglas and Gavin Goszka were at the HAA to not only celebrate with their latest CD release, but to announce Midnight Syndicate Live! would be returning to Cedar Point for their 2017 HalloWeekends event. "We have a new show in a new venue that we can't wait to unleash," said Ed while I stood way to close to him. "To be able to team up with Cedar Point again, especially as a part of our 20th anniversary celebration is perfect," added Gavin while he tried to inconspicuously nudge me out of their show booth.
HalloWeekends is Cedar Point's annual Halloween event which takes place after Labor Day until the Sunday before Halloween. This is really what Chris Z was after with his road trip idea, though he was willing to go grab a funnel cake if I insisted on stalking the stage door of Midnight Syndicate Live!. But believe me, the idea of also attending a Halloween event the size of which rivals Universal Studios Horror Nights was more than enough to convince me to spend six hours driving between Chicago and Sandusky, across the most uninspiring terrain imaginable.
HalloWeekends whose theme is "Fear is Waiting for You," features 11 haunted "houses" and nighttime scare zones. If you're still not sure this is the real deal, Cedar Point advises that children under 13 years old be accompanied by an adult.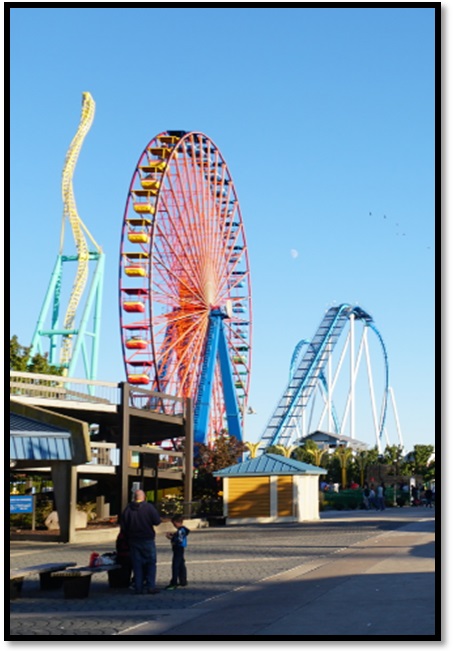 'Nuff said… road trip.
And so Chris Z could tell all the other engineers at his "day job" that he was "spending the weekend with two chicks," I tapped my gal-pal Morticia ("Tish") to ride along as we headed due east out of Chicago. After all, she has a swanky PR gig during the day and I figured she could ask Ed thoughtful and insightful interview questions while I drooled quietly.
Win – win.
First, let me say if you've never been, Cedar Point is huge; as in bigger than you can imagine huge. I mean, I've been to many of the country's big amusement parks and I couldn't stop gawping from the minute I walked through the gates. And it was tricked out to the nines in Halloween everything.
It was awesome.
Midnight Syndicate Live! is being performed at the Jack Aldrich Theatre on the Main Midway which has housed all manner of live stage shows since 1970. The theater seats around 550 guests and we arrived just as Midnight Syndicate's first show of the afternoon was letting out a full house. Ed and Gavin greeted their fans in front of the theater for nearly 20 minutes (I'm clearly not the only one fan-girling) before they ushered us inside for a short interview between shows.
Tish: How did you come up with the name Midnight Syndicate?
Ed: College. I was just trying to think up band names and I really liked the name "syndicate" because it was a group, like a gang. And then I thought of adding "midnight" and those two words together put an image in my head, which was perfect because everything we do is about putting images in your head.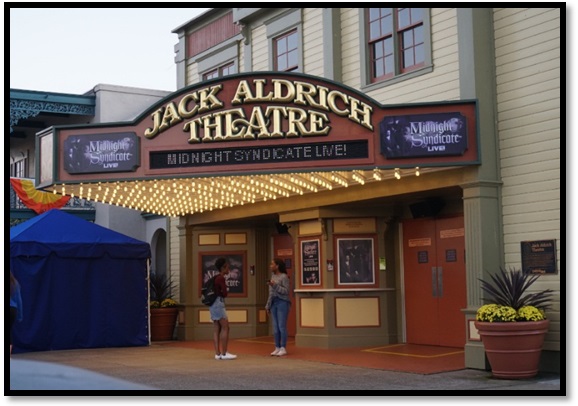 GC: How did you two get together to form Midnight Syndicate back in 1998?
Gavin: I was working at a retail music store and Ed came in as a customer. He told me about Midnight Synicate and I went to see one of his shows. I saw a lot of common ground with the horror and all, and it wasn't long after that Ed invited me to collaborate on the second CD "Born of the Night".
Ed: The idea of Midnight Syndicate was always about creating soundtracks to imaginary films. After the first album which was a solo project, I was really looking for someone with whom I could form a partnership for writing and providing creative input on the music. After I met Gavin and he helped me set up my first studio, I went to hear him play at a coffee house. He could make a $40 Casio sound incredible and I knew those dark overtones were what I was looking for.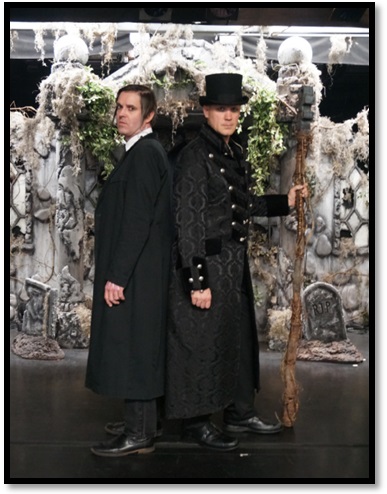 Tish: What is your writing process? How do the ideas get out of your head and onto a page?
Gavin: There have been times when I've just had ideas and it was just about getting them down on paper. But then there are times when I know what I want to do but I can't translate the idea into music. That's the toughest because you're struggling with the mechanics of it. You know what you want to do, but it's the matter of translating that idea into a physical representation.
Ed: I try to avoid the stress by jumping on a project as soon as we decide to do it. If an idea comes, I immediately hum it into a recorder since I never know when an idea will come. Then I go immerse myself in whatever theme we're working on. Like for Carnival Arcane (2011), I watched every movie and went through every book I could find about carnivals and freak shows, since you just never know where the inspiration will come from.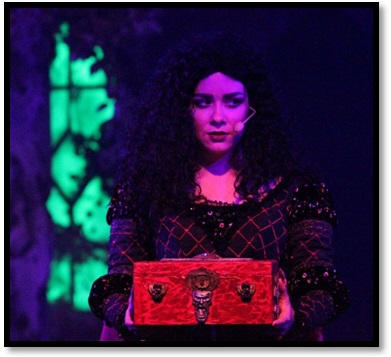 GC: How did you end up bringing a stage show to Cedar Point?
Ed: Like all musicians, we wanted to do a live show and so many people were asking us to. So we put together a Kickstarter for Midnight Syndicate Live! which had a really great response. We were on track to surpass our goal when Cedar Point stepped in and reached out to see if we would consider taking our show idea and bringing it to the park. This was right at the end of the Kickstarter and we had to shut it down as to not collect and have to refund all the money. The best part was that we didn't have to ask our fans to help us and we still got to do a live show.
GC: Urban legend has it that Midnight Syndicate provided the sound track to Hugh Hefner's famous Halloween parties at the Playboy mansion. Truth or fiction?
Ed: It is truth. When we started out in the late 90's there was nothing like what Midnight Syndicate was doing. All you had was sound effects, but nothing melodic but nothing like what we do. So when we hit in 1998, everything exploded. Anyone who had a serious Halloween event that needed good music, we were the go-to's and we ended up everywhere; including Hefner's party. Unfortunately, we could have gone but we didn't.
Chris Z was totally bummed.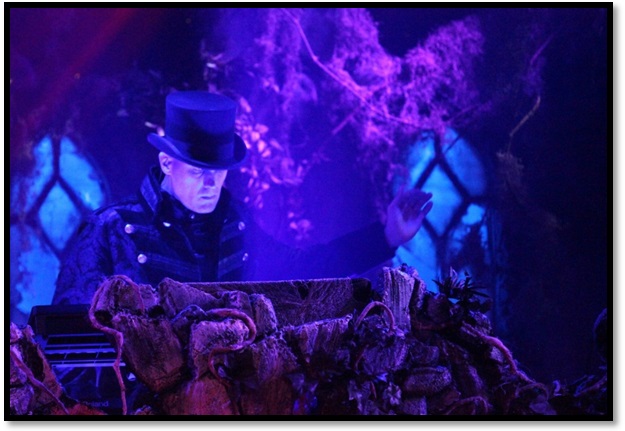 Then it was time to let Gavin and Ed get ready for their next show while we went to avail ourselves of all the haunted attractions Cedar Point had to offer. I must say, the level of detail that went into each one (and we saw them all) was akin to the best attractions I've ever been through. I understood pretty quickly why there is a suggested minimum age, since even seasoned haunters like us got taken off guard once or twice.
I strongly suggest investing in the "fast pass" option for the haunted attractions as they are very popular and you could end up waiting over an hour for each one if you don't. Besides, the pass itself is very cool metal skeleton key that will now have a place of honor among my Halloween mementoes.
At 8 pm it was back to the theater to experience Midnight Syndicate Live! for ourselves. For their new show, Midnight Syndicate once again called on special effects legend Robert Kurtzman (From Dusk Till Dawn), David Greathouse (Faceoff, Mushroomhead), Beki Ingram (Faceoff) and director Gary Jones (Army of Darkness, Axe Giant). The result is multimedia show that captured the creepiness of a classic horror movie in sight and sound. Giant screens to either side of the stage interwove an original horror film that was scored live by the musicians and augmented by an incredible opera singer. I don't want to spoil the ending but the full-house audience was enthralled.
We stayed at the park until closing time at midnight covering every inch of it and immersing ourselves in the Halloween spirit evoked by the Midnight Syndicate soundtrack playing everywhere.
Did I mention how much I love Halloween?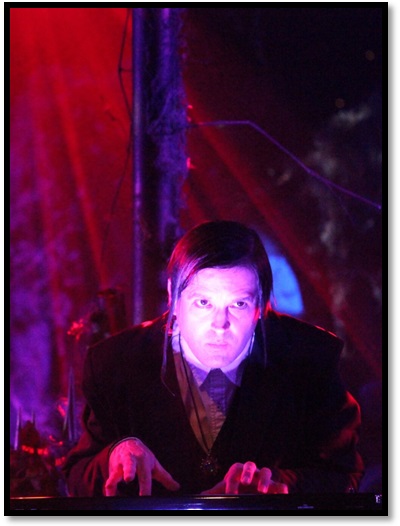 See Midnight Syndicate Live! at their multiple daily shows on all HalloWeekend dates at Cedar Point Amusement Park through Sunday, October 29th. A special thanks to our host Tony Clark, Director of Communications at Cedar Point, and my favorite musicians Ed and Gavin.
Have a question or comment? Post it here or drop a line to sue@blackgate.com.