Goth Chick News: Neck Deep in the Haunts – The 2017 HAA Show
Goth Chick News: Neck Deep in the Haunts – The 2017 HAA Show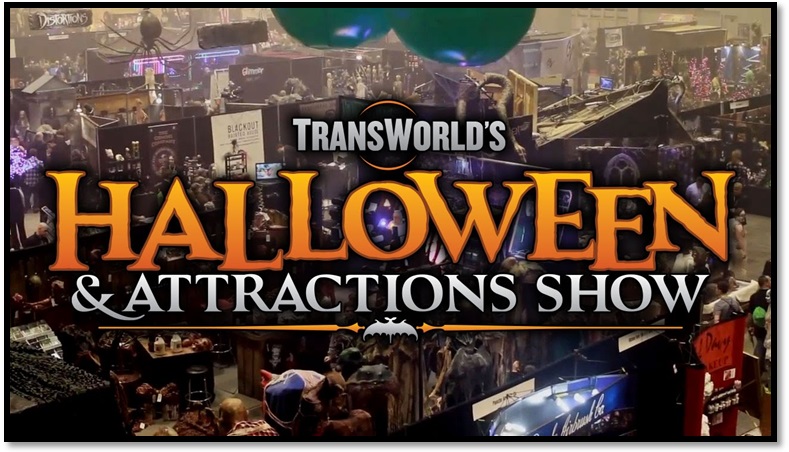 Hard to believe Goth Chick News has been covering the Haunted Attraction Association's Halloween show for sixteen glorious years, but as Black Gate photog Chris Z and I once again headed south from Chicago at 5 a.m. toward St. Louis, it didn't feel like it had been that long at all.
Okay, that's BS. At 5 a.m. it felt longer.
But as we motored through darkened cornfields dodging various small animals and quoting the movie Motel Hell ("It takes all kinds of critters to make Farmer Vincent's fritters!"), it dawned on me how many "firsts" this show represents in my Black Gate career; first trade show covered, first interview and first article in the top 50, though back then I think it was top 20.
Needless to say, not only does the HAA loom large professionally, the people we've met along the way mean it has a special place in my little black heart.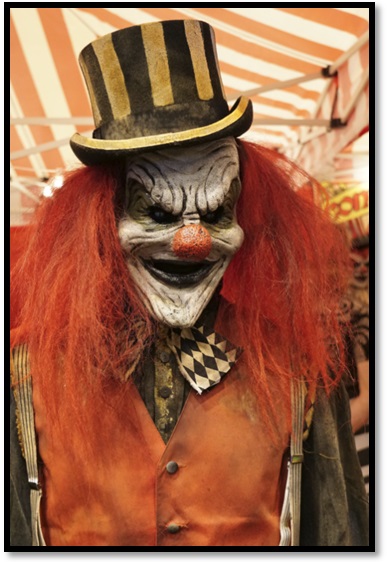 If you're relatively new here, then let me briefly explain that the HAA is the only industry trade show of its kind in the world and no other show has as many exhibitors and haunt-industry related products. This is where the professionals come to see and acquire the latest in special effects, makeup, costuming, sets and animatronics.
Ever wonder where Universal Studio's Horror Nights or Great America's Fright Nights gets all their stuff?
In other words, it's where a Halloween aficionado can lose her… uh… mind.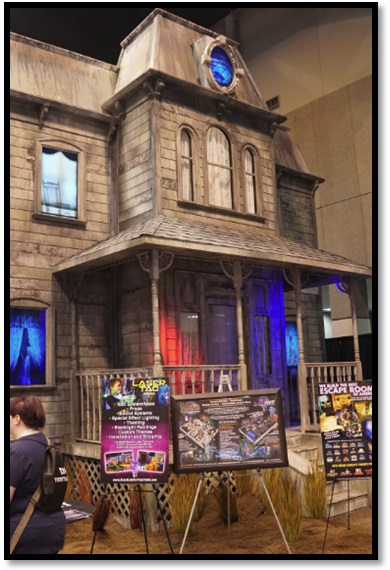 This year's event was the largest to date, covering the entire show floor of the America's Center convention hall with nearly 300 exhibitors. And what happens when the most prominent names in the industry get together and try to out-do one another attracting attention?
Meat bikinis and full-sized haunted houses for a start.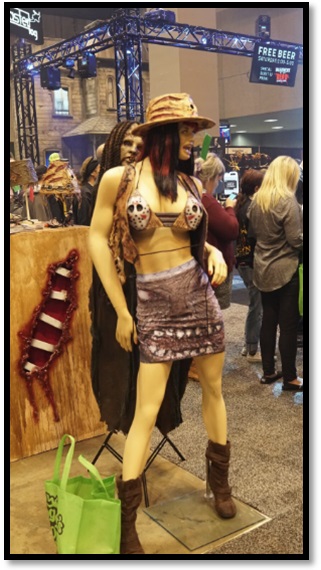 Yes, one clever costume creator showed a line of bikinis that looked like they were sew together from human skin – like if Buffalo Bill from Silence of the Lambs had a sister… or something.
Ew.
Moving on.
The set pieces and animatronics were elaborate, incredibly detailed and priced in way to prove once and for all, that the haunt industry makes bank. There were booths that looked better suited to engineering shows full as they were with electronics and computer equipment for the Doctor Frankenstein types interested in creating their own moving creatures.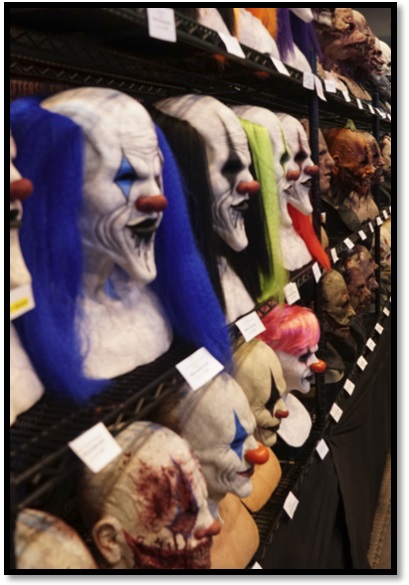 Incredibly detailed latex masks and body "appliances" for realistic gross-outs, professional fog machines with your choice of smells to include and more zombies than you can shake a barb wire bat at.
Trust me when I say it was impossible to know where to look first.
Still, we've chosen a few specific finds to tell you about whose offering are not only very cool, but which are also available to the general public.
Colorful Fire turns your backyard fire pit or bonfire into a light show. These small paper packets are environmentally friendly and produce no smoke, odor or toxic fumes. Just toss a packet into the flames to produce 30-45 minutes of brilliant color in any wood burning fire – even indoors.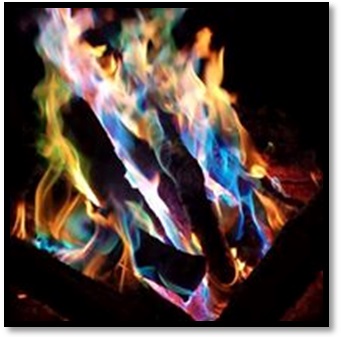 Developer John promises you'll "see your fire in a whole new light!" (insert eye roll here) and you can order direct from him by calling his cell phone at 920-851-6567. He'll hook you up with a 3-pack for $5.99 plus shipping.
We were thrilled to once again meet up with artist and photographer Topher Adam who we originally interviewed back in 2011 in connection with his magazine Dark Beauty. Since then, Topher has launched several creative ventures including his most recent, Topher Adams Backdrops.

Topher Adam's Backdrops
I love everything about these incredibly detailed and high-quality backgrounds, which are fabric and about the size of a king-sized flat bedsheet. Though you can imagine hundreds of potential uses, we acquired one of his Disney Haunted Mansion-inspired creations as the setting for photos at our annual Halloween bash. Check out his website for all the various themes and inspirations. Prices start at $119.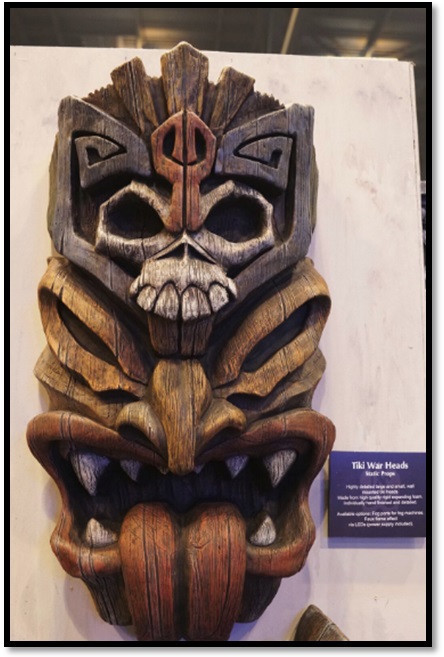 I've been a customer (aka "Necrophile") of Necrotic Creations for a few years, picking of fabulous little conversation pieces for my Black Gate office. Specializing in resin decor and accents, often based on real antiques, Necrotic Creations is dedicated to the goal of providing highly detailed and realistic props and haunt décor creating chilling environments at an affordable price.
This year, Chris Z and I fell in love with the same piece; a Tiki War Mask which I intended for the wall of my home office and Chris Z intended for his soon-to-be-constructed Tiki bar. Luckily the gents at NC are able to make one for both of us. Check out their large collection of décor as well as an interesting offering of "ghouls and oddities."
The Gemini Company founded by John Weisgerber, is a sculpture studio that specializes in the design, sculpting, molding and casting of museum-quality sideshow replicas, as well as study quality bone and skull reproductions. I acquired my first John W original back in 2012 in the form of a shrunken head under glass I named "Ernie." In the years since I have also become the proud owner of a "conjoined twins skull" and a "pigmy skull", both under glass.
"Conversation pieces" take on a whole new meaning at my house.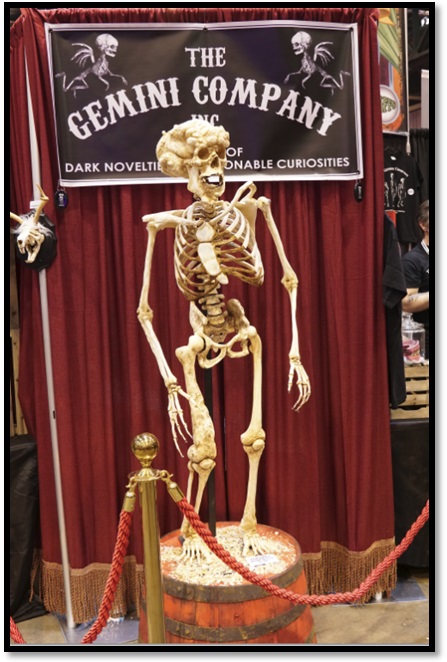 Weisgerber's gaff and skeleton replicas are on display in oddity museums, private collections and classrooms around the world. His latest creation, a life-size replica of The Elephant Man's skeleton is truly impressive and immediately sold at the show.
But fear not, he'll make you another.
Last but never least we caught up with Edward Douglas and Gavin Goszka, otherwise known as Midnight Syndicate. Ed was my very first Black Gate interview back in 2000 for the print version of the magazine. At that time they were working on their 4th CD, Gates of Delirium which would come out some months later.
Midnight Syndicate released many other studio albums in those early years between 1997 and 2005, among them Midnight Syndicate, Born of the Night, Realm of Shadows, and Vampyre: Symphonies from the Crypt, as well as the multi award-winning The 13th Hour. They teamed up with Hasbro and Wizards of the Coast in 2003 to produce the first official soundtrack to the classic Dungeons and Dragons role-playing game.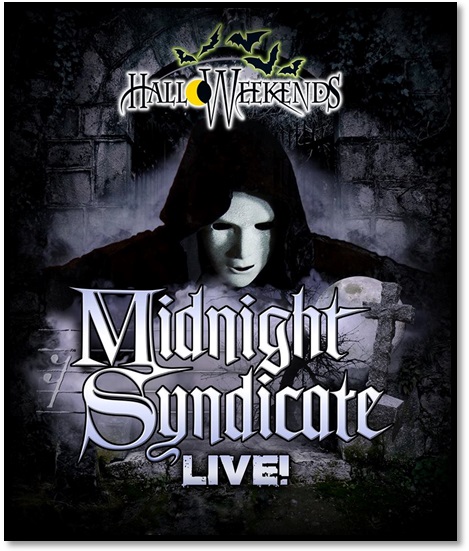 In 2008, Douglas' and Goszka's tenth studio album, The Dead Matter: Cemetery Gates came out as a preview to the 2010 remake of The Dead Matter film. That same year, Midnight Syndicate put together their first music video, a live performance of the song Dark Legacy, produced by Robert Kurtzman's Creature Crew and Screamline Studios and filmed in the haunted historic Phantasy Theatre in Lakewood, Ohio.
The band's fourteenth studio album, Carnival Arcane (2011) was based on research into turn-of-the-20th-Century carnivals as well as the writings of Ray Bradbury and plays like a self-contained, vivid musical film. The disc garnered rave reviews from press and won Best Horror CD/Soundtrack at the 10th Annual Rondo Hatton Awards.
2017 marks Midnight Syndicate's 20th anniversary and my 16th year of covering them for Black Gate. In addition to sharing previously unreleased photos and music from their archives on Facebook and hinting at another special project, the band announced in March that Midnight Syndicate Live! would be returning to Cedar Point for their 2017 HalloWeekends event. "We have a new show in a new venue that we can't wait to unleash," said Edward Douglas. "To be able to team up with Cedar Point again, especially as a part of our 20th anniversary celebration is perfect," added Gavin Goszka.
All I can say to Chris Z is…"roadtrip".
I will be forever grateful to my "Goth Boy Band Crushes" for continuing to partner with Black Gate over the last 16 years, providing me not only with Midnight Syndicate scoops, but with many incredible introductions within the industry.
Next up on the show circuit is the Chicago Comic and Entertainment Expo in April; or C2E2 for you cool kids.
Goth Chick News would like to give a special thanks to Jen Braverman of TransWorld Trade Shows who looks after Chris and I each year in St. Louis, and promises to post bail if we ever need her to.