Goth Chick News: 13 Questions for Artist and Dark Beauty Editor Topher Adam
Goth Chick News: 13 Questions for Artist and Dark Beauty Editor Topher Adam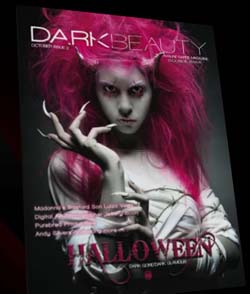 Yes, even Goth Chicks sleep with something under their pillows.
It started with a Deady Bear, then a vintage Rocky Horror Picture Show t-shirt and then a Living Dead Doll. But until now, it had never been a magazine.
About a month ago, I became acquainted with Dark Beauty and fell instantly in love. Not in a Johnny-Depp-as-Jack-Sparrow kind of way, but in a David-Bowie-in-jodhpurs-with-a-riding-crop-in-Labyrinth kind of way.
In other words, hopelessly.
A little digging led me to artist extraordinaire and Editor and Chief, Topher Adam who is well on his way to making my "Top 10 Most Interesting of the Underground" for 2011. Ever dreamed of seeing yourself as your favorite literary or movie character? Have a vision of yourself as Tolkien's Elf King or as the Green Lantern? Topher is here to make your personal fantasy visions come true.
So pull up a leather chair and meet Mr Topher Adam.…
A Conversation with Topher Adam
Conducted and Transcribed by Goth Chick, April 2011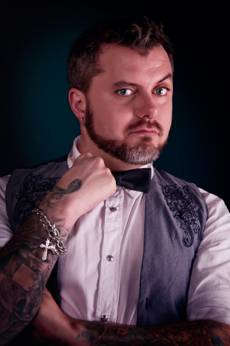 GC: How and when did you first start exploring your creative side?
TA: Wow, I think it goes way back to my childhood. I was always drawing. Creative time in school was always my favorite time; I would have rather made things than do school work.
My mother also kept me busy. She sent me to learn the violin, the guitar, the banjo and the piano. I remember drawing and designing a set for a play as early as the fourth grade and drawing the cover to the program.
In High school as a freshman I was put in art 1 and the moved into art 4 the first week. I ended up helping the teacher and making special projects for the school including the class t-shirts, taking photos, and designing water fountain as a memorial for all the students who were lost by some tragic moment.
At the age of 12 I took my Mother's 35 mm camera and started snapping pictures of scenes I made up with my action hero dolls or simple things around that I could find to make an interesting subject. Later in high school I had a passion for portraits and then fashion.
Your photography is visually stunning and in many cases, reminds me of Victorian paintings or old tin-type pictures. Where do you draw your inspiration?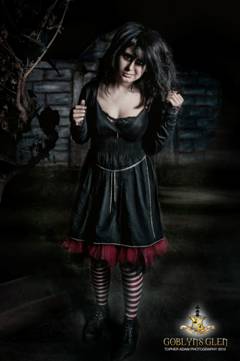 I am a huge fan of the past. Times were not easy; they were rough, dirty and had so much depth.
I also love movies and I will usually see the same one several time; first for the overall look and feel, second for characters and wardrobe and last for the actual story.
I am also a painter by life experience, and I love the element of depth with painting; the light on a subject, the darkness and mood of the shadows and mystery in the background. So in all, I think I love telling a story by one captured moment in time.
The painting technique within my photography is accomplished by my style of editing. Some see my work as a "graphic novel" while others feel it's a painting. I pride myself on that, as I want my work to feel as if it is both real and unreal in unity. My image-editing name is "The Dark Noveler" making me the wicked storyteller.
The other fascination with "graphic novel" or "painting" styles is that there is such beauty behind the old masters. The technique and the skill to bring art out of a medium such as paint or pencil, and making it believable is special. It's a skill that is lost in a lot of modern mediums.
I want my work to be remembered and leave a mark on the minds of those who view it. I want viewers to look on an image once and see something, then again and see something different. That's the storyteller in me that loves evoking a variety of emotions from those who see my work.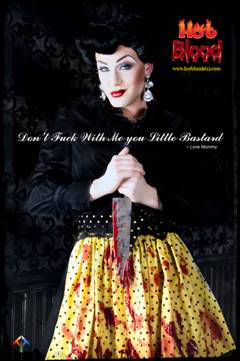 Beyond creating gorgeous art, is there a commercial driver behind your photography? Do you shoot print ads or create portfolio shots for models?
This is a good question; there are a many facets that I actually do.
Beside the photography for models and ads and other marketable items, I am a costumer, a hat maker, a designer, a photographer, an editor as well as running and operating my own magazine (GC: The magazine Dark Beauty which I am currently obsessed with).
I also design haunted attractions. I handle the marketing materials for my friend's haunt Goblyn's Glen as well helping design the overall experience that brings out smiles, scares and great memories.
For me, it's so important to have an end-to-end vision of an entire story with any project. Without it, you can't really say something and get the reaction you want your audience to have.
I am basically a visual interpreter. So to answer the question of do I shoot ads or create portfolio shots for models? Yes, and no. I tend to have an idea first, and the work with the model, clothing and props to bring the story to life. I also tend not to pick the perfect model. Instead, I look for the character in them when choosing someone to work with. They have to embody the story that I want to shoot.
If someone contacts me about a project, then I will work with him or her to build a story that will fit the image they are looking for. That's what is fantastic about my work I get to do; I help build characters for marketing assets or for the haunt world.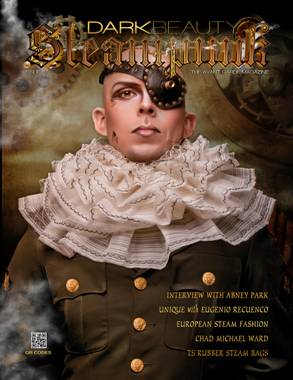 Can anyone be given the Topher Adam's creative treatment? Can the general public contact you for a photo sitting?
Love that question, heck yeah! I love working with the public!
One of the many packages I offer is a family portrait package. But I am NOT the typical family portrait photographer! I want to build a story for them.
For example, if there was an interest by a set of parents and two little ones, let's say boys, how brilliant would it be to develop the Pinocchio story for them? The Blue fairy as the mother, Geppetto as the father, the older boy as a lost boy and then the younger one as Pinocchio.
To me, that is pure bliss; creating something of value and memory-building for a family.
The general public is my business but magic happens when I work with clients who are willing to allow me to be the creative freak that I am in order to build something that will result a beautify moment in time for them to cherish.
Did photography lead to clothing design or the other way around, and was one, the other, or both a way to score dates?
Let's see, I don't know what came first, the chicken or the egg; meaning the idea or the making of clothes. I would like to say they both manifested as my passions equally.
I started sewing at a very young age. My granny (yes I am a southern boy) loved to make quilts and dolls. I remember the Cabbage Patch craze and she would not let the idea go that she could have made them herself, so she started making her own version of them. We were a team. She would cut out the shapes of the bodies of the dolls and I would sew them (this was hand stitching not by a machine).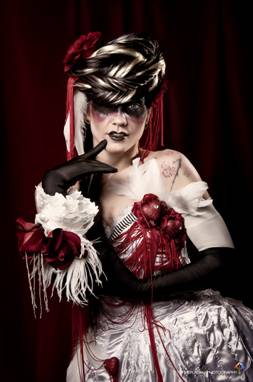 I would spend hours mastering the art of hand sewing dolls. I love to make a joke out of it and say I was child labor! Granny would sell the dolls at the flea markets for serious money and though I never saw any of it, I did become wealthy through the skill and craft of sewing.
The joy of making clothes came in high school. It was the era of "board shorts" and amazing "JAMS." My friends and I were not the wealthy ones who could always afford the latest and greatest, so I would make my own versions to wear to school. I wasn't going to let retailer's determine my fashion status in life! So, I made my own draw string pants, shorts, whatever I needed to look cool and hip. And trust me, I had one-of-a-kinds so no one else had what I was wearing, and I was da bomb!
About picking up dates? Nah, that wasn't what was important to me. I just wanted to look good!
Tell us about your experience on Project Runway. It seems a tad too main-stream of a venue to showcase your talents.
OHHHH, that! Project Runway was a dream I had the first year the show came on.
When Jay won the first year something inside me said, I NEED TO DO THIS. Believe it or not I was working full time for an "adult entertainment company" and hating my life. I was the creative director for a porn company. I mean, come on, how many ways can you make porn look creatively hot? Not too many,
The economy hit its low and I was let go from my job. I clearly remember sitting across from the owner and saying, "I'm SO HAPPY! Thank you!" He was shocked and asked why. I told him I had a dream to do more in my life than to work in porn. I wanted to make people look hot and amazing IN clothes not without them.
I told him I was going to audition for Project Runway, walked out the doors and never thought twice about being unemployed. I was free and immediately set out on a new journey. I made a mini collection, hired three models in LA, drove down to auditions with a hair and makeup artist. I was footing the bills personally when I made the semi-finals on the show.
Ultimately, the judges were extremely harsh saying my work looked like it came from space. At one point one of them even said, "Who would ever wear these clothes?"
But then another one said, "Helena Bonham Carter maybe?" as if that was insulting. Instead, I thought, "Hell yeah! Exactly!"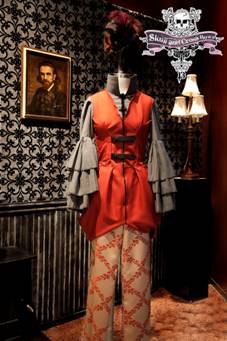 I remember Tim Gunn looking over his cocky wireframes saying, "I don't think we are going to ask you to come back, but try again next year."
But in the end, you are right; the show was too main-stream for me but I did what I set out to do. I was living my dream.
Are you carrying on with your clothing line and is there somewhere I could purchase a Topher Adam's design today?
Yes, I have a site for my designs, although these days, I build clothing specifically for my shoots. I will soon be selling all the pieces I have made from my previous years at www.skullncrossbows.com.
I did think about mass-marketing my clothes and decided that it would be insane. I would rather make things for people who want something specific. Currently I am making a good girlfriend's wedding dress. I don't typically make them but decided this one was ok. It's a vintage Vogue style 50's cocktail-style wedding dress which is totally me. Something vintage and old is already right there in my heart, ready to be made.
I am obsessed with Dark Beauty. How did it come about and what are you ultimate aspirations for the magazine?
Remember that rejection from Project Runway? I was bummed out, my dreams felt kind of shattered and I didn't know what to do next or which direction to take.
But then it dawned on me. If I felt this way then others may feel the same. Dreams are meant to be fulfilled not broken so I started looking for a way to engage and nurture the passion I have for the art of dark fashion and dark looks, and share that passion with other people.
That's when the idea hit me like a creative brick; I will start a magazine! Though it's true that I am the world's worst speller I decided to create a visual masterpiece around all the literary types, with me as the Editor and Chief of the publication!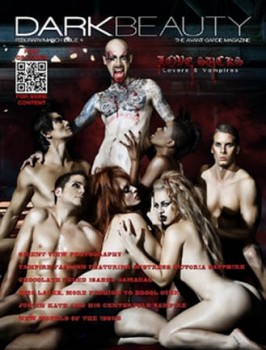 The idea was so brilliant and so real that I couldn't stop thinking about it. I decided that this magazine had to be aimed at creative minds similar to mine; dark, wicked, not understood and turned away by the commercial industry.
So, Dark Beauty Magazine was born. I got the idea the second week of July, 2010. I scouted and found enough content to support a ninty-page magazine focused on dark art, fashion, music, and photography. I launched the print magazine, and immediately had a web site built.  An end-to-end wonderful concept was constructed in two weeks!
When the proof came back it was so bad! The colors were off but it didn't even seem to matter. I used Facebook as my method of spreading the word and well, the rest is a bit of dark magic! Now we are working on our sixth issue and have a huge following.
Dark Beauty isn't making a profit yet, but it's growing and I am determined to not be funded or let anyone in this world own me other than me! By the way, we're not just a US publication; European markets get my work and love it, but I can't afford to go there and shoot all the time.
It appears you have a side line business in fake blood. Tell us about that and how it came about.
Oh, that is a good friend of mine's product. It's called Hot Blood Stix. I have been there to help her with marketing through through imagery. We created a "Mommy Dearest" character to help sell her product.
Hot Blood Stix are actually quite brilliant! If you are a haunter, or a costumer, or have need for a blood product that won't stain your clothes or harm you set pieces with all that sticky makeup stuff, Hot Blood is perfect. It's a hot glue gun product which you heat up and drip, glop, smudge or spew it all over, and it dries looking like amazing wet blood pools. I will use it myself on costumes. I just love helping her succeed in her passion in the haunt world! She is also the owner of Goblyn's Glen haunt in Los Gatos CA.
Any plans to extend your creative point of view to other products?
My mind never stops! I just launched SpellCast – Podcast, it's Dark Beauty Magazine's weekly podcast. I am the host and we are planning on sharing the latest in dark fashion, dark fetish fashion, dark glamour and so much more.
I am determined to build an empire by my passion for dark storytelling! I hope I leave this world with a mark of Topher Adam on it. I have always said, if I could be paid with experiences rather than money, I would have a very fortunate life. But here we are; creative people doing everything we can to make our mark on history. Mine will be Topher Adam, The Dark Noveler, Dark Beauty Magazine, Topher Adam Photography and Skull 'n Crossbows. At some point or another it should all catch on. Who knows, this could be the start to something Wickedly Wonderful!
Has the movie industry come calling yet? If not, what would be your dream project?
Honestly NO! Damn it! I don't get it! (*smile*).
I would love to put my own take and perspective into a film. I have had the chance to work in Hollywood as a set designer and decorator, and scenic artist. My work has most often been compared to Tim Burton's work (love it and love him!) I am a lover of dark stories and beautiful weavings of fantasy, sorcery, witchcraft and the things that go bump in the night. Who knows, maybe I will just go ahead and create my own movie one day.
Ultimately, I would be extremely honored to be approached by the film industry to develop a cast of characters' look and feel (huge hint to anyone who might be looking for just such a person!).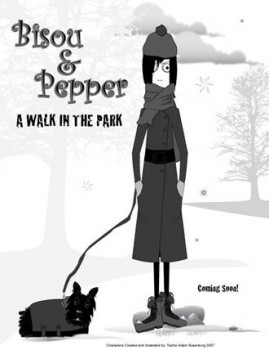 So what's next for you?
Besides making Dark Beauty a success, I want my personal business to grow as well. I hope to be hired for my talents and build a few more books of work.
My first book should come out this year and is titled Frozen Moments. It's a collection of my past few years' of work.
My t-shirt line is also still out there at www.redbubble.com and I'll be adding a few new designs to the site very soon.
I also want to get my children's books illustrated and out in stores. "Bisou and Pepper" is a fun story about a little girl and her love hate relationship with her little dog Bisou.
I am always open for what is next! Life has unlimited doors of opportunity and I can't wait to open as many as possible. But I hope that the primary things which are next for me, are success and fame, always bounded by gratitude for what I've been able to accomplish so far.
Where can your fans find the latest and greatest news about your upcoming projects?
If I really have a fan base, you can find out all you want at:
just to start with a few.
But heck, I am always down for talking and sharing and getting more and more art out into the world. Thank you so much for asking me to talk about me! It's kind of weird but it was fantastic and so good for me to share what's up and what I do. I appreciate the love and interested you have shown me. It takes a village to make this world worth its journey and if you don't have anyone to share its glory with, what's the fun of it then damn it!
---
So, are you ready to embrace your inner Goth Chick? What do you think of Topher and his amazing mag? (Don't let the fact that I'm sleeping with it under my pillow influence you in the slightest). Post a comment or drop me a line at sue@blackgate.com.