Future Treasures: The Book of Swords, edited by Gardner Dozois
Future Treasures: The Book of Swords, edited by Gardner Dozois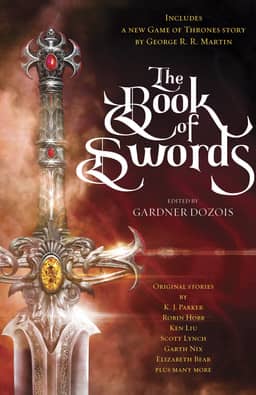 A while back Gardner Dozois asked if I wanted a review copy of his upcoming "Sword & Sorcery" anthology, The Book of Swords.
Now, Gardner does not do small anthologies — neither in the physical sense, nor in the sense of their impact on the field. If the premier anthologist in the SF community was putting his time and energy into a collection of original sword & sorcery tales, then clearly the genre still has some life in it.
It wasn't that long ago that I thought the era of big-budget (or even modest-budget) S&S anthologies was long over. What's changed? The global phenomena that is GRRM's Game of Thrones, that's what's changed. I don't consider GoT to be sword & sorcery… but there's no denying that publishers (and film producers) are a lot more interested in adventure fantasy all of a sudden. If the results are anything like The Book of Swords, I'm all for it.
The Book of Swords arrives next week in hardcover from Martin's Song of Ice and Fire publisher Bantam Books, with sixteen brand new stories by Lavie Tidhar, Robin Hobb, Ken Liu, Matthew Hughes, Walter Jon Williams, C. J. Cherryh, Garth Nix, Ellen Kushner, Scott Lynch — and, yes, a brand new Song of Ice and Fire story from George R. R. Martin.
Fantasy fiction has produced some of the most unforgettable heroes ever conjured onto the page: Robert E. Howard's Conan the Barbarian, Michael Moorcock's Elric of Melniboné, Fritz Leiber's Fafhrd and the Gray Mouser. Classic characters like these made sword and sorcery a storytelling sensation, a cornerstone of fantasy fiction — and an inspiration for a new generation of writers, spinning their own outsize tales of magic and swashbuckling adventure.

Now, in The Book of Swords, acclaimed editor and bestselling author Gardner Dozois presents an all-new anthology of original epic tales by a stellar cast of award-winning modern masters — many of them set in their authors' best-loved worlds. Join today's finest tellers of fantastic tales, including George R. R. Martin, K. J. Parker, Robin Hobb, Scott Lynch, Ken Liu, C. J. Cherryh, Daniel Abraham, Lavie Tidhar, Ellen Kushner, and more on action-packed journeys into the outer realms of dark enchantment and intrepid derring-do, featuring a stunning assortment of fearless swordsmen and warrior women who face down danger and death at every turn with courage, cunning, and cold steel.
Here's the complete Table of Contents.
Introduction by Gardner Dozois
"The Best Man Wins" by K. J. Parker
"Her Father's Sword" by Robin Hobb
"The Hidden Girl" by Ken Liu
"The Sword of Destiny" by Matthew Hughes
"'I Am a Handsome Man,' Said Apollo Crow" by Kate Elliott
"The Triumph of Virtue" by Walter Jon Williams
"The Mocking Tower" by Daniel Abraham
"Hrunting" by C. J. Cherryh
"A Long, Cold Trail" by Garth Nix
"When I Was a Highwayman" by Ellen Kushner
"The Smoke of Gold Is Glory" by Scott Lynch
"The Colgrid Conundrum" by Rich Larson
"The King's Evil" by Elizabeth Bear
"Waterfalling" by Lavie Tidhar
"The Sword Tyraste" by Cecelia Holland
"The Sons of the Dragon" by George R. R. Martin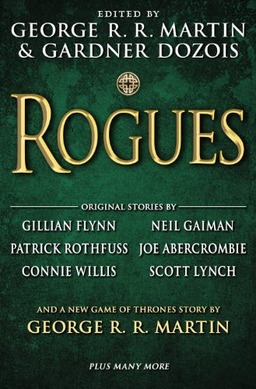 Word on the street (i.e. George's blog) is that this one will be followed by The Book of Magic next year. George talked about the book, and his plans for future anthologies with Gardner, earlier this year.
I have a story in the book. "The Sons of the Dragon" is the title. Those of you who enjoyed "The Princess and the Queen" in Dangerous Women and "The Rogue Prince" in Rogues will probably like this one too. It's water from the same well. A history rather than a traditional narrative. A lot of telling, only a little showing. (The opposite of what I do in my novels). But if you're fascinated by the politics of Westeros, as many of my readers seem to be, you should enjoy it. As the title suggests, "The Sons of the Dragon" chronicles the reigns of the second and third Targaryen kings, Aenys I and Maegor the Cruel, along with their mothers, wives, sisters, children, friends, enemies, and rivals…

Gardner is one of my oldest friends and he and I have co-edited a number of anthologies together… But we did not do The Book of Swords together… he edits lots of great stuff without any help from me… including The Book of Swords and next year's The Book of Magic (which will also have a story from me, a reprint).

Truth be told, I loved editing those anthologies with Gardner, and we want to do more together. We're talked about More Rogues and Even More Dangerous Women, since those two books were hugely successful, and we have definite plans for Old Luna and, who knows, maybe eventually Old Mercury and Old Pluto and Old Uranus. But we're not doing any of that NOW. The anthologies, much as I loved them, were taking too much of my time, so I stepped back from them… until I finish The Winds of Winter, at least. Once that's done, maybe I can sneak another one in…

The point is, just because I had to step back did not mean Gardner had to. And he hasn't. Hence The Book of Swords, which I expect to be just as good as Rogues or Dangerous Women.
The Book of Swords will be published by Bantam Books on October 10, 2017. It is 544 pages, priced at $30 in hardcover and $14.99 for the digital edition.
See all of our coverage of the best in upcoming fantasy here.