Help Hank Davis fill a Space Pirate Anthology
Help Hank Davis fill a Space Pirate Anthology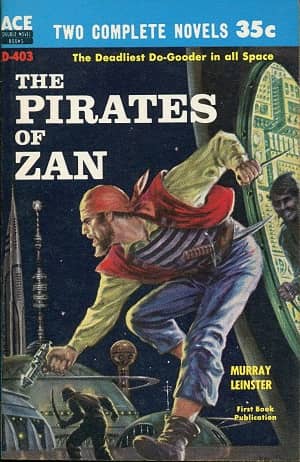 It always pays to check in early and often with Hank Davis, the mad genius editor at Baen Books behind The Baen Big Book of Monsters and The Best of Gordon R. Dickson, Volume 1. Here's what he told me last month.
I was dorking around online, looking for stories and story ideas, and came across one of your Black Gate pages from way back in 2013, singing the praises of Leinster's The Pirates of Ersatz/The Pirates of Zan, and bemoaning the dearth of space pirate novels. While I can't do anything about the lack of space pirates in novel length, maybe the book will offset the lack.
Well, that certainly made me curious. When I asked him to elaborate, here's what he said.
I'm going to be putting together an anthology of stories about space pirates, tentatively titled Cosmic Buccaneers, though that may change, and would appreciate suggestions from Black Gate readers of space pirate stories that have warmed the cockles of their heart. (Remind me to look up "cockle," whatever that means.) Short stories preferred, though I could take a look at novelets — but probably can't fit more than one or two in. And no novels, of course, even a great one like Murray Leinster's great The Pirates of Ersatz/The Pirates of Zan.

And please no submissions of new stories. This is not a new story market and I'll have to return any such submissions unread; sorry! And thanks for your help, and while the Internet Speculative Fiction Data Base is very helpful, please indicate where the story was pubbed or reprinted.
This is definitely good news for those of us who enjoy space pirate fiction (and really that's everybody, right?).
He's definitely come to the right place for ideas, anyway. If you've got a suggestion for a previously published space pirate story that belongs in the upcoming Cosmic Buccaneers, shout out in the comments and we'll pass it along to Hank.
Hank's next book for Baen is the anthology Overruled! ("short think is law and lawyers in space"), scheduled to arrive in April 2020.
His last book for Baen was the massive 512-page Space Pioneers (2018), edited by Hank Davis and Christopher Ruocchio, jam-packed with tales of space adventure by Clifford D. Simak, Poul Anderson, Fredric Brown, Larry Niven, Murray Leinster, Edmond Hamilton, Manly Wade Wellman, Robert A. Heinlein, Theodore Sturgeon, Jerry Pournelle, Tony Daniel, and many more.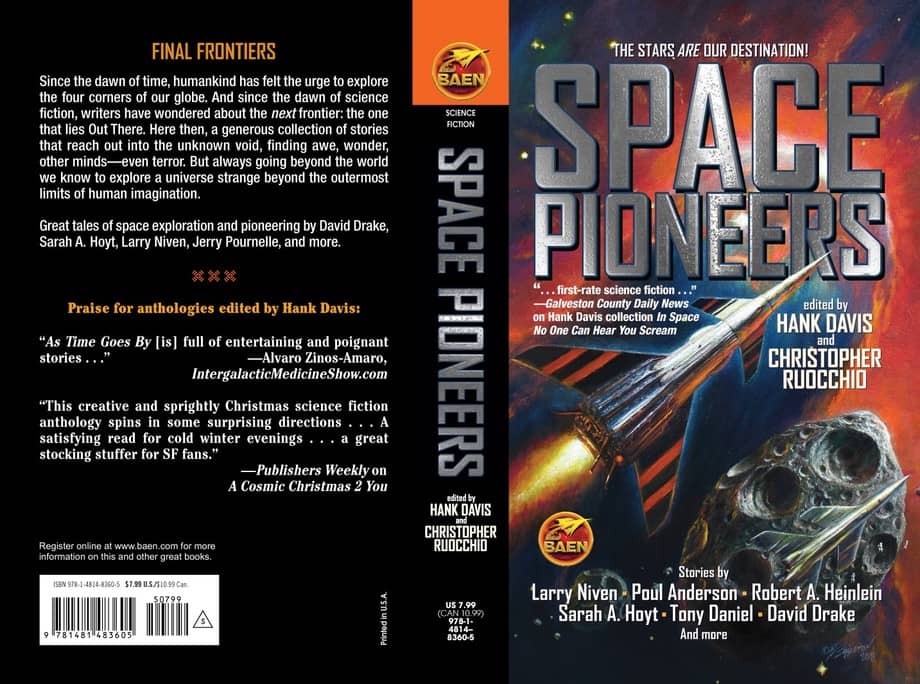 Cover by Bob Eggleton (click to embiggen)
Check out the free sample of Space Pioneers at the Baen website.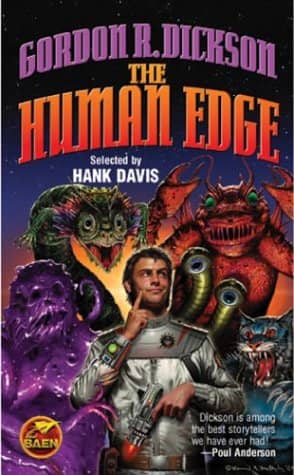 I recently tracked down a copy of The Human Edge (2003), a generous (406 page) collection of short fiction by Gordon R. Dickson, which completed my Hank Davis collection. When I mentioned it to Hank he shared a fascinating bit of history about how the book came to be,
I'm glad you got a copy of The Human Edge, since that one goes so far back that I couldn't provide you with a copy. That was the first anthology I (though technically, it's a collection) put together for Baen, though I'd been a silent suggestor (suggester? The spell checker doesn't like either spelling…) for the earlier The World Turned Upside Down. Jim Baen called me into his throne room, I mean office, and said something like, "Gordon Dickson does good stories of humans outsmarting aliens. I'd like to publish a collection of his stories like that and call it The Human Edge. Do you know enough of his stories like that to fill a book?" I said, "Sure," and went off to make a little list.

AFAIK there will be a volume II of The Best of Gordon R. Dickson, and I really should get to work on introductions for it, in case I again get a forceful reminder of my mortality…
Hank Davis has been keeping classic science fiction alive in paperback on store shelves for years, and he has assembled a veritable library of over a dozen volumes of top-notch SF. If you're a fan of short genre fiction, you have a lot to be thankful to Hank for, including:
The Human Edge by Gordon R Dickson (2003)
The Best of the Bolos: Their Finest Hour (2010)
A Cosmic Christmas (2012)
A Cosmic Christmas 2 You (2013)
In Space No One Can Hear You Scream (2013)
The Baen Big Book of Monsters (2014)
As Time Goes By (2015)
Future Wars … and Other Punchlines (2015)
Worst Contact (2016)
Things from Outer Space (2016)
If This Goes Wrong… (2016)
The Best of Gordon R. Dickson, Volume 1 (2017)
Space Pioneers, edited by Hank Davis and Christopher Ruocchio
Explore the Outer Rim with Space Pioneers, edited by Hank Davis and Christopher Ruocchio
See all our recent coverage of the best in upcoming fantasy and SF here.