New Treasures: Overruled edited by Hank Davis and Christopher Ruocchio
New Treasures: Overruled edited by Hank Davis and Christopher Ruocchio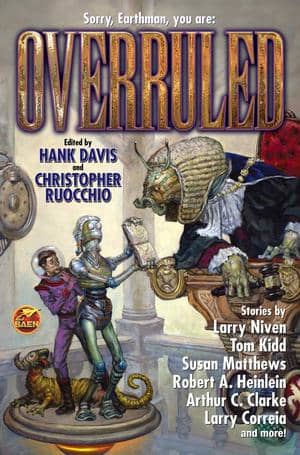 I'm a bit worried about Hank Davis, to be honest with you. After we covered a few of his excellent early anthologies for Baen Books he reached out, and for several years we conducted a lively correspondence. We even helped him out when he was looking for content for his next book, Space Corsairs, due out later this year.
But one night last July, before heading to bed, he sent me a note confessing that it was getting harder and harder for him to read email due to ongoing eye problems. That was the last time I heard from him.
I've complained (to just about anyone who will listen) over the last few years about the demise of the mass market reprint anthology. The exception that proves the rule has been Hank. He's edited many excellent ones in the past few years, including Things from Outer Space, If This Goes Wrong…, and especially Space Pioneers, also edited with Christopher Ruocchio.
In the past decade, in fact, Hank has produced over a dozen top-notch SF anthologies, and he's proven to be one of the most entertaining and reliable editors this industry has. I hope his career has not been cut short by eye problems, or indeed, by health problems of any kind.
Hank has vanished from email and social media, but I was very pleased and relieved to see that the most recent anthology he delivered to Baen, co-edited with Christopher Ruocchio, arrive in bookstores (those few that are open) earlier this month. Overruled, which Hank described to me as "law and lawyers in space," is a fat 400-page volume containing new and reprint fiction from Arthur C. Clarke, Clifford D. Simak, Robert A. Heinlein, Robert Sheckley, Larry Niven, Robert Silverberg, Tony Daniel, Susan R. Matthews, Algis Budrys, and many others. It's the kid of fun, far-ranging volume that Baen (and Hank) specialize in, and it reminds me very much of the old days, when a great SF anthology was a sure-fire way to discover at least 2-3 new writers you'd enjoy.
Here's the description.
ORDER IN THE COURT! A new anthology of science fiction stories that explores what the future of jurisprudence might well be like, with thrilling, hilarious, and downright entertaining results! So much fun, it oughta be illegal! Stories by Robert A. Heinlein, Larry Correia, Clifford D. Simak, Sarah A. Hoyt, and more.

LAWYERS, RAY GUNS, AND MONEY

Whatever the future may hold, one thing is certain: whenever two people get together, the possibility for disagreement will always be present. And when there are conflicts that need settling, lawyers won't be far behind. From ambulance chasers out to line their own pockets with the client's money to champions of Justice and Law with a capital J and L, attorneys of all stripes will no doubt follow us to the stars and beyond. Here then, a collection of science fiction tales of men and women who try to balance the scales of justice on a cosmic scale.

An artist tries to disprove the old adage of a man who acts as his own attorney having a fool for a client when he finds himself accused of the heinous crime . . . of drawing portraits on an alien world in Tom Kidd's "The Sketcher." An attorney has the unenviable job of defending a computer program accused of murder in Tony Daniel's "Checksum, Checkmate." And in Larry Correia's "Lawyer Fight," the battle for justice becomes literal when Monster Hunter International is called in to clean up a law office overrun by zombies.

Plus, classics by Robert A. Heinlein, Larry Niven, Clifford D. Simak, Robert Silverberg, and more, and newer stories by Sarah A. Hoyt, Alex Shvartsman, and Alvaro Zinos-Amaro, and still other stellar talents bringing down the judge's gavel with a verdict of excellent entertainment.
Overruled's table of contents is crammed with great names. Have a look.
COURT IS NOW IN SESSION… ALL OXYGEN-REDUCING BIPEDS PLEASE RISE! by Hank Davis
THE SKETCHER by Tom Kidd
JERRY WAS A MAN by Robert A. Heinlein
PARADOX & GREENBLATT: ATTORNEYS AT LAW by Kevin J. Anderson
THE JIGSAW MAN by Larry Niven
SKULKING PERMIT by Robert Sheckley
CHECKSUM, CHECKMATE by Tony Daniel
THE EXECUTIONER by Algis Budrys
LICENSE TO LIVE by Sarah A. Hoyt & Laura Montgomery
THE RIOT THAT WASN'T IN PORT NEEKS by Susan R. Matthews
LAWYER FIGHT by Larry Correia
THE PEOPLE V. CRAIG MORRISON by Alex Shvartsman & Alvaro Zinos-Amaro
HOW-2 by Clifford D. Simak
MOVING SPIRIT by Arthur C. Clarke
VICTIM OF CHANGES by Christopher Ruocchio
THE CYBER AND JUSTICE HOLMES by Frank Riley
TO SEE THE INVISIBLE MAN by Robert Silverberg
LICENSE TO STEAL by Louis Newman
WITH THE KNIGHT MALE by Charles Sheffield
If you're a fan of short fiction, I hope you'll consider support one of the few editors and publishers still producing great new anthologies in inexpensive formats.
Since I teased you with a mention of Space Corsairs, here's a peek at the cover.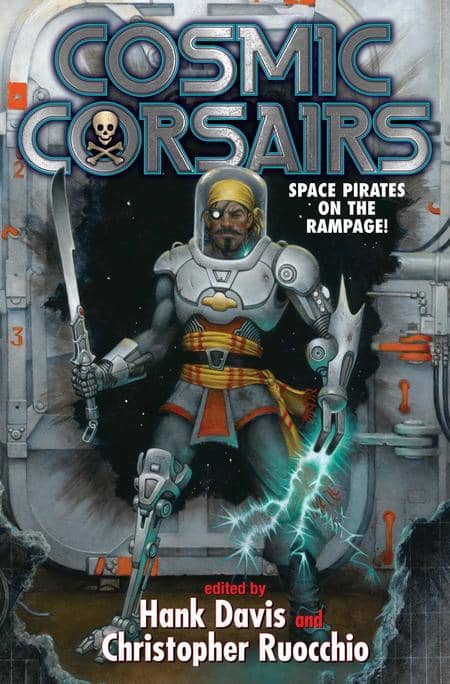 Space Corsairs will be released by Baen in August 2020.
Overruled was published by Baen Books on April 7. It is 400 pages, priced at $16 in trade paperback and $8.99 in digital formats. The cover is by Tom Kidd. Read a generous excerpt, including the introductions and several of the stories, at the Baen website.
Hank Davis has assembled a veritable library of over a dozen volumes of top-notch SF. If you're a fan of short genre fiction, you have a lot to be thankful to Hank for, including:
The Human Edge by Gordon R Dickson (2003)
The Best of the Bolos: Their Finest Hour (2010)
A Cosmic Christmas (2012)
A Cosmic Christmas 2 You (2013)
In Space No One Can Hear You Scream (2013)
The Baen Big Book of Monsters (2014)
As Time Goes By (2015)
Future Wars … and Other Punchlines (2015)
Worst Contact (2016)
Things from Outer Space (2016)
If This Goes Wrong… (2016)
The Best of Gordon R. Dickson, Volume 1 (2017)
Space Pioneers, edited by Hank Davis and Christopher Ruocchio
Explore the Outer Rim with Space Pioneers, edited by Hank Davis and Christopher Ruocchio
Help Hank Davis fill a Space Pirate Anthology
See all our recent coverage of the best new fantasy and SF here.